If you know me, you know that I'm not a half-way kinda gal.  As in recovery, once I commit to something, I'm all in.  So, when my good friend Kirti (Boozin' with the Brown Girl) found herself in the midst of a chocolate-fueled challenge, I was there, spatula in hand, to assist.  Yes, in case you were wondering, the comedy of The Sober Chicken and The Boozy Brown Girl spending an afternoon in the kitchen together is not lost on us.
What was the challenge?  Let me recount the tale in Tweets.  It goes a little somethin' like this:
Kat Kinsman of Tasting Table tweeted about Chef Tariq Hanna's lovely Pots de Creme.

Chef Tariq then responded with a confirmation of said recipe's ability to elicit amorous attention.  Given our Boozy Brown Girl's recent tribulations in the dating scene, she was intrigued.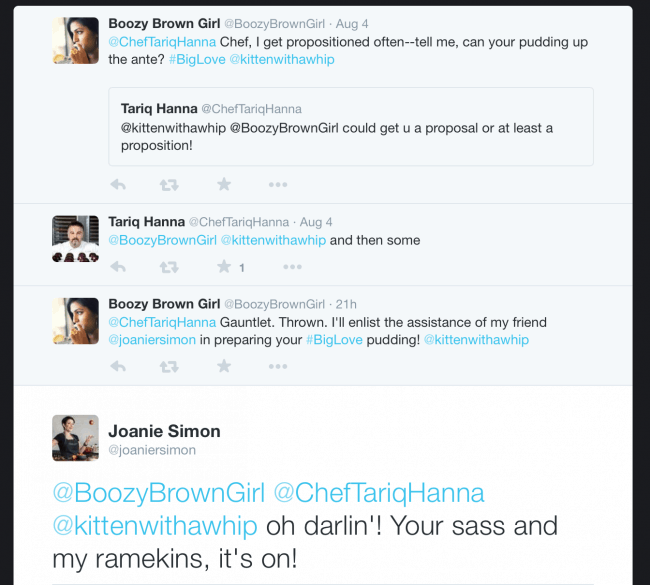 She's a dear friend and with true love potentially on the line, we were in my kitchen the next morning, heavy cream in hand.
I can confirm the simplicity of this recipe.  It's easy to follow and perfect for those of us who aren't patient enough for fussy desserts.  You think I have time for persnickety confections while Thing 1 and Thing 2 strategically terrorize the kitchen?
The main staple of this dessert is heavy cream.  Don't be afraid of heavy cream.  Sure, it's full fat, but there aren't any creepy mystery ingredients lurking in there.  Prime example being my daily coffee.  I use a dollop of whipped heavy cream, when I have it on hand, to add a little extra decadence to my required input of caffeine.  When the full-fat whip hits the coffee, it slowly liquefies, infusing the coffee with a silky depth.  Try the same with the from-the-tub stuff and you'll end up with black coffee that has a speckled, plasticky film on top.
We followed Chef Tariq's method including the chocolate ganache.
We left the pots de creme to set in the fridge and headed out for lunch.  2 hours later, we returned to find these lovelies waiting.  Would these hold the keys to our Boozy Brown Girl's heart?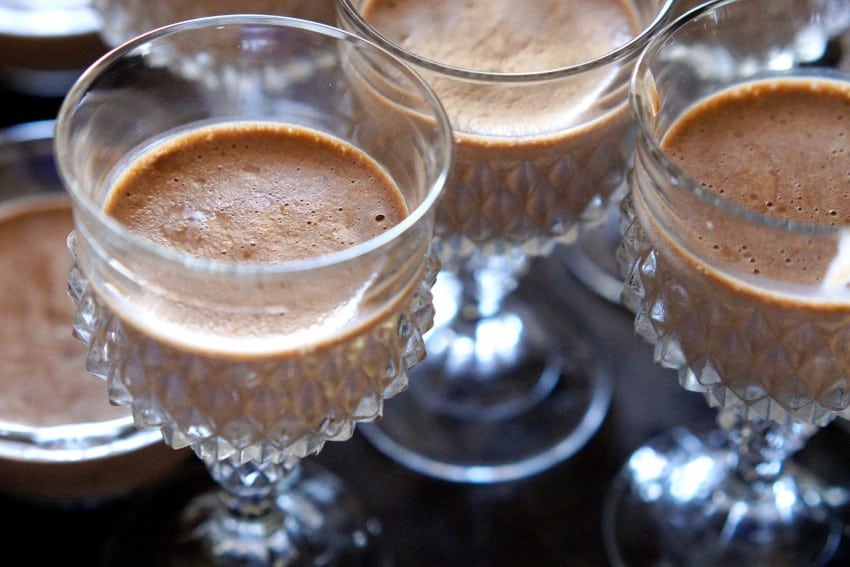 I topped them off with a little ganache and cacao nibs, as instructed.
All that was left was a taste test from Ms. Dwivedi.
Did she get propositioned?  Did she get a proposal?  Was the proof, indeed, in the pudding?
The romantic result remains to be seen.  But, we can confirm this is a delightfully decadent treat.  Also, if eaten in the company of true friends, it will induce laughter, and the adoration of toddlers.
Thanks goes out to Chef Tariq Hanna of Sucre in New Orleans for the recipe and to Kat Kinsman of Tasting Table for keeping the culinary conversations exciting.  And special thanks to Kirti for roping me into yet another adventure.  Here's to many more!