I am eternally worried that someone will leave my house or one of my classes hungry.  It never happens.  There is always enough food, usually too much food.  But, heaven forbid someone go hungry on my watch.  That's why I added this pasta dish to the menu last minute for my Meatless Mondays class at Luci's Healthy Marketplace.  Knowing that I already had three dishes on the menu, I didn't want to add something labor intensive.  I wanted something filling, yet creative.  This fit that bill. It's 100% vegan and the dressing's creaminess comes from the vegan's BFF, avocado.  Make it gluten free with Barilla's gluten free penne.  I'm not a fan of most gluten free pastas, but theirs holds up nicely and substitutes well in this recipe.
It couldn't be easier. (Full printable recipe at the bottom of the post.)
Prepare the pasta according to package directions. Toss it in a large bowl along with diced red pepper, chopped tomato and thawed frozen peas.
Toss the garlic, lemon juice, avocado, basil and soy sauce into a blender and turn on high, adding in the olive oil to make it smooth and saucy.  Add more oil or a little water if it's too thick.  It's supposed to be a dressing, so go for that consistency.  Use salt and pepper to taste.
Then pour the sauce in the bowl with the pasta and veggies and toss.
Serve it up, sprinkled with chopped pistachio for texture.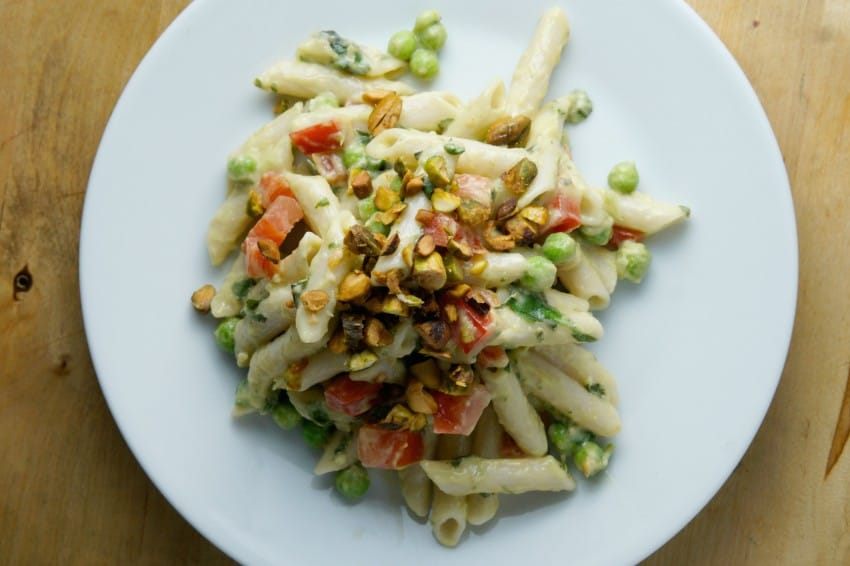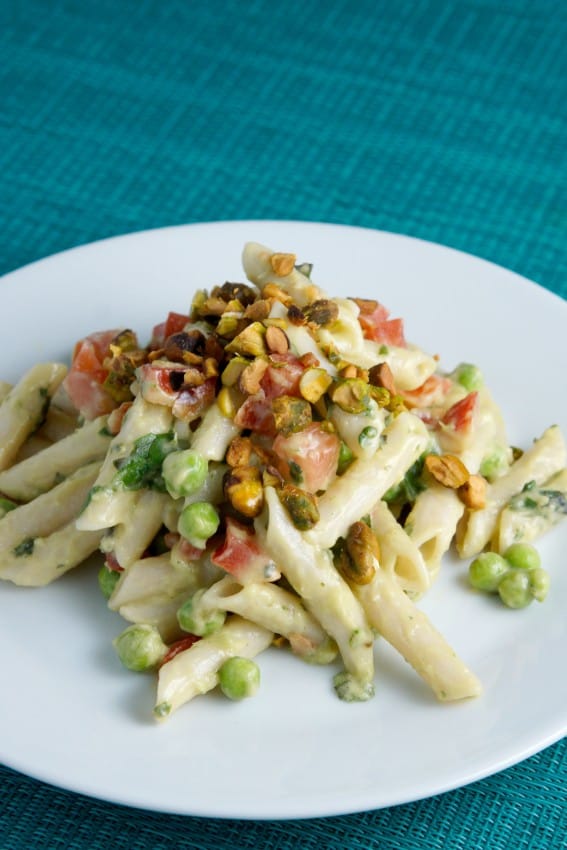 Caesar Pasta Salad
Prep time:
Cook time:
Total time:
A creamy pasta salad with a vegan Caesar dressing.
Ingredients
8 oz pasta (gluten free if applicable)
1 cup peas
½ cup red pepper chopped
½ cup tomato chopped
2 cloves garlic
⅙ cup lemon juice
1 avocado
½ cup fresh basil
½ cup oil
2 tsp soy sauce
salt and pepper to taste
chopped toasted pistachios
Instructions
Prepare pasta according to package directions and put into a bowl with the tomatoes, peppers and peas.
Combine garlic, lemon juice, avocado, basil, soy sauce and oil to a blender and blend until smooth. Add salt and pepper to taste.
Mix the avocado dressing into the pasta and mix well to combine.
Serve topped with pistachios.
*Original recipe by Joanie Simon (joaniesimon.com)