Who:  Chef Bernie Kantak and Andrew Fritz
What: Executive Chef and CEO
Where: Citizen Public House, Scottsdale, AZ
Before there was CPH, there was the Stetson Chopped:
The Stetson Chopped Salad is a culinary landmark in Arizona.  It can be found on numerous restaurant menus, including Citizen Public House, noting provenance from Cowboy Ciao, located on Stetson Drive.  Chef Bernie Kantak spent twelve years in the kitchen at Ciao before teaming up with business partner, Andrew Fritz, to open Citizen Public House.  At Ciao, owner Peter Kasperski, tasked Kantak with developing a new chopped salad.  Inspired by the fennel soup on the menu, which at the time, included freeze-dried corn and smoked salmon, he came up with the iconic Stetson Chopped.  Google the term "Stetson Chopped Salad" and you'll find links galore.  Everything from features by local and national media outlets to recipe posts, so that you can re-create Bernie's salad at home.  Even Epicurious lists the recipe in its illustrious archives.  For Pete's sake, the thing has its own Facebook Page.
Cowboy Ciao makes no bones about publishing the recipe and Bernie's happy to provide a printed copy, perhaps in part because his salad was being ripped off without proper acknowledgement.  It is said that imitation is the sincerest form of flattery, but Bernie knew things were out of control when his salad was featured in a travel magazine with credit given to a restaurant in California.  Chef Bernie is not one to make waves or be boastful, but as an artist, he's due the credit for his uniquely original salad.  So, if you see an arugula salad with Israeli cous-cous, corn, smoked salmon and pepitas, know that it's the Stetson Chopped, or someone's rendition of it.
Your Crazy Uncle's House:
Today, you can find Chef Bernie's creativity at Citizen Public House.  Opened in January 2011, he and business partner Andrew Fritz cemented the concept after instant obsession with the space.   They wanted to breathe life back into what had originally been built as Trader Vic's, but had otherwise been a revolving door of nightclubs.  Chef Bernie contributed his culinary prowess, meeting the timely demand of diners for homey comfort food, but with a hint of sophistication. He played on the roots of his childhood in Ohio, where he worked with his grandmother in the local church's kitchen.  She was the queen of Chicken Paprikash, and his grandfather was a butcher.  Obviously, Chef Kantak comes by his trade honestly and still honors some of the family's eastern European background in his food.  Bernie and Fritz achieved what they set out to do, creating a vibrant space in Old Town that celebrates food, wine and cocktails, honing in on the simplicity of quality dining.  When asked about the vibe, Bernie happily shared a sentiment of one of their regular diners:
"It reminds me of family dinner at your crazy uncle's house."  
As with any artist, though, his craft is evolving and the current menu at Citizen Public House is more globally inspired.  It's spirited, incorporating curious combinations.  Amaro meatloaf, buttermilk chicken with chimichurri, and other unpredictably delightful dishes are evidence that Bernie likes to play with his food.  One of the stand-out items is the Pan Seared Scallops.  An artful balance of perfectly caramelized scallops with creamy corn grits, dressed with Tender Belly Hampshire bacon, wilted snow pea greens and cola gastrique.  To me, it effectively communicates the yin and yang that is CPH.  It's sophistication and finesse, grounded by traditional family recipes with a smirk of comedy.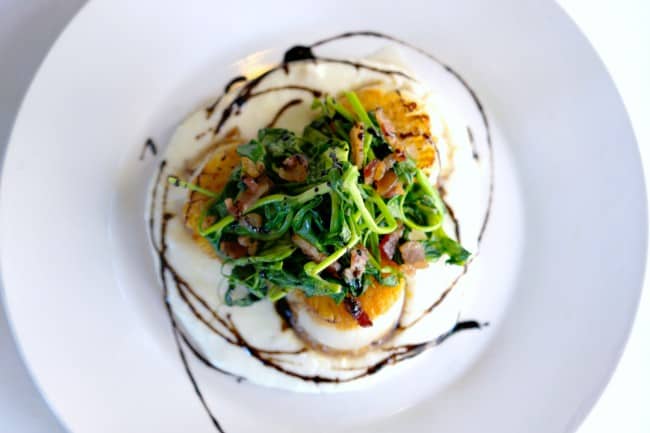 These fine fellas followed up their popular first restaurant with a second concept, The Gladly, located in Phoenix, near the Arizona Biltmore.  It is equally lauded for delivering on quality food and drinks.  Business success aside, their restaurants are a testament to how fulfilling work can be when  you do what you love with people you genuinely enjoy.  Congrats gents, and here's to many more dinners at Uncle Bernie's house.
Citizen Public House is located on 5th Avenue & Craftsman Court: Scottsdale, AZ
Reservations: 480-398-4208