I am writing this recipe for lettuce wraps from Phoenix's Sky Harbor Airport.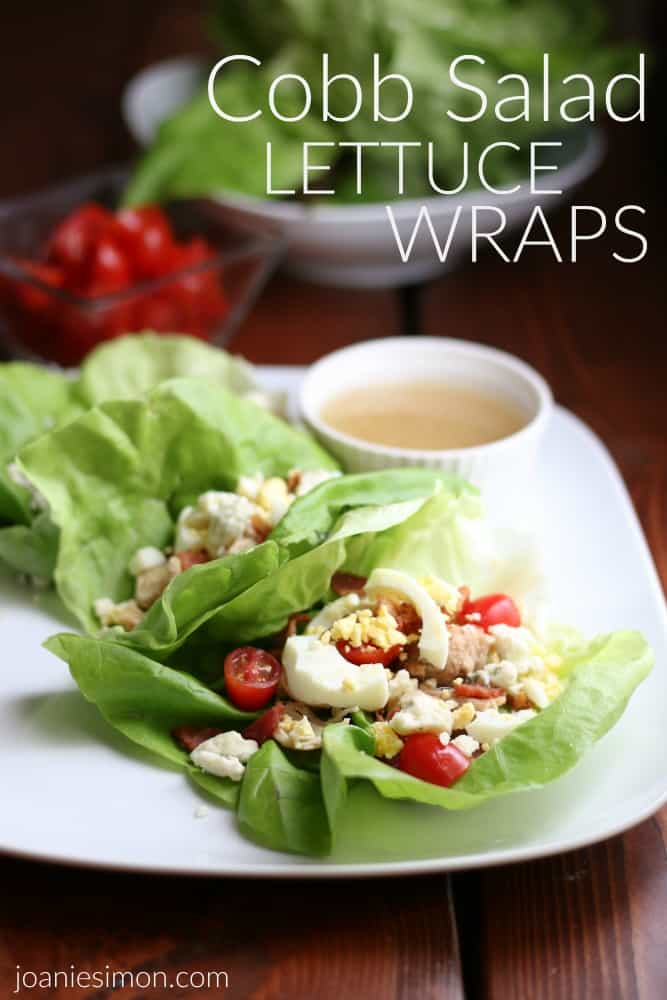 If I hadn't missed my flight, I would be landing in Austin, TX in 30 minutes.  But, I did miss my flight.  I've never missed a flight.  I'm an uptight, A-type personality.  On time, a punctual picture of perfection!  Oh wait, no.  We busted up that perfection thing already. I suppose in letting go of my perfectionism, a few other things slipped, too.  Somehow in the haze of an early morning flight, I missed the announcement of a gate change and was ready to board a flight to Atlanta instead of my intended destination.  When I realized that I had missed my flight, and confirmed at the gate that the plane had already departed, I was angry.  I was frustrated and my brain started to chase the impact of my error.
Internal monologue:
"Ugh, I'll have to contact the rental car company to push the reservation back."
"I'm not going to hit all of the places in Austin that I had planned. I'm wasting this trip."
"The schedule I worked so hard to create will have to be rearranged. What a waste of time."
"I have to sit in this airport waiting for the next flight. I hate wasting time!"
I ran to customer service, all in a huff, only to find that the line was ten people deep.  I stopped and took a deep breath.
"Apparently the Lord wants me to be delayed."
I prayed for peace and accepted the fact that it was a simple mistake.  I booked a later flight and now here I am, delighting in the fact that God uses mistakes to create opportunities.  I'm reading, rejoicing in the journey of recovery and now enjoying the creative process of editing this post.
On to the food.
Cobb salad, meet lettuce wraps.  I think you'll like each other.
It's summer so that means I've put the heavy pot-pies on reserve for a few months, keeping the kitchen cool and my meals light (Wait, who am I kidding? Pot pies are good year round.) This one is super easy.  If you can fry bacon, you're in business.
Marinate the chicken in 2 cloves garlic, 2 tablespoons red wine vinegar, and 1 tablespoon soy sauce for at least 30 minutes, up to overnight.
Heat a fry-pan over medium high heat with 1 tablespoon oil and pan-fry chicken in batches.  Putting too much in the pan at once lowers the heat and creates a lot of liquid in the pan, in essence boiling the chicken instead of getting that nice caramelized effect.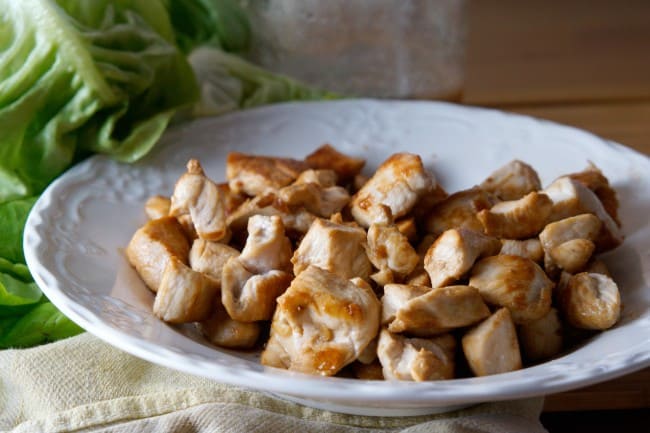 Set the chicken aside and focus on the bacon.  Then again, maybe do the bacon last as you'll be tempted to steal bits while prepping the other ingredients.  Either way, at some point, fry the bacon.  I like to have bigger bits for this recipe, cutting the bacon into pieces before cooking it so I can control the size of the final "bits".
Next, crumble up some good quality blue cheese and dice the hard-boiled eggs.  I was lucky to get some eggs from a friend who raises her own chickens.  Fresh eggs are the BEST!  I'm considering my own coop.  They do sell them ready-made at Coscto, afterall.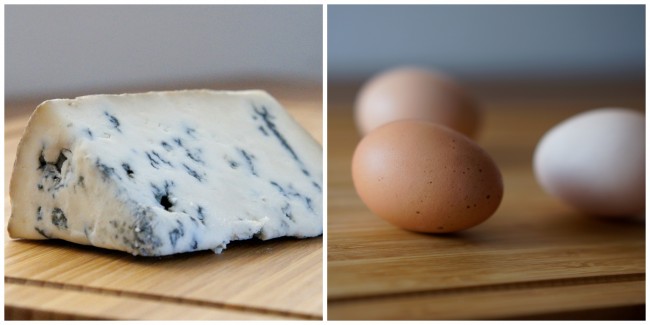 Next, toss all of the dressing ingredients (1 clove garlic, ¼ c red wine vinegar, 1 tsp dijon, 1 tsp honey, dash hot sauce, pinch salt, 1/8tsp pepper, 1/4c oil, 1 T chives) into a jar and shake.  Remember the Shake Weight?  That was an embarrassing moment in American history.  This dressing is pretty kick-ass, if I do say so myself.  You don't have to reserve it only for use on these lettuce wraps.  It's great with simple greens, too.
Next, chop up the avocado and tomatoes and julienne the endive.  Wondering what the endive adds?  It's a listed ingredient in traditional Cobb Salad.  It adds a sharp, bright flavor to these lettuce wraps.  You could omit it if you're not up for buying endive but I think it adds a little something extra that you'll enjoy.
Finally, separate the butter lettuce leaves and wash.  Is there anything more glorious than butter lettuce?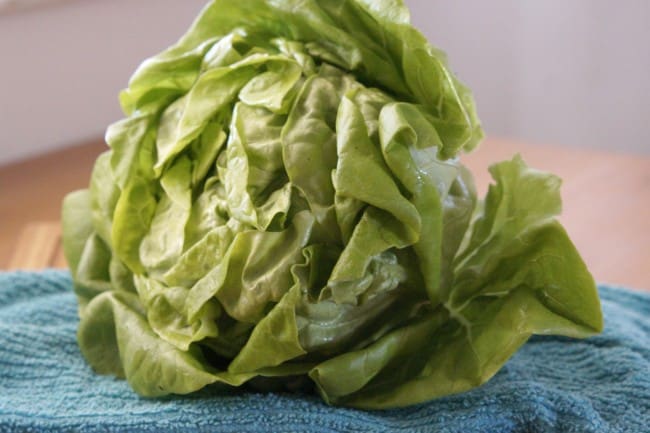 Once you have your mise en place, it's up to you on how to serve it.  You can assemble the lettuce wraps and serve, or, what I prefer to do, place all of the ingredients on the table and let the crew assemble their own.
It's salad you can eat with your hands!  Let me know if you make it and what you think.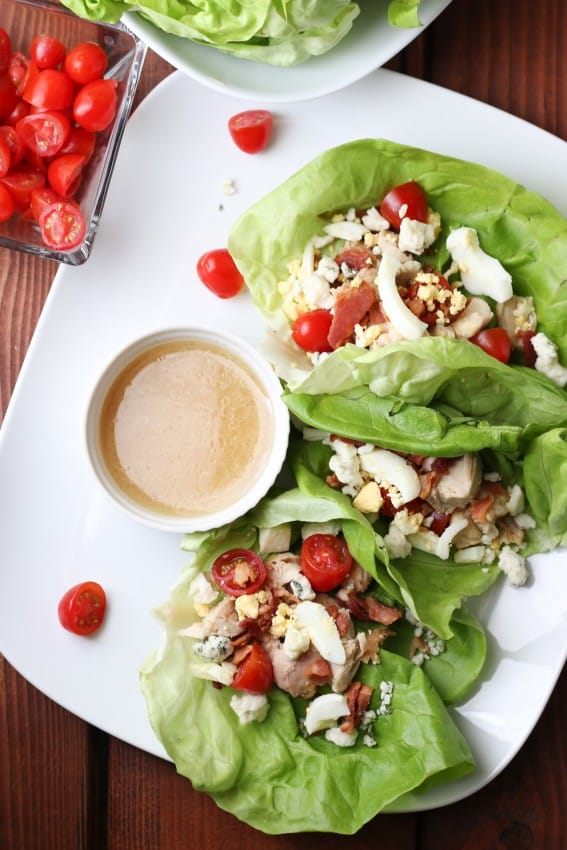 Much love and gratitude,
Print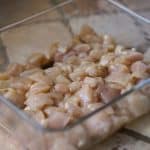 Cobb Lettuce Wraps
Author:

Prep Time:

1 hour

Cook Time:

20 mins

Total Time:

1 hour 20 mins

Yield:

4 servings

Category:

Entree

Cuisine:

American
---
Description
A light easy dinner combining the flavors of Cobb Salad in Lettuce Wrap form.
---
Ingredients
Salad:
2 chicken breasts chopped
2 cloves garlic
2 T red wine vinegar
1 T soy sauce
1 T oil
4 slices bacon chopped
16 cherry tomatoes, chopped
1 endive julienned
1 avocado chopped
4 hard-boiled eggs
6 oz blue cheese
1 head butter lettuce
Dressing:
1 clove garlic minced
¼ c red wine vin
1 tsp dijon mustard
1 tsp honey
1 dash hot sauce
pinch salt
1/8tsp pepper
1/4c oil (I prefer grapes or vegetable oil for this specific dressing)
1 T chives
---
Instructions
Prepare chicken marinade by combining garlic, red wine vinegar and soy sauce. Place raw chopped chicken in marinade at least 30 minutes, up to overnight. To cook, heat 1 tablespoon of oil in a pan over medium-high heat and cook chicken in batches, stirring occasionally until caramelized on the outside and cooked through (approx 6 to 8 min per batch).
Fry and drain bacon.
Chop tomatoes.
Julienne endive.
Chop avocado.
Chop eggs.
Crumble cheese.
Wash and separate lettuce leaves.
Prepare dressing by combining all dressing ingredients in a jar and shaking.
Assemble wraps by combining all ingredients into lettuce leaves and serve.
*Original recipe by Joanie Simon (JoanieSimon.com)