Low Carb Italian Wedding Soup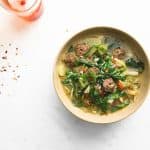 Author:
Prep Time:

20

Cook Time:

25

Total Time:

45 minutes

Yield:

4 - 6 servings

Category:

Soup
Ingredients
1 lb ground beef
1/2 tsp salt
1/4 tsp black pepper
1/2 tsp paprika
1 tsp Italian seasoning
1 egg
crushed red pepper flakes (optional if you want spicy meatballs)
Small fennel bulb sliced
1 onion diced
1 red pepper diced
2 Tbs oil
2 cloves garlic, minced
1/2 tsp salt
2 cups chicken broth
1 parmesan rind or 1/2 cup shredded parmesan
2 cups baby spinach
Instructions
Preheat oven to 400F
Combine ground beef, salt, pepper, paprika, Italian seasoning, egg and red pepper flakes in a bowl and mix just until combined.
Take small pieces of meatball mix and roll into small balls (I go for a gumball size) and place on a baking sheet.
Once all meatballs are rolled, place the baking sheet in the oven at 400F for 8 minutes, then rotate and bake another 4 minutes to brown.  Remove from oven and set aside.
In a soup pot, heat oil over medium high heat and once shimmering add in fennel, onion, red bell pepper, garlic and salt and sauté until vegetables are soft and fragrant.
Next, add the chicken broth to the vegetables and the cooked meatballs and bring to a simmer.
Reduce heat to medium low and add in the parmesan rind and cover, simmering at least 10 minutes to infuse flavors.
Before you're ready to serve the soup, turn the heat off and add the fresh spinach and stir until it is wilted.
Serve hot topped with grated parmesan cheese.