Make Your Own Frozen Pizza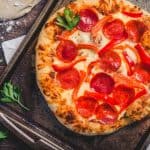 Author:
Prep Time:

20 mins

Cook Time:

20 mins

Total Time:

40 mins

Yield:

8 slices

Category:

Entree

Cuisine:

American
Ingredients
1 pound pizza dough
1/2 to 1 cup of sauce or spread
2 to 3 cups other toppings
16 oz shredded cheese
Instructions
Preheat the oven to 450F, roll out your dough and par-bake the crust (without toppings) for 3 to 5 minutes until puffed up but not browned.
Let the crust cool then top with your sauce, cheese and toppings.
Double wrap the pizza in plastic wrap and freeze up to 3 months.
When ready to cook it, preheat the oven to 550F (or as high as it goes), unwrap the pizza and place it on a stone or baking sheet.
Bake for 8 to 10 minutes until browned and cheese is bubbly.