*This post about Mix and Match Meal Prep Rice Bowls is sponsored by Lundberg Family Farms, but all opinions expressed are genuine.
Meal Prep Rocks
I know that I'll eat better throughout the week if I plan ahead.  Having healthy, pre-made food to grab is key and I love the idea of meal prep, but admittedly, I don't do it as often as I would like.  Fortunately, my friends at Lundberg Family Farms reminded me that it's National Whole Grains month, and their tasty whole grain products sparked some lunchtime inspiration.  I think you're going to dig these Mix and Match Meal Prep Rice Bowls made with their Organic Black Pearl Rice.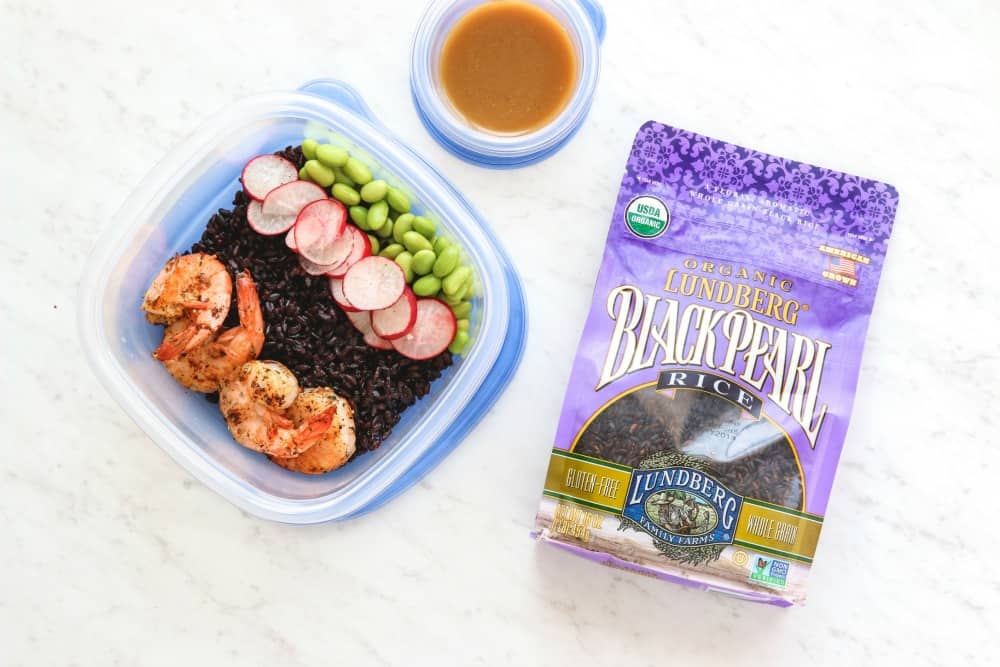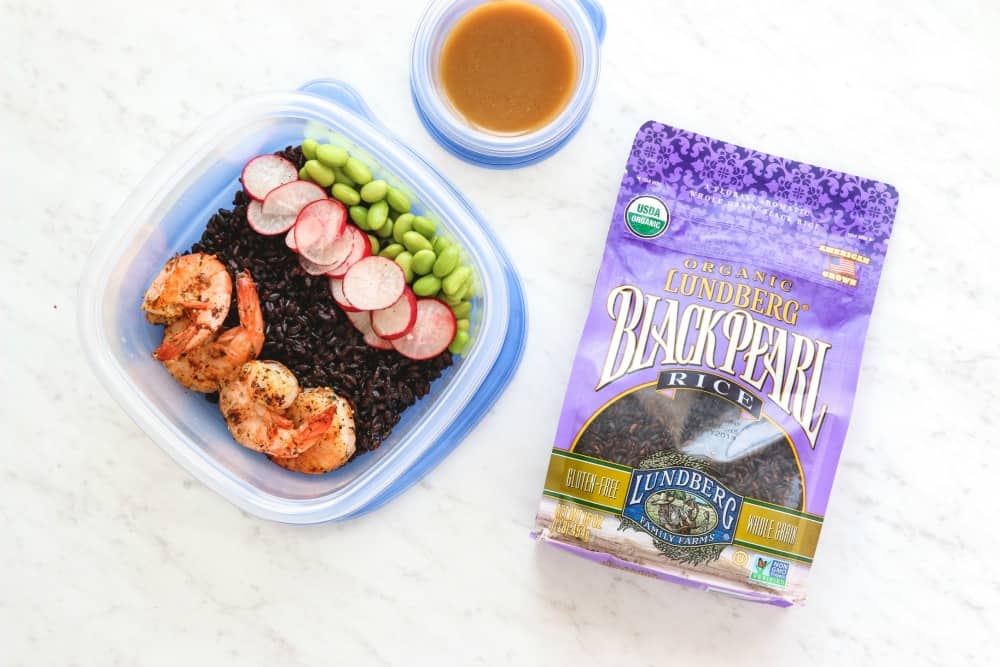 All you have to do is prepare Lundberg's Organic Black Pearl Rice according to the package directions and divide into five airtight sealable containers, then top them with complementary protein and veggies.  Then toss in a smaller container of my Ginger Sesame Dressing, seal up the containers and keep them in the refrigerator up to four days.  They are ready to grab on your way out the door.
Black Pearl Rice
Black Pearl Rice is a firm whole grain rice with a light, slightly fruity aroma. It's a perfect base for this recipe (and plenty of others, both savory and sweet) and is easily mixed and matched with all sorts of toppings.  You can customize these meal prep recipes to your own tastes and favorites.  You'll notice my suggestions are all inspired by places that I'd like to be right now.  
"Sushi Style" with sliced Nori, Cucumber, Sprouts, Tofu
"Spa Style" with Salmon and Avocado
"Island Style" with Shrimp, Radish and Edamame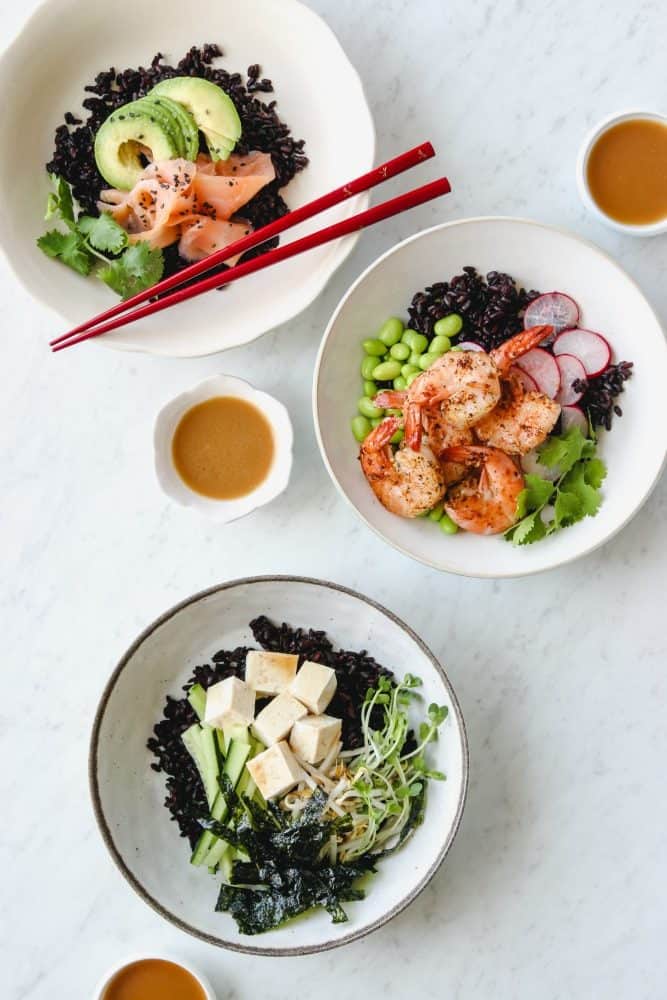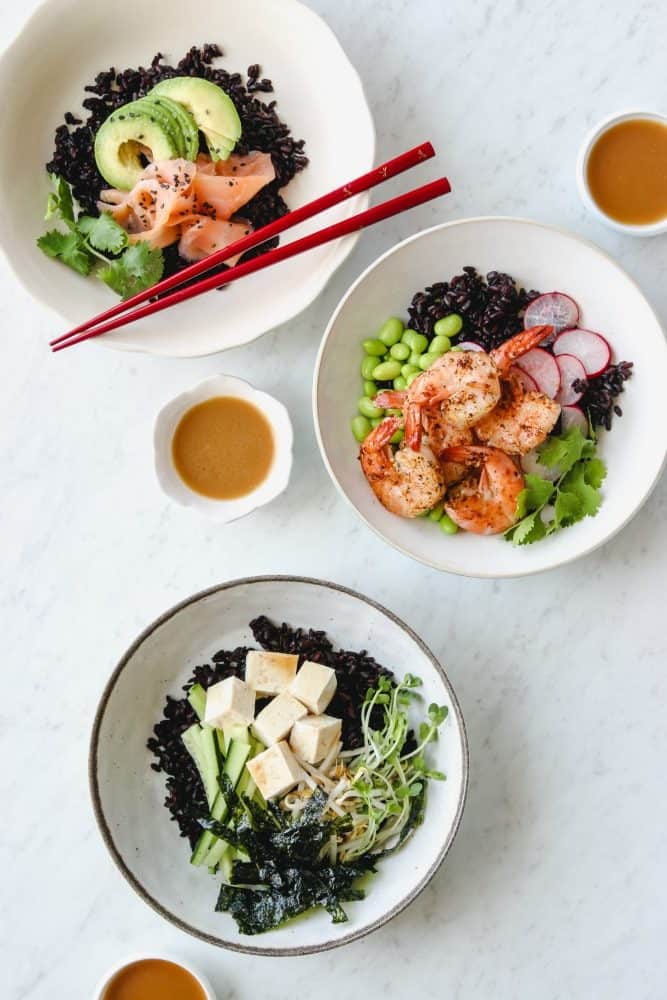 When you're ready to eat these pre-packed meals, you can eat them cold because the texture of the Black Pearl Rice is good both cold or hot.  But, if you want them hot, just put the fresh veggies in a little baggie inside the meal prep container.  Then, microwave the rice and the protein for a minute, then top with the vegetables and dressing.
Get Healthy!
You know that flavor is paramount when it comes to what I cook and eat.  But, because I'm not getting any younger and I feel better when I eat better, these bowls deliver on nutrition. The complex carbohydrates are slow digesting and provide fuel to get through busy days without causing a crash.  Too, rice and whole grains have over 15 vitamins and minerals including B-vitamins, iron and zinc.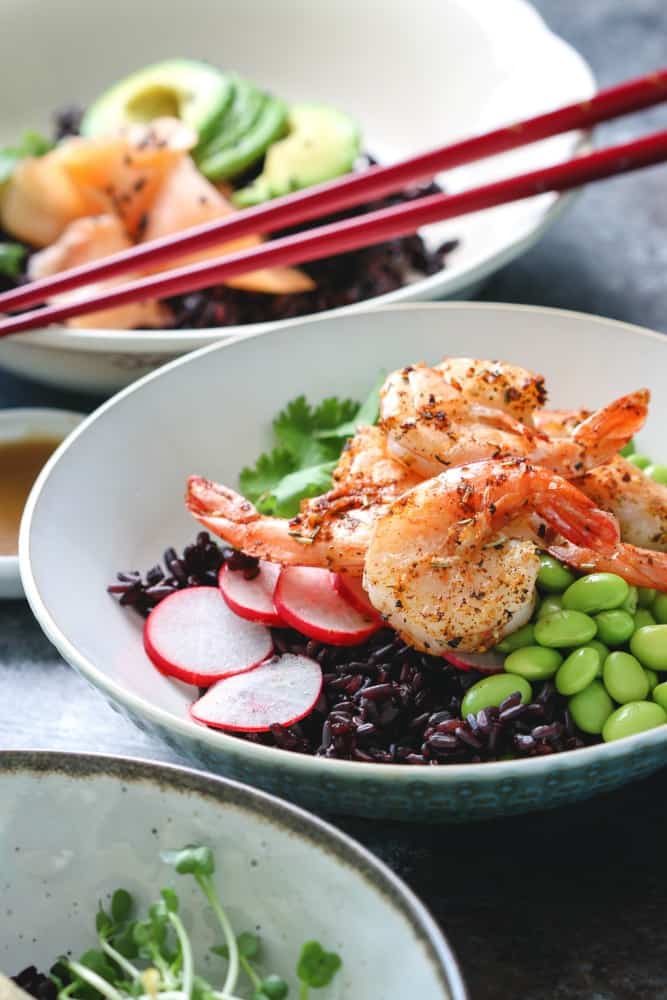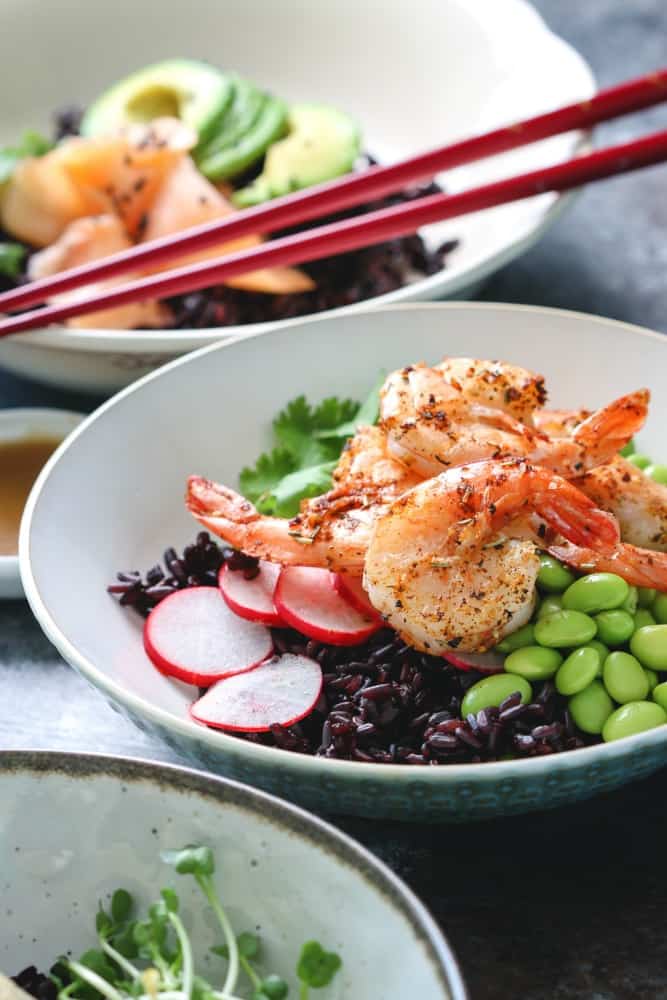 In case you haven't heard of Lundberg Family Farms, they have been a favorite brand of mine (and my Mom's!) for a long time.  I even had the pleasure of visiting their farm and riding a combine at harvest (what!?!).  I love their products, literally, from farm to table. They're committed to sustainable farming practices that protect the soil for future generations, and their whole grain products are made with the cleanest ingredients.  But, of course, what matters most, is that it's darn tasty stuff.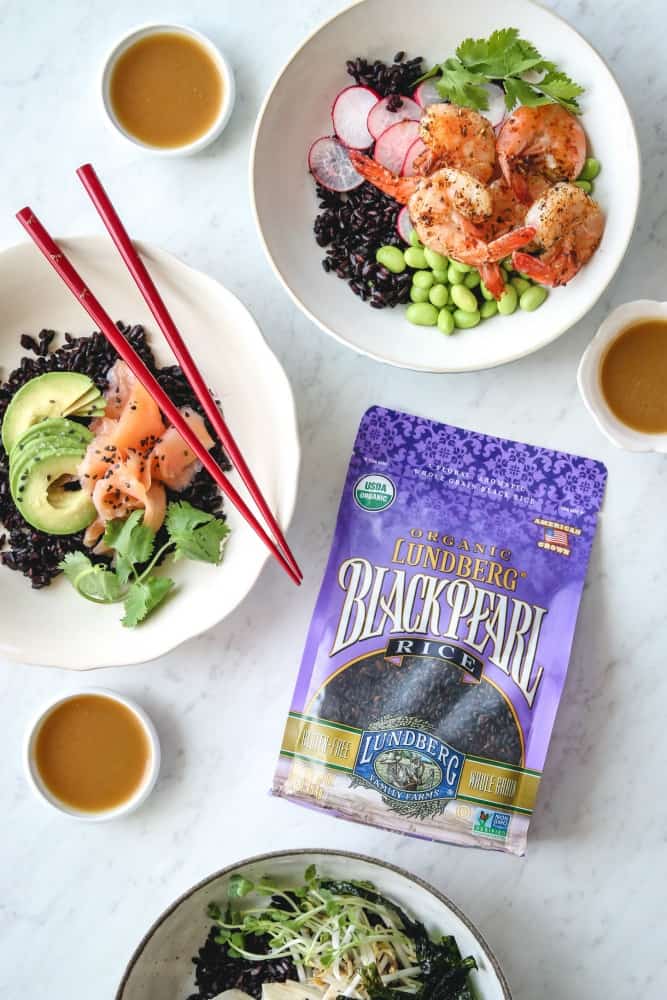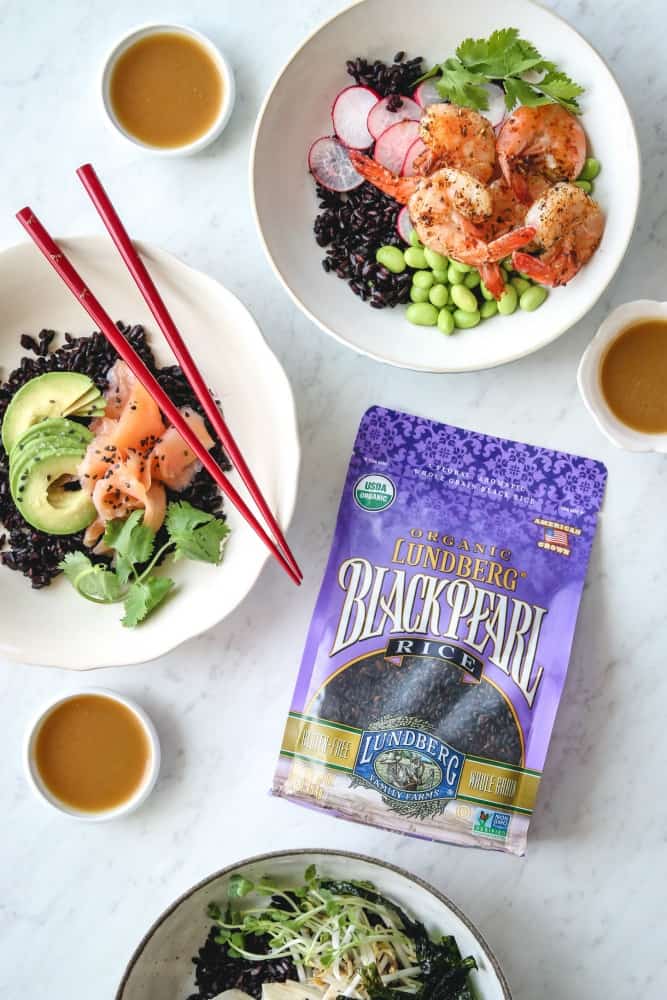 Do you have a fun idea of other toppings to use with these mix and match bowls?  I'd love to hear about your creative meal prep combos!
The Recipe
Print
Mix and Match Meal Prep Rice Bowls
Easy meal prep friendly rice bowls that can be mixed and matched with different toppings, all on a base of whole grain rice, dressed with ginger sesame dressing.
Author:
Prep Time:

30 mins

Cook Time:

30 mins

Total Time:

1 hour

Yield:

5 entrees

Category:

Entree

Cuisine:

American
Ingredients
2.5 cups Lundberg Family Farms Black Pearl Rice
2 tsp fresh ginger
1 clove garlic
1/4 cup agave
1 Tbs sesame oil
1/4 cup soy sauce
1/4 cup vinegar
1/3 cup vegetable oil
Additional mix and match toppings:
Sliced Nori, Diced Cucumber, Bean Sprouts, Diced Tofu
or Smoked Salmon and Diced Avocado
or Cooked Shrimp, Sliced Radish and Edamame
Instructions
Prepare the rice according to package directions and divide between 5 sealable bowl containers.
Combine the ginger, garlic, agave, sesame oil, soy sauce, vinegar, and oil in a blender and blend until smooth, then portion into 5 small dressing containers.
Top the rice with your desired toppings, place the dressing container in the bowl with the rice and the toppings and close with the lid.
Place all prepared rice bowls in the refrigerator up to four days.
Drizzle on the dressing when you're ready to eat.