We made Salmon Tacos on The Dinner Bell!  The objective of this particular Facebook Live session was to make homemade tortillas.
We raided the fridge for fillings and seeing that I had leftover smoked salmon, we made salmon tacos with a carrot slaw.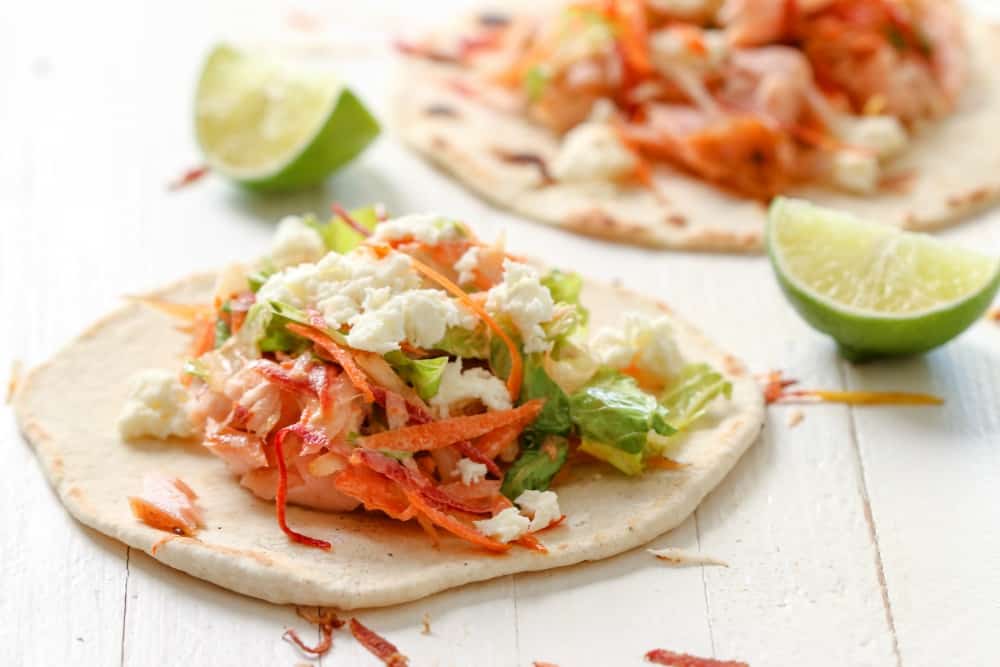 If you want to make the tortillas, here's the recipe:
Print
Salmon Tacos!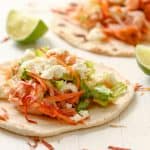 an easy recipe for homemade corn tortillas
Author:
Prep Time:

30 mins

Cook Time:

20 mins

Total Time:

50 mins

Yield:

12 tortillas

Cuisine:

Mexican
Ingredients
1 1/2 cups masa harina
1 tsp salt
1 cup + water (more as needed)
Instructions
Combine masa harina and water in a large bowl and mix until a ball forms. If it's sticky, add more masa. If it's crumbly, add more water.
Knead the dough for 4 to 5 minutes. You can't overwork it!
Heat a clean, dry skillet over medium high heat.
Take a small, ping pong ball sized piece of dough from the larger dough ball, roll and flatten with your hands. If you have a tortilla press, use as directed. If you don't have a press, get a piece of wax paper and position the dough ball on it and fold the other half of the piece of wax paper over the top, so that the dough is covered on top and bottom.
Roll out into a circular shape with a rolling pin until desired thickness. It should be thin but still opaque when held up.
Place the pressed tortilla into the heated skillet/pan and cook 45 to 60 seconds per side. It should release steam from the tortilla and cause it to puff up, but not burn.
If you are doing tacos, keep them covered with a towel to keep them moist and warm.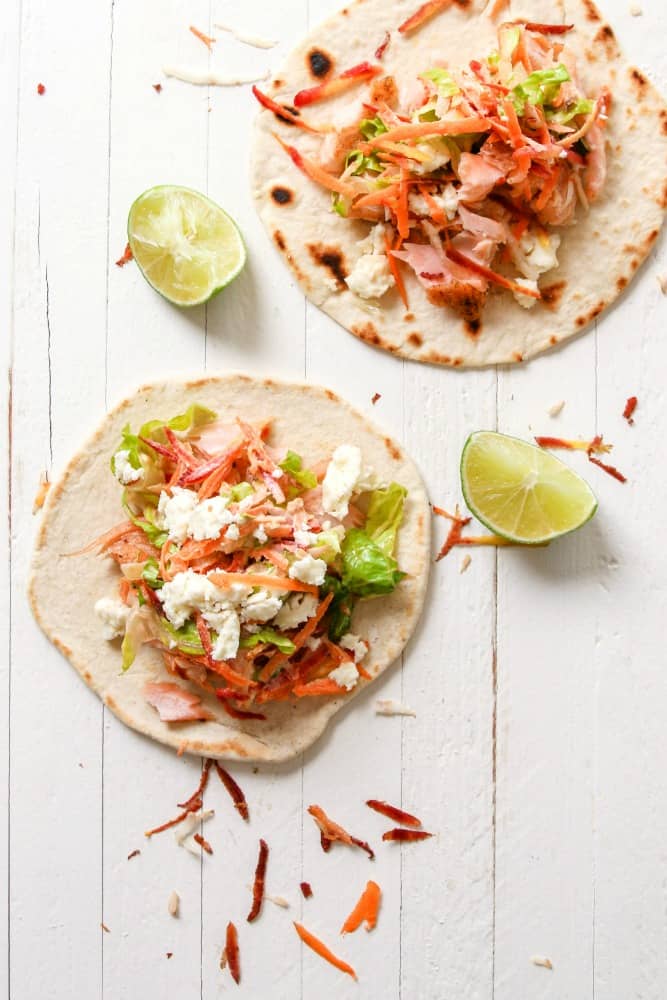 Want that salmon?  It does require some sort of method for smoking.  I have a Green Mountain Grill and absolutely love it.
Print
Salmon Tacos!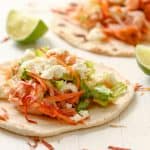 An easy recipe for quick smoked salmon.
Author:
Prep Time:

75 mins

Cook Time:

30 mins

Total Time:

1 hour 45 mins

Yield:

12 servings

Category:

Entree

Cuisine:

American
Ingredients
3.5 – 4lb salmon
1/4 cup brown sugar
1/4 cup sea or kosher salt
1 Tbs. ground black pepper
1 Tbs smoked paprika
Instructions
Preheat your smoker to 225F
Combine the sugar, salt, pepper and paprika and sprinkle all over the fish, completely coating it. Place the fish in the fridge uncovered and allow to "marinate" for at least an hour up to overnight.
When you're ready to cook it, rinse the rub off in water and pat the fish completely dry.
Place the fish in the smoker and cook until it reaches an internal temp of 145F in the thickest part of the fish (takes approximately 20 – 30 minutes). If it doesn't have skin, you'll want to place it on a baking sheet inside the smoker just to make it easier to remove once it's done cooking.
Remove from the smoker and serve.
*Any leftovers are wonderful served cold. They don't reheat well as the fish will get dried out.
As for the slaw, we just combined some romaine lettuce with shredded carrots, a squeeze of a whole lime and Primal Kitchen Chipotle Lime Mayo.  We also sprinkled on some feta (though cotija would be better).  I also would have really loved to add cilantro, but didn't have any on hand.
Want to stay updated with upcoming live streams on Facebook?  Join The Dinner Bell Facebook Group and I'll keep ya in the know.