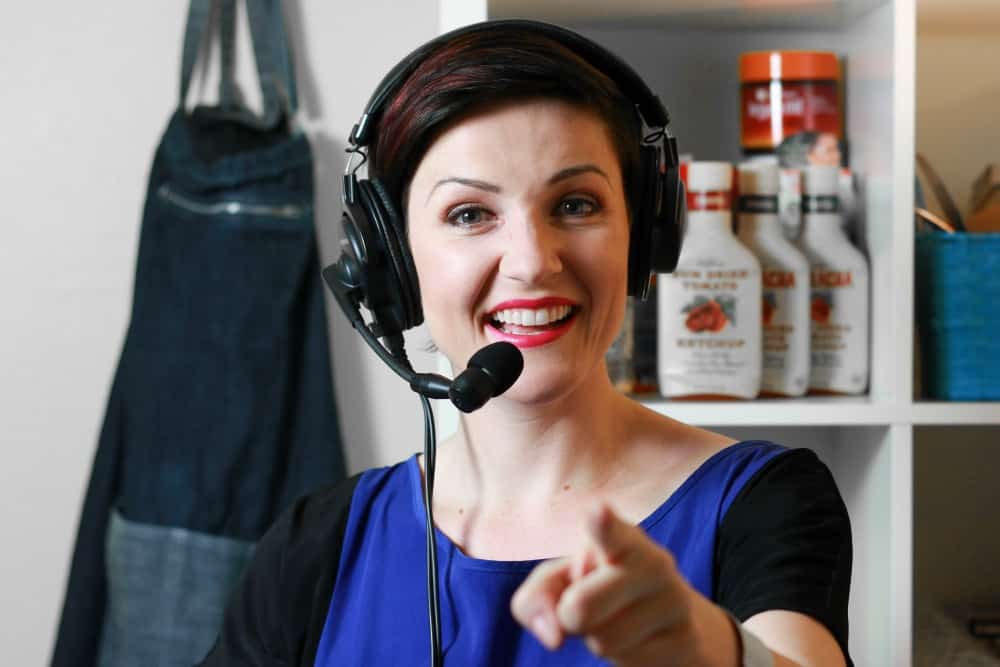 What am I doing in this crazy getup?  No, I'm not fielding customer service calls or taking someone's order at a drive-thru.  I'm talking with professionals in the food world to inspire your Easter celebration today on the podcast.  I'm personally still planning my menu so it was great to get some ideas from four folks who I know have their culinary acts together.  That's right, I was chatting on the phone non-stop yesterday, thus the headset.  I promise, I don't just walk around the house wearing them…or do I?  Nevermind…
First on the lineup is Executive Chef Rich Hinojosa of the Wigwam Resort.  A 20 year kitchen veteran, he shares several fun and easy ideas to make your Easter meal extra special.  From the perfect brûlée on a glazed ham to a killer pineapple and cherry relish (that recipe posted below).  Of course, if you happen to be in the Phoenix area for Easter and you don't want to do the cookin', Chef Rich's team will take wonderful care of you at what is sure to be an epic holiday brunch.
Next up on the call list is Angel Fuchs of Yay Baby Blog.  This fun-lovin' mama shares her new favorite tradition inspired by some leftover Pellegrino.  Yes, another situation of over-buying at Costco (shakes her fist at Coscto!!!!) She explains how to make your beverage offerings at Easter both refreshing and interactive.  You can find the full recipe for her Yum Fresh Fruit Sodas and Easter 2014 recap in the links below.  We also talk about how to handle the picky eaters in your house and her hacks for Easter leftovers.
Finally, two of my favorite Geeks, the 2 Geeks Who Eat, Sarah Eikner and Matthew Stubbs call in to talk about their love of eggs.  It's everything from egg salad to getting the perfect hard-boiled egg that peels nicely.  They also share some crazy ideas for using Peeps. Seriously, we venture into hilarious geek territory and fair warning, you might just get inspired into your own Peep taste-testing shenanigans…because, after-all, the different colors DO taste different, right?
Now, on with the show:

Thoughts, comments, questions?  Leave a comment below!
Want to subscribe to the podcast?  It's available in iTunes and Stitcher!
Joanie Simon's Sober Chicken Podcast – Episode 5 LINKS
Angel's Yum Fresh Fruit Sodas
Angel's 2014 Easter recap
Perfect Hard-Boiled Egg Cooker
Print
Grilled Pineapple and Port Cherry Relish
Author:

Prep Time:

15 mins

Cook Time:

15 mins

Total Time:

30 mins

Yield:

12

Category:

Condiment

Cuisine:

Hawaiian
---
Description
This sweet and smoky relish is perfect for your Easter ham.
---
Ingredients
1 pineapple
canola oil
1 1/4 cups tart dried cherries
2 cups Ruby port
---
Instructions
The night before serving this relish, combine the cherries and the ruby port in an airtight container and allow the cherrries to soak overnight.
Peel and cut 1 pineapple into 1/2 inch planks
Heat your grill to high and rub with canola oil. Once it's hot, place the pineapple on the grill until you get nice dark grill marks and shift once on each side so as to get a nice cross-hatch grill pattern.
Place the grilled pineapple in a container and allow it to cool, collecting all of the juices that run off.
Once cooled, dice the pineapple and place back into the container with its juices.
Strain the cherries from the port and fold the cherries into the grilled pineapple.
Serve this relish alongside a holiday ham.