Sweet and Sour Chicken was a request after my last Facebook Live session.  Another person asked for an easy, light weeknight dish.  I'll be doing Facebook Live as regularly as possible, so if you've got a request for something for me to make, just holler in the comments!  Meanwhile, as requested, Sweet and Sour Chicken, lightened up!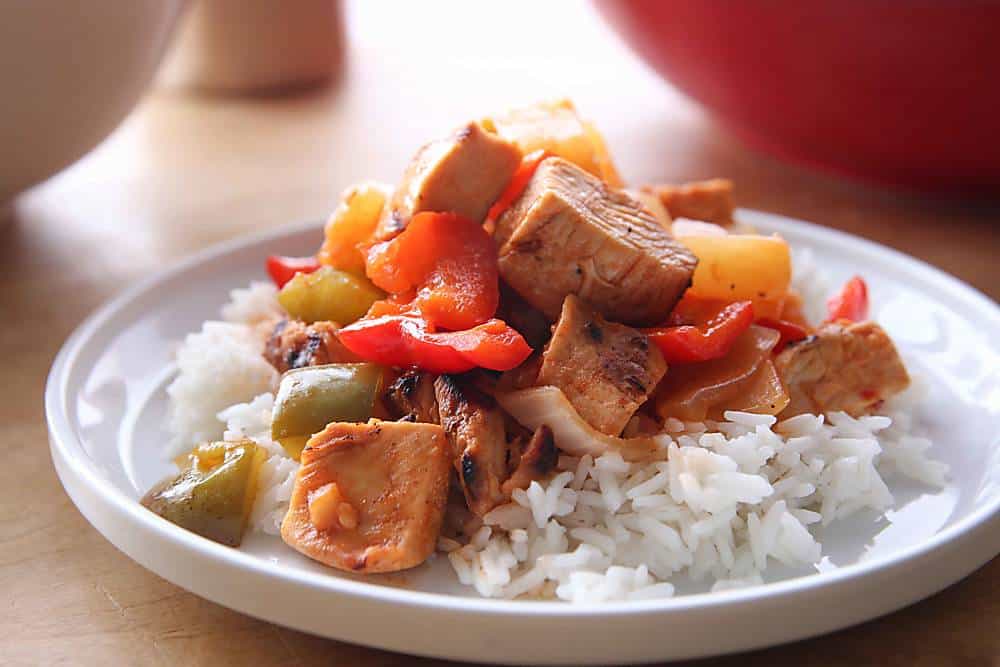 Go Lightly!
This version is "light" because the chicken is not fried and no additional sugar is added.  My usual sweet and sour recipe calls for brown sugar, but in this case, we're relying on natural sugars from pineapple juice to give sweetness.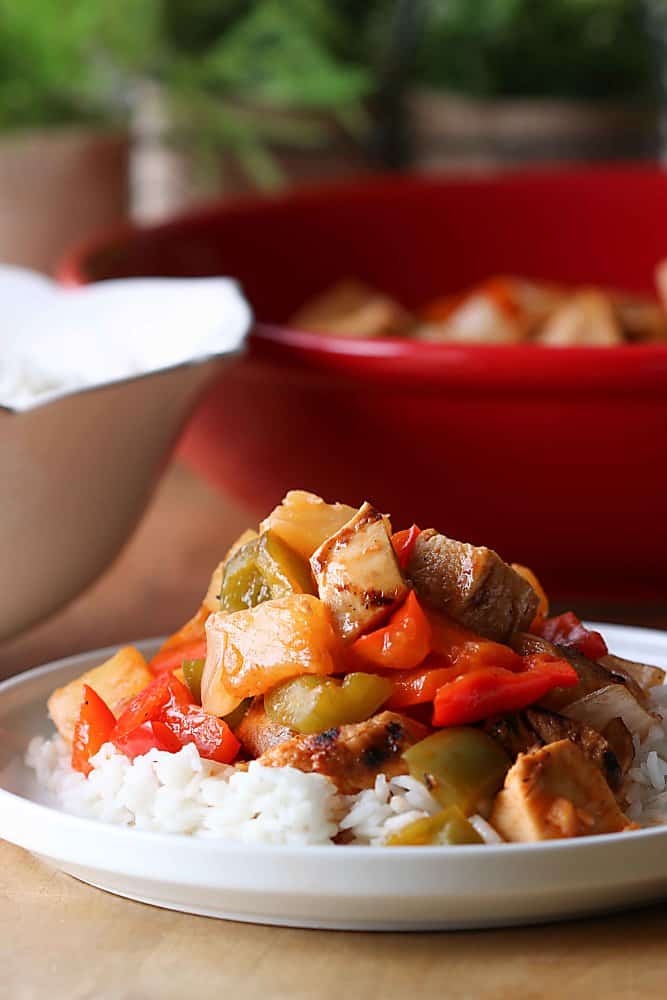 The trick to getting the sauce just right is adding some cornstarch to thicken it up.  In order to activate the cornstarch, you do have to simmer the sauce for a bit.  It's a quick trick and doesn't affect the flavor at all.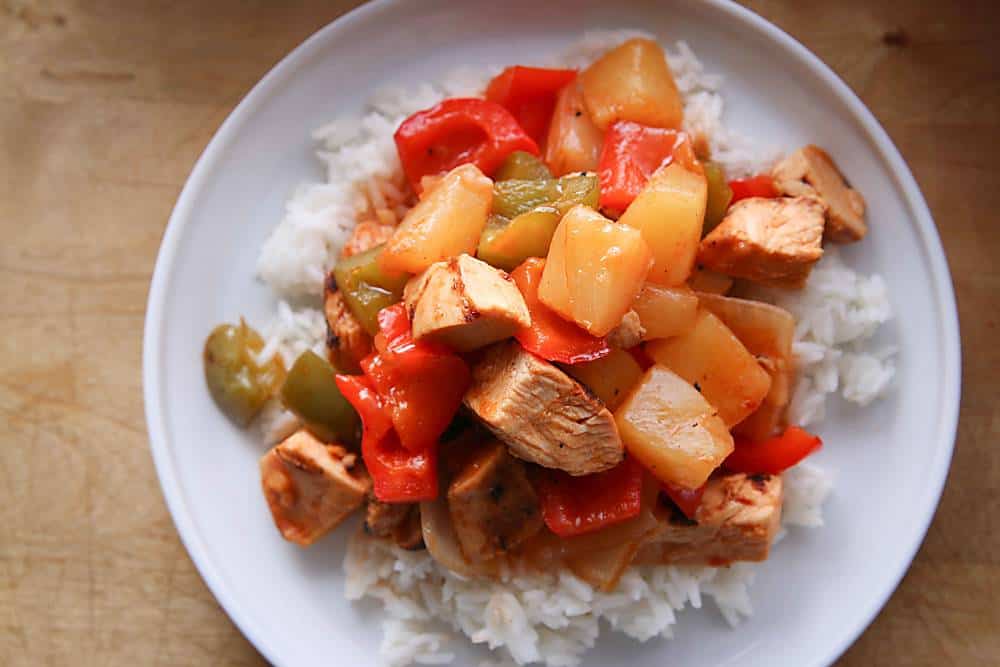 The Chicken
As for the chicken, I typically cook up a bunch of grilled chicken on the weekend to eat throughout the week.  This recipe is great for using up already cooked chicken.  But, if you didn't have any cooked chicken on hand, I personally love using grilled chicken.  The charred flavor adds some fun character to the dish.  Of course, if you don't have a grill, simple pan seared chicken on the stovetop works, too.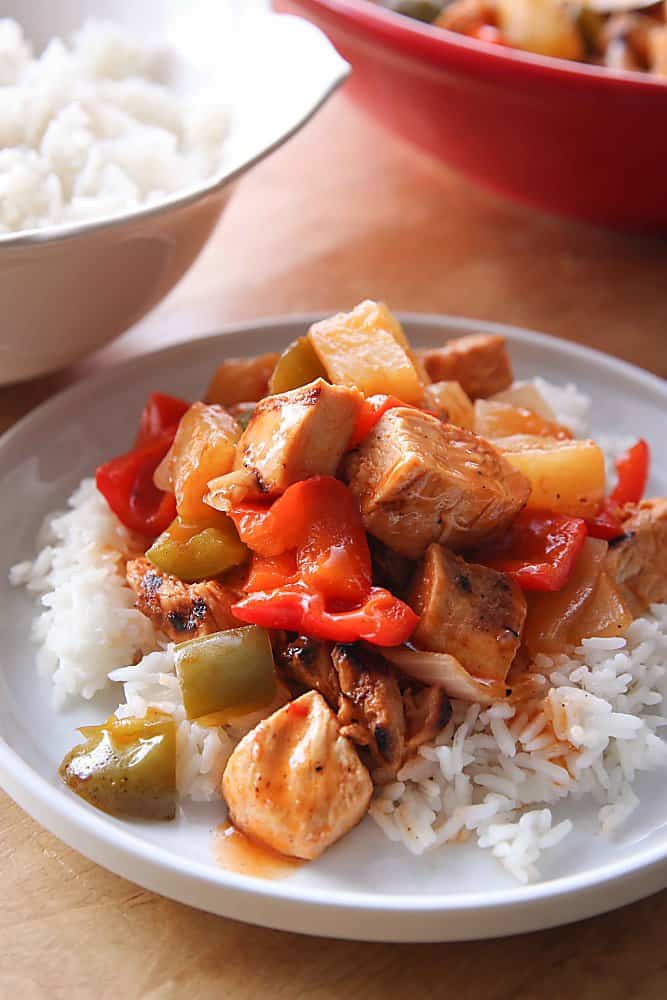 It's an easy quick recipe and Ryan's official comment was "I could eat a lot of this."  Hope you enjoy!
The Recipe
Print
Sweet and Sour Chicken Lightened Up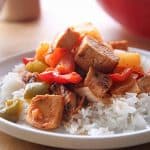 An easy and lightened up version of Sweet and Sour Chicken, naturally sweetened with fruit and perfect for an easy weeknight dinner.
Author:
Prep Time:

15 mins

Cook Time:

15 mins

Total Time:

30 mins

Yield:

4 - 6 servings

Category:

Entree

Cuisine:

Asian
Ingredients
1 lb boneless skinless chicken breast
1 Tbs oil
1 red pepper, chopped
1 green pepper, chopped
1 sweet onion, large chopped
1 garlic clove, minced
20 oz pineapple chunks in juice
1 tbs soy sauce (tamari for gluten free)
1 tbs rice wine vinegar
Salt
1/4 cup tomato paste
1 tbs cornstarch
Instructions
Prepare the chicken by either grilling or pan cooking and then large dicing it, then put it to the side to add to the dish later. (recommended cook to 165F internal temp for keep it juicy while still fully cooked).
Add 1 Tbs oil to a large pot or pan and heat over medium high heat and add in the peppers and onion and garlic and cook stirring frequently until slightly softened and fragrant.
Once softened, add in the pineapple with its juice, soy sauce, rice wine vinegar, salt and tomato paste and stir until it's all mixed together. Then add in the chicken and sprinkle with cornstarch. Continue to stir to mix in the cornstarch and cover the chicken with sauce. Simmer over medium to thicken the sauce (about 4 to 5 minutes).
Remove from heat and allow to set for 5 minutes to continue to thicken.
Serve with rice or quinoa.