I was tired of feeling rushed during my shoots. I remember being pre-occupied about where the sun was in the sky, what the clouds were doing, and when the sun would set. After resisting artificial lighting for a long time, I finally gave in and my life was forever changed.
I can shoot any time, anywhere and get natural looking results like these:
From "light and airy" to "dark and moody" I have full control over my lighting.
Any experienced professional photographer will tell you that even if you plan to be a natural light shooter, having the artificial lighting skills are indispensable.
Where do I start?
If you're shooting still images, the best place to start is with a basic off camera flash. It's my vote for the best bang for your buck. It gives you a ton of brightness and total control in any environment, because with flash, we can literally cancel out any ambient light and create lovely light anywhere.
This is an absolute must if you're going to shoot in restaurants. Like this shot, captured despite being surrounded by those awful overhead tungsten restaurant lights.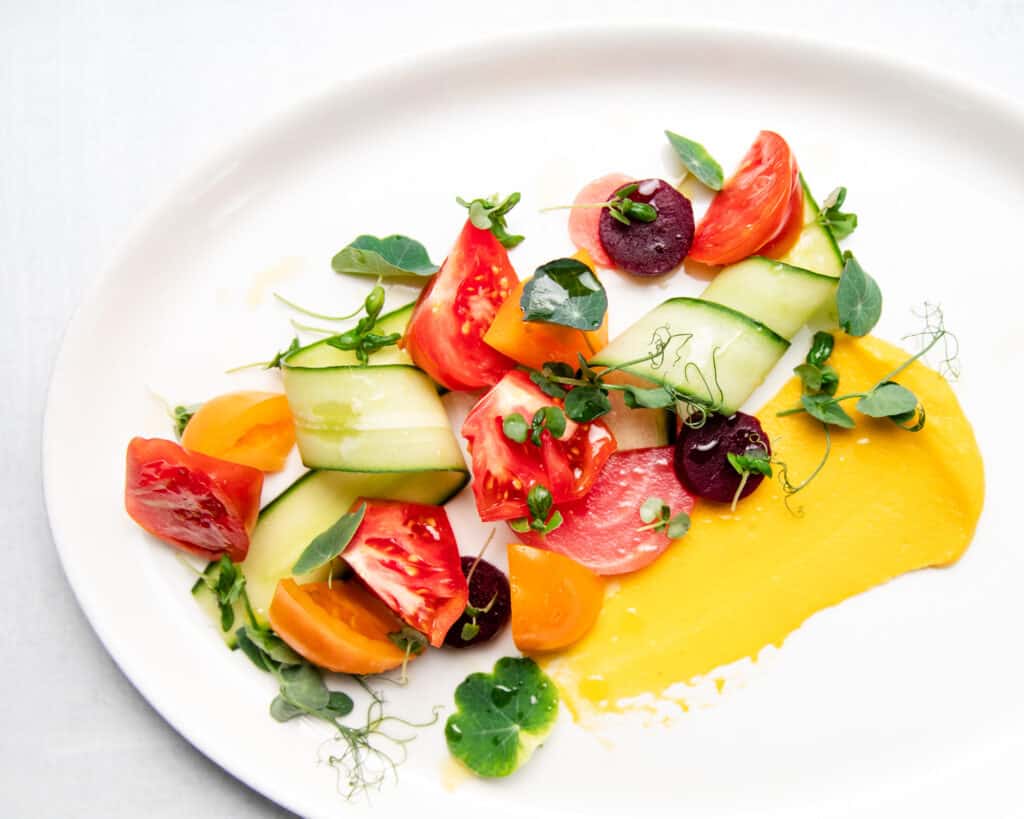 Many students also remark that their images are sharper and crispier once they start shooting with flash. This is because flash doesn't rely on the shutter speed to freeze action. If you struggle with blurry or flat lighting in your shots and have been thinking you needed a new lens, hold off on the lens purchase and shoot with flash first. You'll be amazed at the results!
The one drawback to shooting flash is the learning curve. Instead of the light continuously being on like natural light or a continuous lamp, the flash fires when you hit the shutter button on your camera to illuminate your scene. There are also some technical hurdles that can cause frustration at the outset. That's why I created my Artificial Academy course, a comprehensive online class that teaches you everything you need to know to get started and avoid the headaches.
Myself and my support team are excited to help you learn this invaluable skill!
What do I need?
To make it easy, I have created starter "packages" of all the exact gear you'd need for a complete set up based on the kind of camera you're shooting, your budget and the work you're doing.
The one big caveat is to double check in terms of the trigger, that your camera is compatible. When you follow the link, check the specs to make sure your model is listed. The triggers are made specifically to work with particular brands. Also, some entry level DSLR cameras or older cameras have limitations. So, just double check your camera's compatibility before buying.
The mounting bracket that I list in each of the packages is my current favorite because it will be compatible with a wide variety of modifiers (aka, the umbrella / softbox / etc…the thing that modifies the light) and speedlight styles. The s-type speedlight bracket I recommend that you'll see in all of the packages works with umbrella style modifiers AND bowens mount softboxes.
When it comes to modifiers, in each of the packages I list my favorite starter umbrella that is inexpensive, is easy to set up and easy to store. But, if you are looking for a very particular style of lighting, check out the "Other Modifiers" section at the bottom.
I'm Looking for the Best Budget Option for a Canon Camera ($225 for total package) ***Some of Canon's entry level cameras are NOT compatible with 3rd party flashes. Double check the specs to confirm if your camera is compatible or if you're a member of Artificial Academy you can confirm with a Bite Shot team member in the private group that comes with the course.
I'm Looking for the Best Budget Option for a Nikon Camera ($225 for total package)
AA batteries (if you want rechargeable, I recommend Enloop)
I'm Looking for the Best Budget Option for a Sony Camera ($225 for total package)
I'm Looking for the Best Budget Option for a Fuji Camera ($225 for total package)
I Shoot Canon and want Canon lights ($865 for total package)
AA batteries (if you want rechargeable, I recommend Enloop)
I Shoot Nikon and want Nikon lights ($605 for total package)
I Want Exactly What YOU have, Joanie ($971 total package)
Other Modifiers
If you are seeking a very specific look to your lighting, the magic is all in the modifier. Here are recommendations below
Continuous Lighting
In case you hadn't noticed, I'm a flash fanatic. However, I also own continuous lights, primarily for the use in shooting video. You can also shoot stills with continuous lights, however, you'll want to make sure you're working in an environment where you have total control over the ambient lighting.
When I shoot with my continuous lights, I have all of the overhead room lights off and have blackout curtains drawn over the windows. Otherwise, other sources of light can have a negative impact on the final images. For example if an overhead room light is a different color temperature compared to my photography lighting, it can interfere with the colors being captured. Or if light is entering the scene from too many directions, it can cause a feeling of flatness in the images.
If you're looking for a continuous light, I'd recommend going with an LED. There are affordable options in the LED category, quality ones will render colors accurately and they run cool so you don't run the risk of your food melting due to heat from your lights.
One important spec to pay attention to in terms of continuous lights is the CRI, the Color Rendering Index. Make sure to select a light with a rating of 92 or higher in order to ensure accurately portrayed color in your images.
The LEDs I recommend have a Bowens mount so that the same softboxes that I use with my flashes can be used with my LEDs. I love versatility!
Here are a few options at different price points:
Godox SL-60W – A quality light and great for the price. However, if you have a bit more budget you might consider opting for the higher powered 150W or 200W for a brighter light (especially helpful if you're planning to shoot 60fps or 120fps slow mo b-roll shots. Also, some folks don't love the sound of the fan from this unit, so that's something to consider if you're capturing video where audio is also being recorded or opt for the super silent fan version of these same units.
Aputure 300D – this is the light that I own and use for everything from YouTube videos to client videos and all my video needs. It's super bright, the fan is quiet, and I'd buy it again in a heartbeat.
What Next?
I'm here to help and walk you through every step of the way!
I created a comprehensive course on artificial light: Artificial Academy. It includes everything from how to set up the light, the step by step to get the camera settings to communicate with the light, how to manipulate the light, how to make it look natural, and tons of live demos including shooting light & airy, dark & moody, capturing drinks, shooting in a restaurant, shooting outdoors, shooting action and capturing headshots.
Skip the trial and error method and learn to shoot like a pro right away. Too, it includes access to a private Facebook Group just for students enrolled in the course and I'm available daily for technical support and feedback on your images.
I'm excited for you to jump into the world of artificial light and can't wait to hear how it's making your life easier!