Kifle Christmas Cookies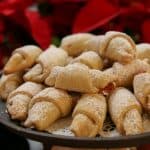 Author:
Prep Time:

40 mins

Cook Time:

40 mins

Total Time:

1 hour 20 mins

Yield:

64 cookies

Category:

cookie

Cuisine:

European
Ingredients
2 1/4 cups dried apricots
1 1/2 cups water
1 1/2 cups brown sugar
4 cups flour
1 cup sour cream
1 package yeast
1 1/4 cups butter, room temperature
4 egg yolks, room temperature
1 tsp vanilla
Instructions
Place apricots and water in a saucepan and simmer over medium until soft and water is absorbed.
Add in brown sugar and stir until combined, then blend with a blender until smooth.
Remove from heat and set to the side. *extra can be used as jam on toast
Combine flour and yeast and then add in butter, cut up into tablespoons and mix with a fork to break up the butter.
Add in sour cream, egg yolks and vanilla and mix with fingers until fully combined then remove the dough as a large ball and knead for 3 minutes.
Divide the large dough ball into 8 evenly sized balls, roll and place in a bowl in the refrigerator for 30 minutes.
Heat oven to 375F
Working with one dough ball at a time, place powdered sugar on a clean work surface, then place the dough ball on it and roll out with a rolling pin until 1/4 in thick.
Using a knife or pizza cutter, cut the dough into 8 triangular pieces, like a pizza.
Place a dollop of the filling near the edge of the dough, then roll up the outside over the filling and start rolling in toward the tip of the piece of dough, pinching the sides so as to seal in the filling.
Once rolled, place the cookies on a baking sheet with parchment or a silpat and bake at 375F for 13 minutes or until a light golden color.
Allow to cool then sprinkle powdered sugar over the cookies and serve.