Salmon will forever make me think of my Nana.  Who is my Nana?  My maternal grandmother.  The most outrageously classy lady I know who is mostly to blame for my taste  for the finer things in life.  She was the first to introduce me to the theater, art museums, Lawrence of Arabia, white table cloths, Paul Simon and salmon.  Much of my dining out as a kid was thanks to Nana and if there was salmon on the menu, many times, that's what she would order.  She loves it, and I love it.  It's one of those foods that I enjoy for both the taste as well as the nostalgia.  Admittedly, though, I don't make it very often at home.  If I do, it's usually smoked salmon.  So, when charged with the opportunity to dream up a use for Traina Foods' Sun Dried Tomato Ketchup with Sriracha, for some reason my brain went to fish. Salmon is the perfect canvas to layer on a tangy and spicy sauce, powerful enough to stand up to sriracha in this case.  But, I wanted to sweeten things up, go for that beloved sweet & sour combo.  That's when the pineapple showed up.  This recipe is elegant and balanced and nearly effortless.  I'm certain this little number will do Nana proud.
(Full, printable recipe posted at the bottom.)
First, pre-heat your oven on 'broil' and place the rack on the upper 1/3 of the oven.
Next, make your glaze by grating 2 tsp fresh ginger and combining it with 1/2 cup of pineapple preserves (I used Smucker's) and 1/4 cup Traina Foods' Sun Dried Tomato Sriracha Ketchup.  Be aware that this is not like regular ketchup in that it's thicker and tangier, so if you try to sub with regular ketchup, you will have very different results.  Want to find this ketchup?  There's a store locator on their website.
Next, brush the glaze over your salmon filets.  Be sure, if your salmon comes with skin, that the skin side is down.  I do suggest getting it with skin on, if possible.  It's a great way to lock in moisture.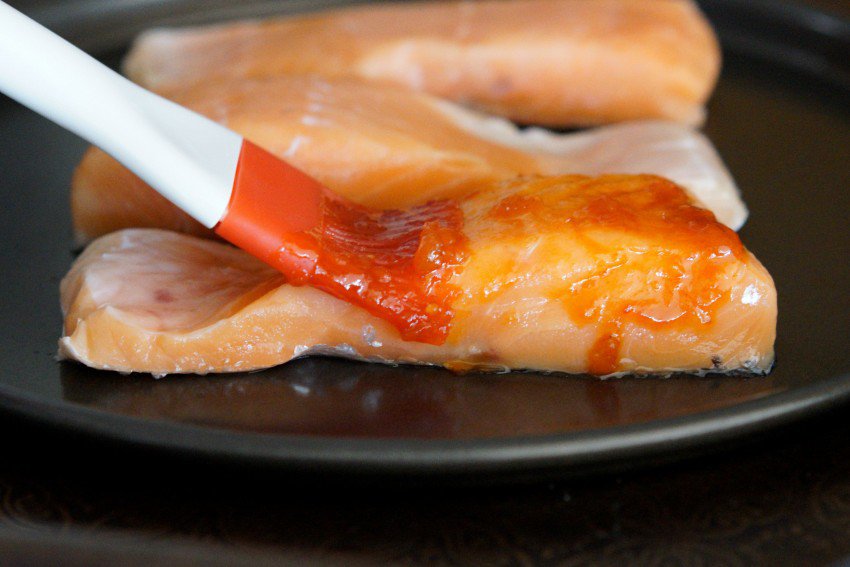 Once all of your filets are glazed, place them under the pre-heated broiler for 8 to 11 minutes, depending on thickness (the ones pictured took 9 minutes).  Doneness is a tricky thing.  The FDA recommends cooking salmon to 145F.  Me personally, I pull it from the oven in the 125 to 130 range, knowing there will be carry-over cooking happening, and because overcooked protein makes me sad.  If you want to spot check your fish, it should be firm throughout, pull apart easily but still glisten a little on the inside (aka still has moisture).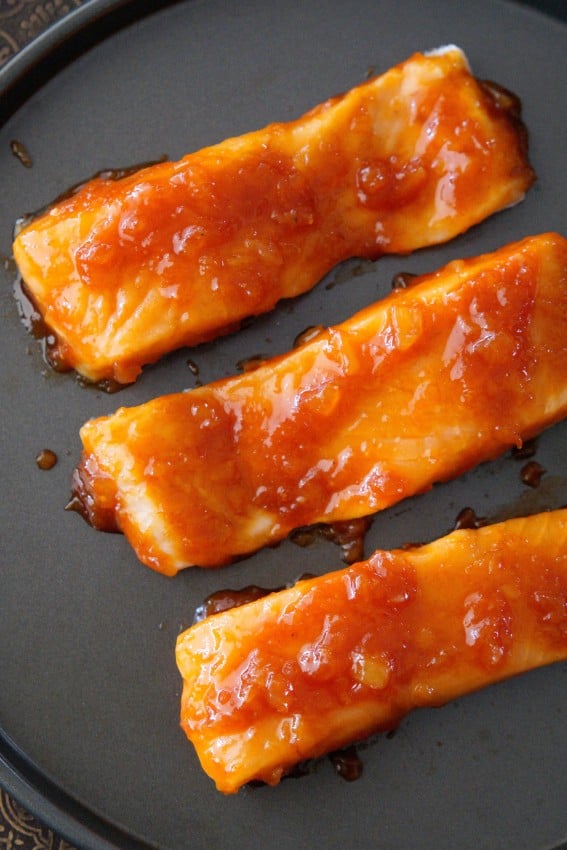 While the salmon are cooking, assemble the pineapple salsa.  Combine the diced pineapple, red pepper, scallions, cilantro, olive oil, pepper and salt.  You can make this a day ahead if you would like.  It only gets better as the flavors meld together.
Once your salmon is done cooking, you're ready to serve.  Plate each salmon and top with a generous scoop of the pineapple salsa and a sprinkling of sesame seeds.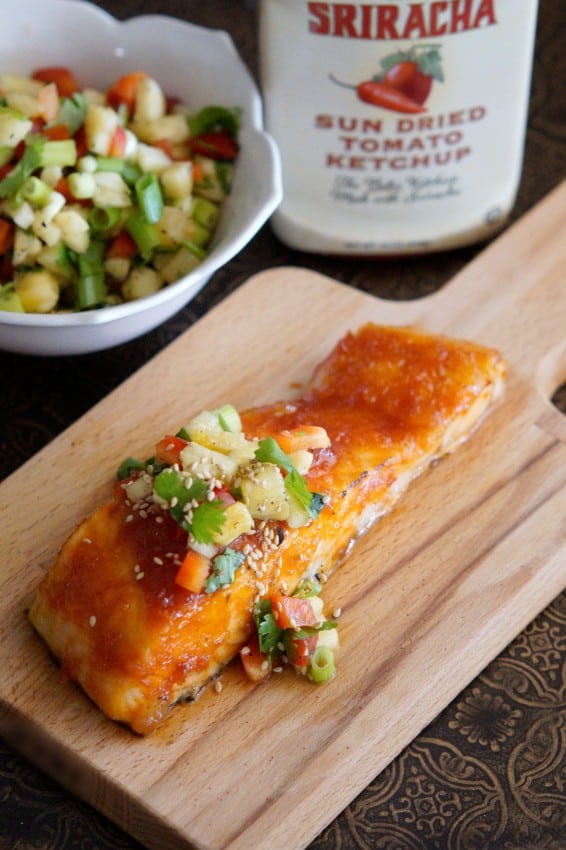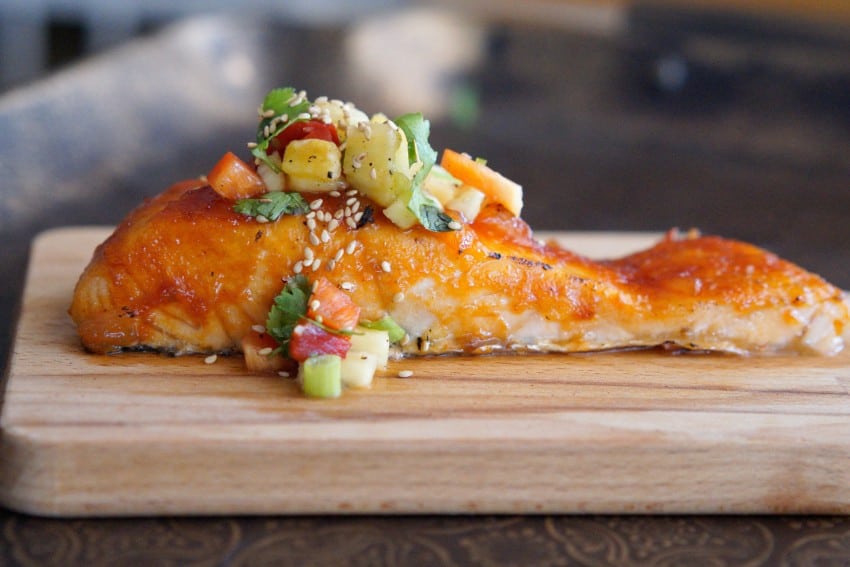 *This post is sponsored by Traina Foods, makers of Sun Dried Tomato Ketchup
*Original recipe by Joanie Simon (joaniesimon.com)
Print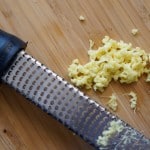 Sweet & Sour Sriracha Salmon
---
Author:

Total Time:

27 mins

Yield:

4

1

x
Description
Sweet, sour and spicy converge on salmon filets along with a pineapple and pepper salsa.
---
1/2 cup

pineapple preserves

2 tsp

grated ginger root

1/4 cup

Traina Foods Sun Dried Tomato Sriracha Ketchup

4

salmon filets

1 cup

small diced pineapple

1/3 cup

small diced red pepper

2

Tbs chopped cilantro

1/3 cup

chopped scallions

1

T extra virgin olive oil

1/8 tsp

ground black pepper
salt to taste
sesame seeds for garnish
---
Instructions
Pre-heat your oven on 'broil' and place the rack on the upper 1/3 of the oven.
Mix together the pineapple preserves, grated ginger and Traina Foods Sun Dried Tomato Sriracha Ketchup.
Place salmon filets skin side down on a baking pan and brush the pineapple/ketchup mixture over top of the filets.
Place salmon in the oven under the broiler and allow to broil for 8 to 11 minutes, depending on thickness. Salmon is done when it's firm throughout and easily flakes, but still moist. This typically happens between 130 and 140F, however the FDA recommends 145F for salmon. Be aware, though of carry-over cooking. After you remove a protein from an oven or grill, it will continue to rise in temperature for several minutes.
While the salmon is cooking, prepare the salsa. Combine all remaining ingredients into a bowl and toss to combine.
Once salmon is cooked, serve garnished with the pineapple salsa and sprinkle with sesame seeds.
Prep Time:

15 mins

Cook Time:

12 mins

Category:

Entree

Cuisine:

Pan-Asian