*This post about Ice Cream Sandwiches and its corresponding video are sponsored by the fun folks at Blue Bunny Ice Cream, however, all opinions expressed are genuine and honest.
It's officially summer vacation and that brings to mind my favorite frozen treat: the ice cream sandwich.  My specific recollection is of the type in the white paper with vanilla ice cream between two square chocolate cookies.
The 
Blue Bunny Ice Cream Sandwich Truck
Blue Bunny turned that image upside down with their custom ice cream sandwich truck, The Blue Bunny Ice Cream Sandwich Truck.  It kicked off here in my hometown of Phoenix and we got to dive into their custom creations.  The options are seemingly endless, picking from two flavors of ice cream, four cookies and nine toppings.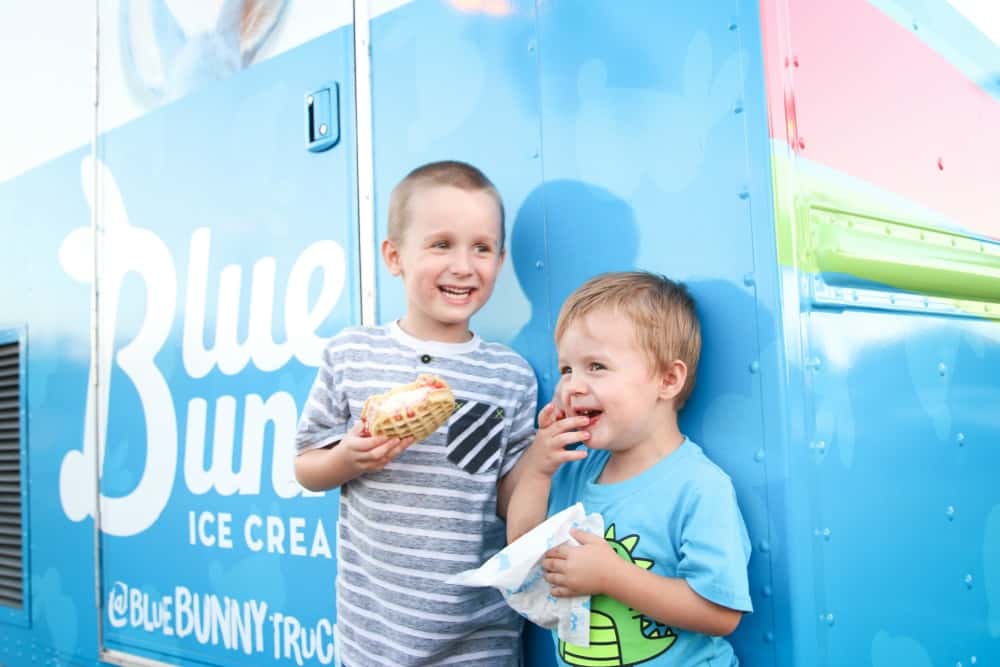 Blaise went the waffle route, adding vanilla ice cream, sprinkles and strawberry sauce.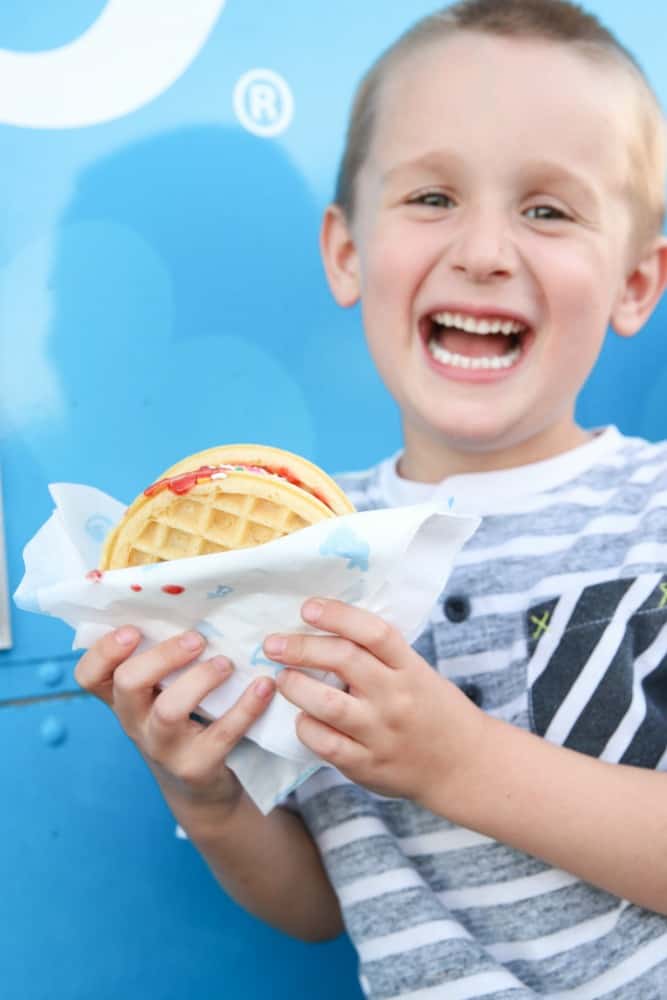 Calvin went the chocolate direction with peanut butter cookie, vanilla ice cream, chocolate chips and chocolate sauce.  Ryan's a huge fan of chocolate and peanut butter together, so if you're like him, this is the sandwich to order.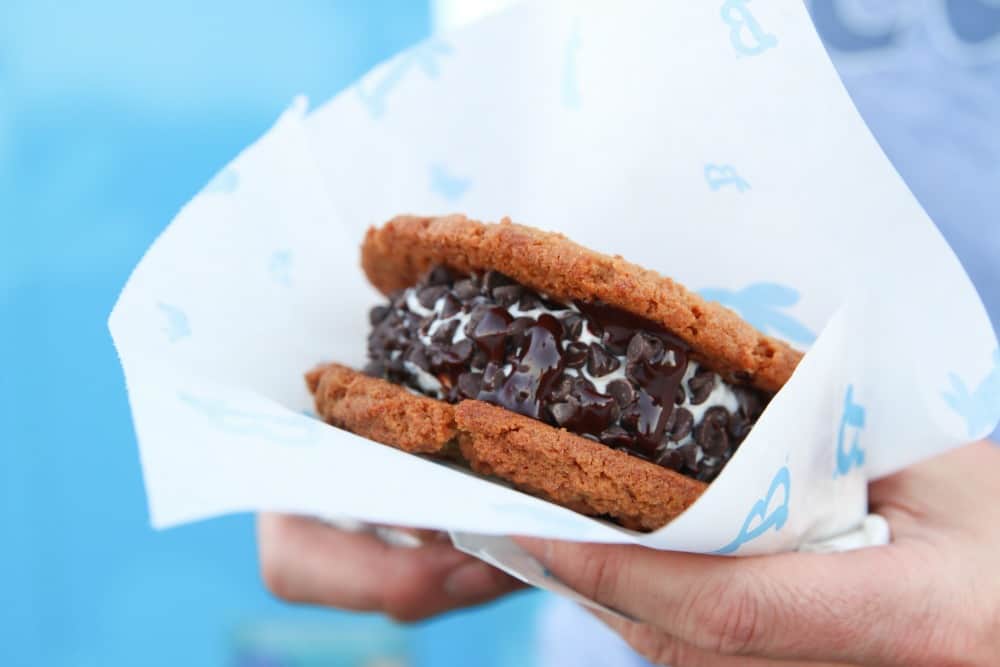 The Blue Bunny Ice Cream Sandwich Truck is currently popping up at events in Phoenix, Tampa and Orlando and they'll be posting about other upcoming events at BlueBunnyTruck.com and on their Instagram and Twitter accounts.
Getting Creative at Home
We had so much fun at the Blue Bunny Ice Cream Sandwich Truck, but the ice cream sandwich adventures didn't stop there.  We came home and crafted some inspired sandwiches of our own.  We used Blue Bunny Ice Cream, a company that has been serving up premium ice cream for over 100 years.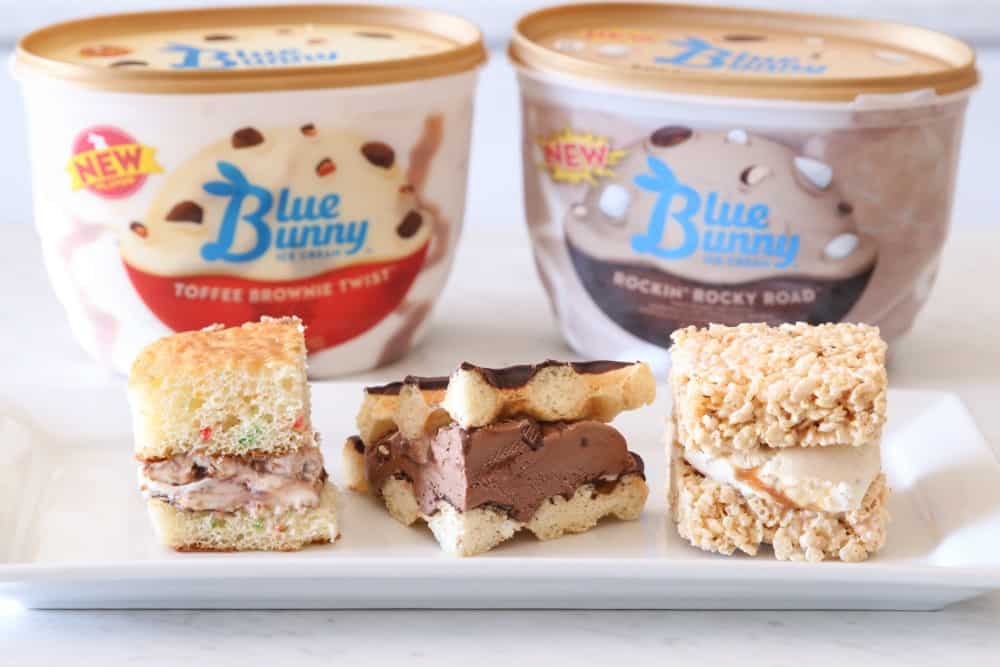 Our first sandwich was inspired from Blaise's favorite breakfast cereal; rice crispies.  We made homemade squares with rainbow marshmallows and then scooped on Blue Bunny's Toffee Brownie Twist.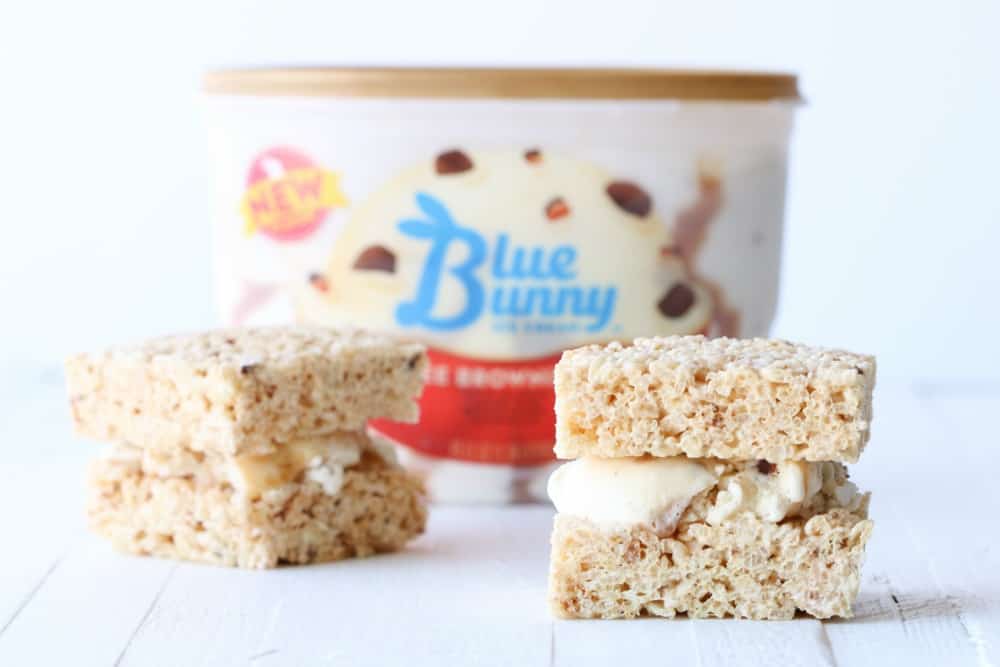 The second sandwich was based on the idea of birthday party funfetti cake, stuffed with ice cream!  We prepared a box of funfetti cake, but poured it into two sheet pans instead of just one so that it would make two layers.  Then, once the cake was baked and cooled, we scooped on Blue Bunny's Monster Cookie Mash and then topped it with the other layer.  From there, cut it into squares and you've got cake and ice cream in one.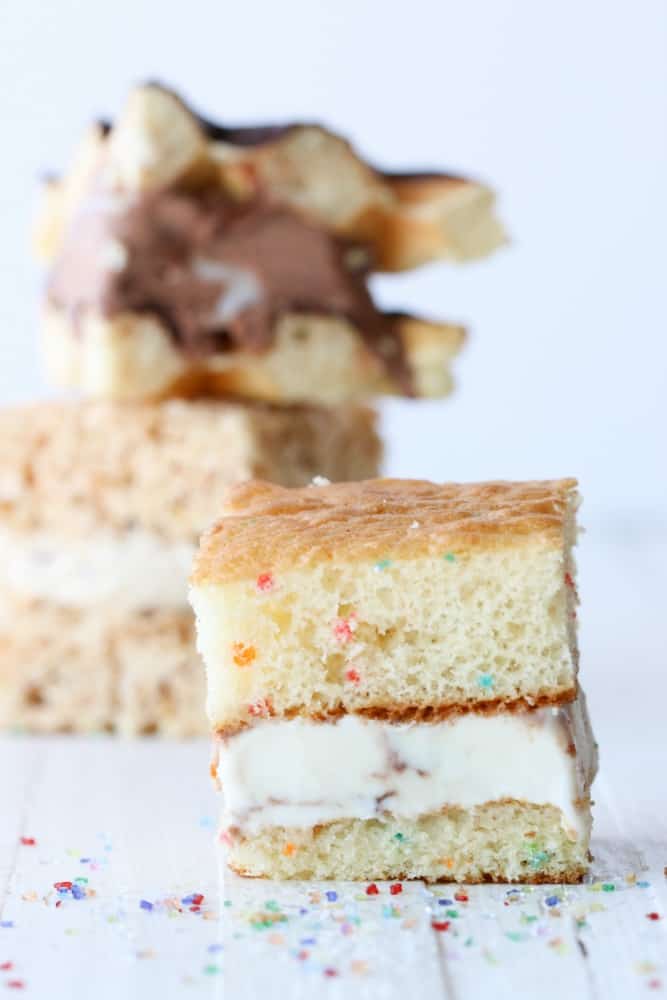 Finally, inspired by the waffles at the Blue Bunny Ice Cream Sandwich Truck, we made our own based on my Sour Cream Waffles recipe (although, you can use whatever batter recipe you want) and then dipped them on the top in melted chocolate.  From there, we filled them with Ryan's new favorite, Rockin' Rocky Road.
All three are easy to make and using Blue Bunny's fun new flavors makes these custom creations extra special.  Get the recipes below or get inspired to make your own custom ice cream sandwich concoction at home!

Rice Crispies Toffee Brownie Sandwich
Prep time:
Cook time:
Total time:
An ice cream sandwich with rice crispies for bread and filled with Blue Bunny's Toffee Brownie Twist Ice Cream
Ingredients
3 tablespoons butter
1 package (10 oz) Marshmallows
6 cups crisp rice ceral
1 container Blue Bunny Toffee Brownie Twist Ice Cream
Instructions
In large saucepan melt butter over low heat. Add marshmallows and stir until completely melted. Remove from heat.
Add cereal. Stir until well coated.
Using a buttered spatula or wax paper evenly press mixture into 13 x 9 x 2-inch pan coated with cooking spray. Cool. Cut into 2-inch squares.
Scoop Blue Bunny ice cream onto half of the squares and press the remaining squares on top to make sandwiches and serve immediately.
Funfetti Ice Cream Cake
Prep time:
Cook time:
Total time:
An ice cream sandwich made with funfetti cake and filled with ice cream.
Ingredients
1 box funfetti cake (plus ingredients listed on the box for preparation)
1 carton of Blue Bunny Monster Cookie Mash Ice Cream
*optional sprinkles
Instructions
Prepare the funfetti cake according to the package directions, but divide between two parchment lined sheet pans so that you end up with two layers.
Bake 5 minutes less than package directions indicate since the layers are thinner.
After the cakes bake, remove them from the oven and allow them to cool.
Scoop ice cream onto one of the sheet cakes, then take the other cake, remove the parchment paper from the bottom and place it on top of the ice cream to make a giant sandwich.
Place in the freezer at least an hour to set up.
Cut into squares and serve.
Chocolate Waffle Ice Cream Sandwich
An ice cream sandwich with chocolate dipped waffles
Ingredients
4 waffles (your favorite frozen variety or homemade)
6 oz melting chocolate wafers
1 container Blue Bunny Rockin' Rocky Road Ice Cream
Instructions
Prepare waffles and then dip them on one side into melted chocolate wafers.
Allow the chocolate to cool and harden.
Scoop ice cream onto two of the waffles and top them with the other two to form a sandwich. Enjoy whole or cut into halves to share.