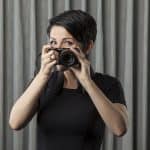 HI! I'M JOANIE
Commercial food photographer, educator, YouTuber, wife, mom and potato lover. Glad you're here!
The Bite Shot is your home base for food photography education. Learn through hours of free YouTube tutorials to in-depth online courses and everything in between. Bring your camera and get ready to rock your food photos!
For Brands
Looking for quality custom food photography for your brand or business? You've come to the right place! I have a deep understanding of the importance of communicating the signature style of my clients and how to incorporate seasonality and trends. Let's chat about your photo needs.