Burgers for breakfast?  No, this breakfast burger is more for those who want breakfast for dinner.  It's definitely a hefty dinner time sandwich with thick cut bacon, melty cheddar cheese and 1/4lb all-beef patty.  Don't let the English Muffin throw you.  It's my favorite bun option out there for any burger.
Burger for Breakfast
To really hammer home the "breakfast" experience of this breakfast burger, I added fennel seeds to the beef.  Fennel is typically found in breakfast sausage, so adding it to the patty hearkens to that flavor profile.  Too, the combo of Canadian bacon, cheese and English muffin can't help but take us all into McMuffin territory.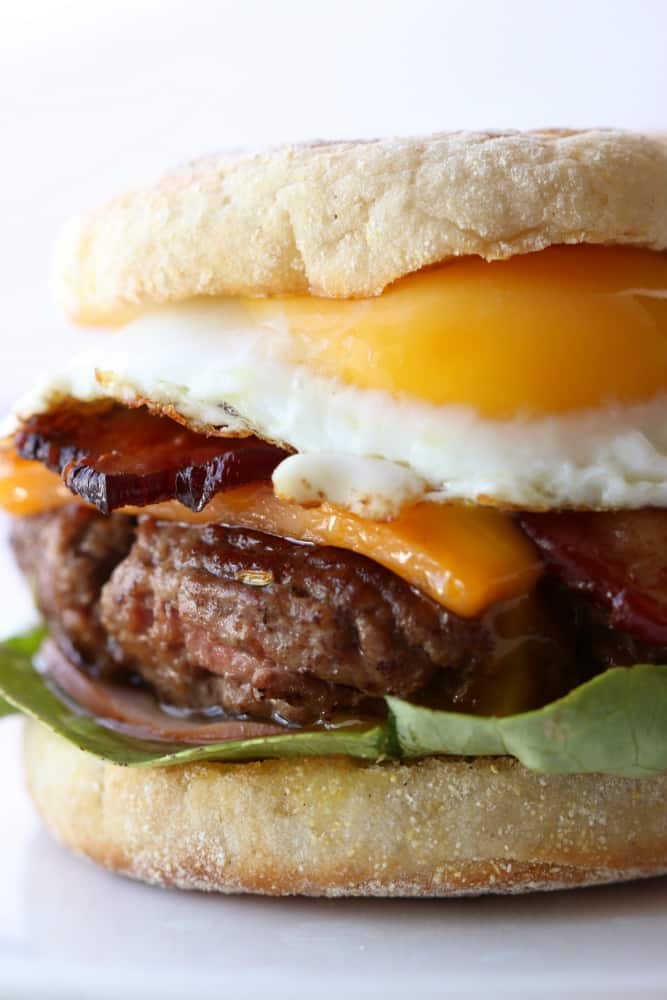 But you also need a secret sauce and this one has mustard, mayo and maple.  The maple makes it.  I promise!  It's like honey mustard, but maple mustard.  Don't skimp on it, either.  It really pulls the whole thing together.
Throw an egg on it, and you've got a meal.
One note about the bacon.  I do recommend getting it from the butcher.  They'll make it nice and thick-cut for you.  Then, cook it in the oven at 375 for about 20 minutes, or until the fat's nicely rendered and that bacon is perfectly browned and crispy.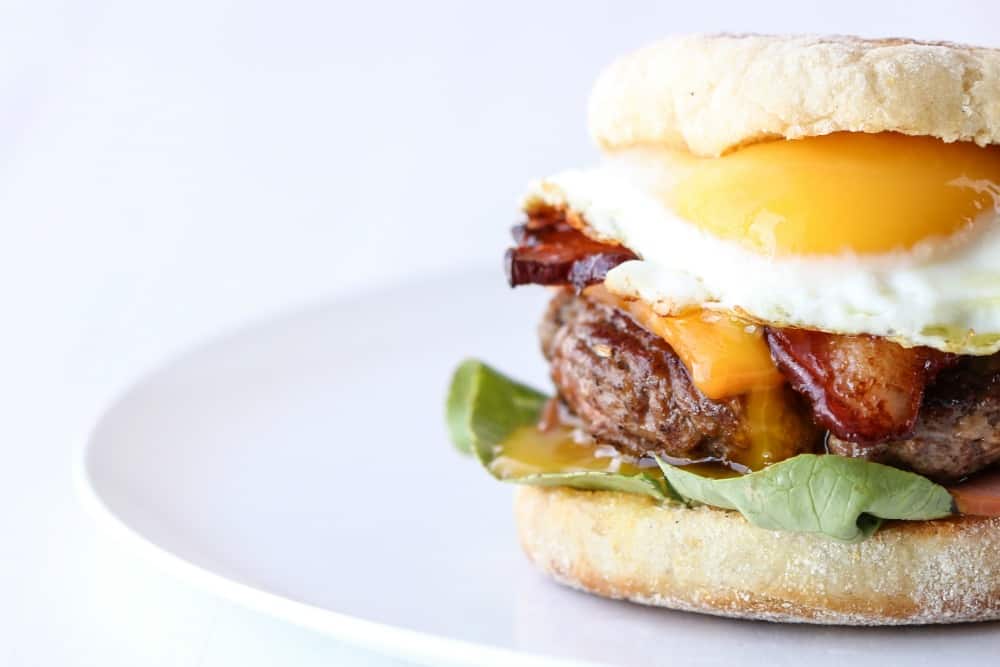 The Breakfast Burger Recipe
Print
Breakfast Burger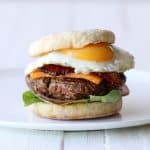 All your favorites from breakfast on a burger including bacon, cheese, egg, maple syrup and Canadian bacon, on an English muffin.
Author:
Prep Time:

20 mins

Cook Time:

15 mins

Total Time:

35 mins

Yield:

4 burgers

Category:

Entree

Cuisine:

American
Ingredients
1 lb 80/20 ground beef
1 tsp fennel seeds, whole
1 tsp smoked paprika
½ tsp Lawry's seasoned salt
¼ tsp salt
1 tbs Mayo
1 tbs Mustard
1 tbs maple
4 eggs, prepared sunny side up to desired doneness (I like it runny so the yolk is a sauce)
4 – 1 oz cheddar cheese slices
4 – 8 slices of Canadian Bacon
8 slices thick cut bacon
4 large leaves of Boston or green leaf lettuce
4 English Muffins, split and toasted
Instructions
Combine your beef, fennel, paprika, lawry's and salt and mix to incorporate, but don't over work. Then divide the meat into four and turn into round 1 inch patties.
Prepare your secret sauce by mixing together the mustard, mayo and maple.
Get all of your other ingredients ready for when the burgers are ready to assemble.
Cook the patties according to your preferred doneness and add a slice of cheddar to the top at the very end of cooking to slightly melt.
Assemble the burger by placing a finished patty on the bottom of one half of a muffin. Then place the Canadian bacon on top of that, then the crispy bacon, then a piece of lettuce and then the egg on top of that. Schmear the maple mustard on the inside of the top bun and place on top and serve.