Finally, at long last, I created my idea homemade pizza crust.  I had three goals when I set out on my pizza making journey months ago.
1 – It needed to be crispy on the outside with a crackly "crunch" factor
2 – A light and chewy interior was paramount
3 – It had to be super simple to make
After much trial and error, this is THE crust, topped off with roasted potatoes, garlic and Boursin cheese.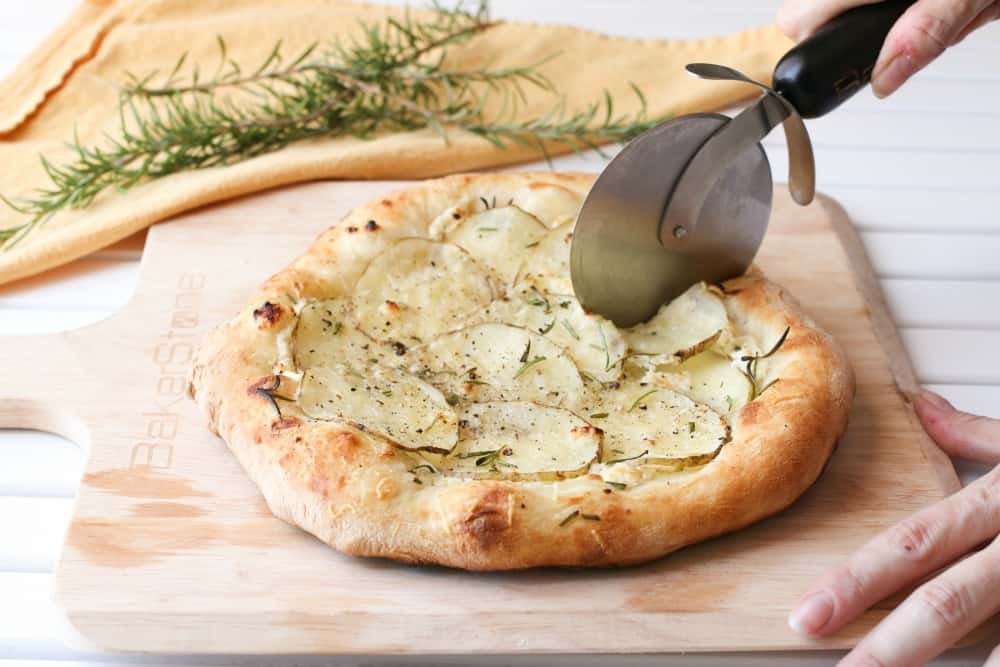 I know it seems like carbs on carbs, and it is, but I promise, it's utterly satisfying.  The soft roasty potatoes add texture while silky slices of roasted elephant garlic add sweetness and loads of flavor.  The additional magic in this pie is from the fresh Boursin cheese, melted  beneath the other toppings.  It's a creamy, soft cheese mixed with garlic and herbs.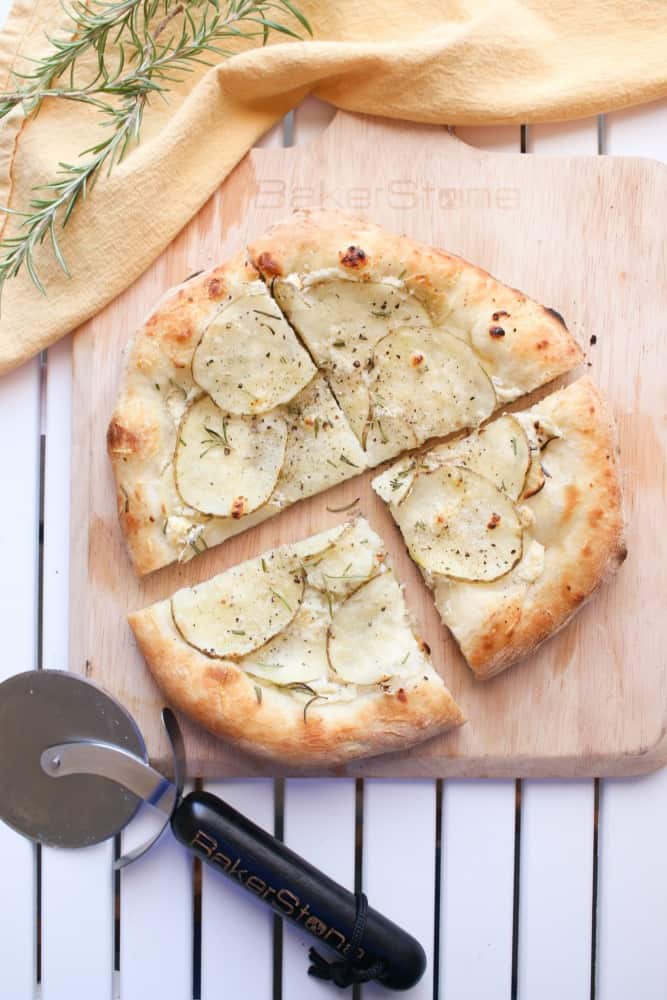 Sure, it's a rather monochromatic pie, but what it lacks in color, it makes up for in flavor.  But, a major, important part of this pizza equation is how it's cooked.  The BakerStone Pizza Oven Box fires up to 800F, giving you wood-fired style pies in the convenience of your own grill.  Want to see how it works?  Want to make your own homemade pizza crust?  Never fear!  I made you a step by step video:
Potato Pizza with Homemade Pizza Crust
Print
Grilled Potato Pizza with Homemade Crust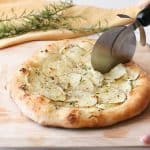 A homemade pizza crust recipe that is topped with roasted potatoes, garlic and creamy Boursin cheese.
Author:
Prep Time:

1 hour 30 mins

Cook Time:

5 mins

Total Time:

1 hour 35 mins

Yield:

4 - 8'' pizzas

Category:

Pizza

Cuisine:

American
Ingredients
3 cups flour
1 tsp dry active yeast
1/2 tsp salt
1.5 cups water
2 Tbs oil
1 boursin cheese
2 russet potatoes, thin sliced
2 cloves elephant garlic, thin sliced
olive oil
salt
fresh rosemary
Instructions
Combine flour, yeast, salt and oil in the bowl of a stand mixer, attach dough hook and mix on low, adding the water gradually until the dough consistency clings to the hook, but isn't overly sticky. Will be between 1 cup of water and 1.5 cups of water.
Knead for 5 – 10 minutes in the stand mixer (or 8 to 10 by hand).
After dough is needed, place it on a floured work surface and cut into quarters, rolling each into a ball.
Place the four dough balls on a baking sheet sprayed with cooking spray and cover with plastic wrap.
*if using the dough later, cover completely in saran wrap and refrigerate.
Allow the dough to rest and rise on the counter top until dough is roughly doubled in size (approx 1 hour).
When you're ready to cook the pizza, preheat the BakerStone Pizza Oven Box on the grill.
Form the crust on a floured work surface, keeping it thin near the middle and even around the edges.
Microwave potato slices in a container of water for 3 minutes until soft. Rinse with cold water so that they can be handled.
Microwave elephant garlic slices in a container with oil for 1 minute.
Assemble your pie by brushing some of the garlic infused oil on the surface of the pie.
Crumble 1/4 of the Boursin cheese over each pizza crust, then place sliced garlic, then potato slices, then season with salt, cracked pepper and fresh rosemary. Repeat with remaining pies.
Place the pizzas one at a time into the BakerStone Pizza Oven Box and allow to cook unmoved for 45 seconds to a minute, then rotate every 45 seconds to a minute until the cheese is bubbling, the crust is browned and in some places blistered.
Serve immediately.
*original recipe by Joanie Simon (JoanieSimon.com)