Ribs are in my top ten favorite foods of all time and I love them on the smoker. But, I don't always have six hours to babysit the baby backs on my Green Mountain Grill, so that's why I came up with this Instant Pot Baby Back Ribs recipe. It's BBQ ribs with a homemade tangy barbeque sauce, cooked in the Instant Pot and finished in the oven, all in under an hour.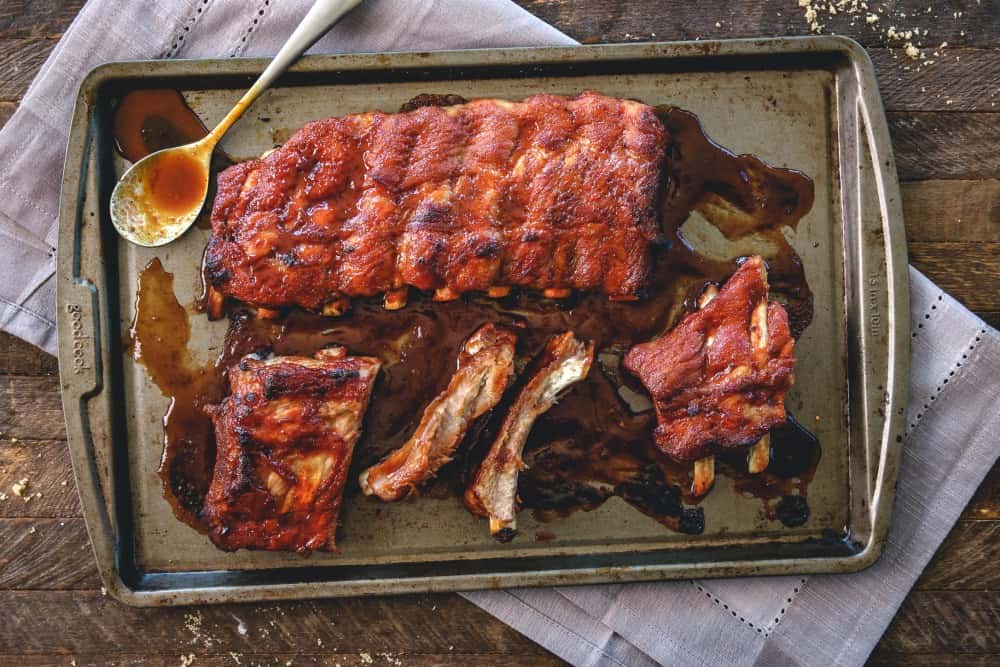 The Sauce
BBQ sauce is a very personal thing.  Everyone has a different way that they like it.  Some sweet, some spicy.  I personally like it loaded with vinegar and tanginess.  This recipe is definitely on the tangy side of the spectrum thanks to mustard and apple cider vinegar.
Of course, you can use whatever sauce you like best, though.  If you don't have time for homemade sauce, just grab your favorite at the store and keep on rockin' those baby back ribs.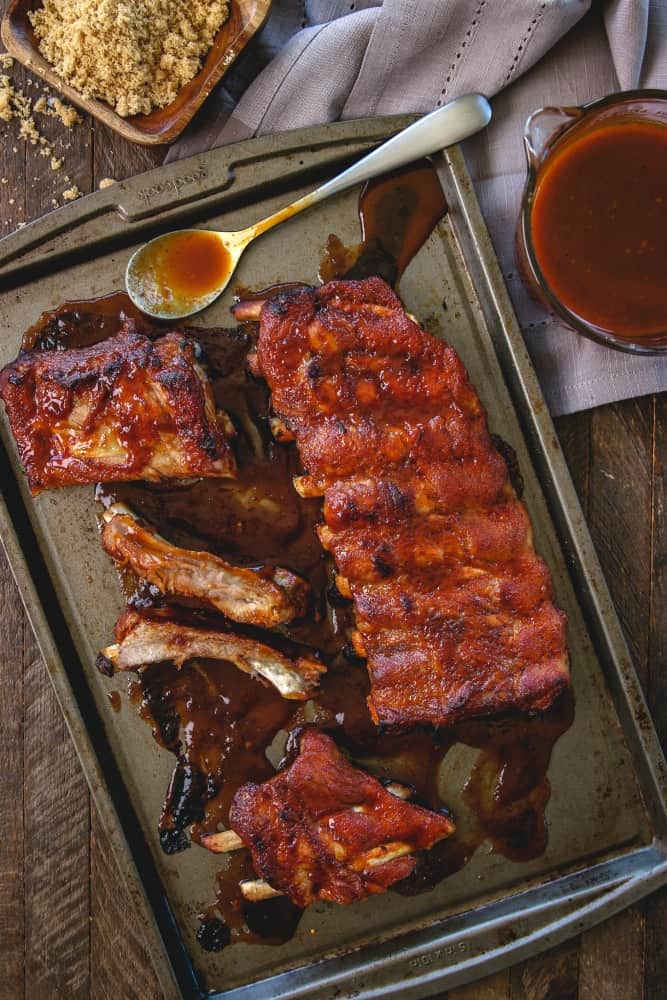 Timing
I have seen some people recommend 20 to 25 minutes for baby back ribs in the Instant Pot.  For me, that's too long.  I like my meat to be tender, easily pulled off the bone, but not falling apart.  I found that 14 minutes in the Instant Pot is just right for my liking.  But, of course, as always, you do what makes you happy.  I'm just here to make suggestions 🙂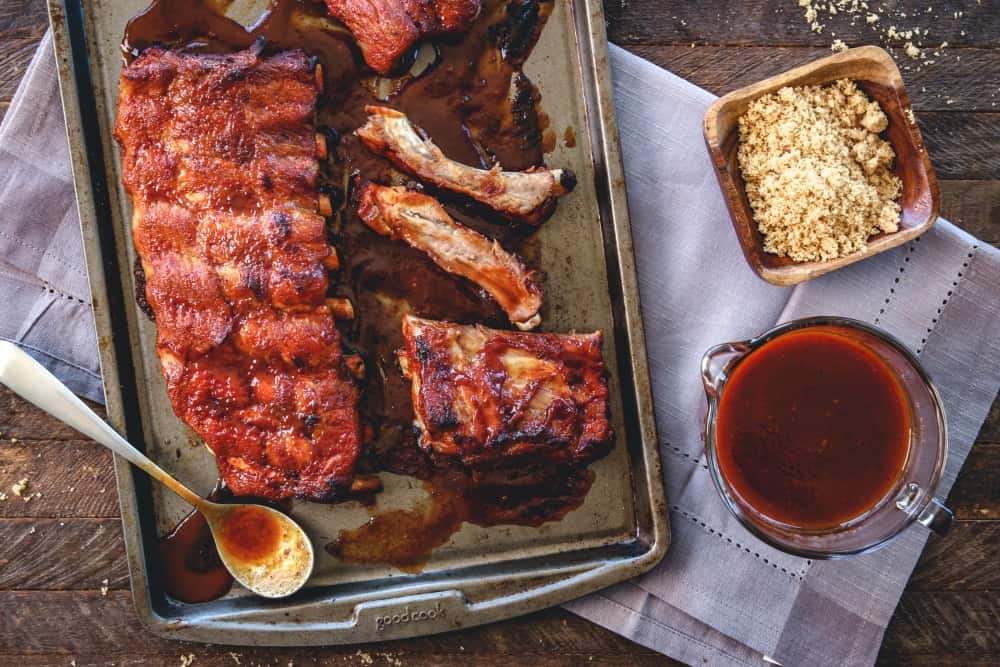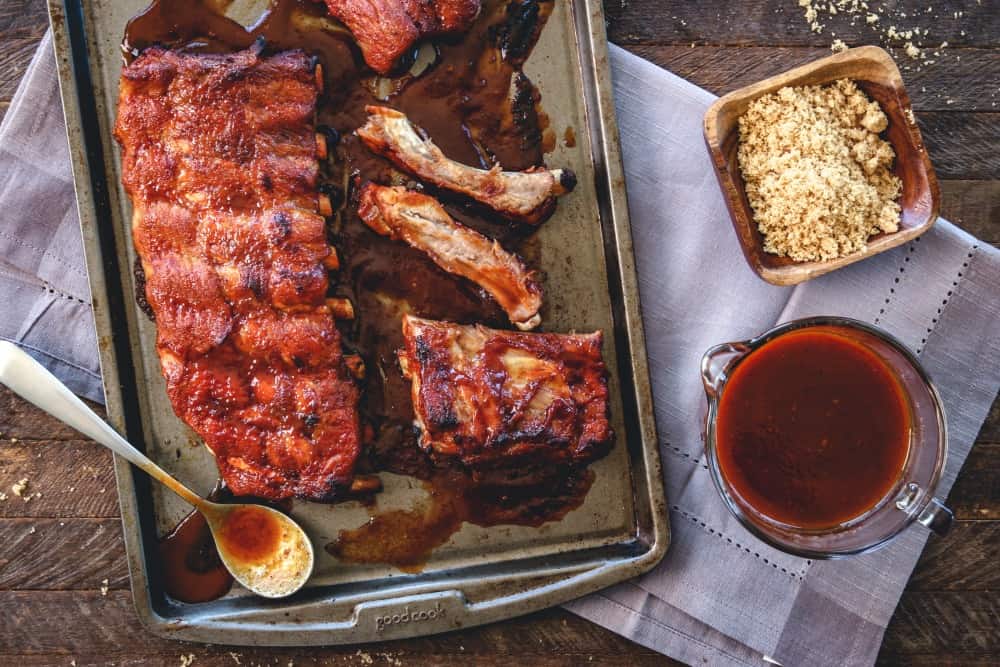 Print
Instant Pot Baby Back Ribs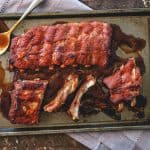 BBQ Baby Back Pork Ribs prepared in the Instant Pot and finished in the oven
Author:
Prep Time:

15 mins

Cook Time:

50 mins

Total Time:

1 hour 5 mins

Yield:

3 - 4 servings

Category:

Entree

Cuisine:

American
Ingredients
SAUCE:
3/4 cup brown sugar
2 Tbs mustard
2 tsp garlic salt
2 tsp salt
1 tsp worchesterhire
1/4 cup ketchup
1/2 cup apple juice
3/4 cup apple vinegar
RIBS:
2 half rack of baby back ribs pork
1 cup apple juice
Instructions
Combine all of the sauce ingredients into a saucepan over medium high heat and bring to a simmer and reduce heat to continue simmering, stirring occasionally, for 30 minutes until the sauce has thickened and reduced by 1/3.
Transfer to a heat safe jar and allow to cool then cover and can keep in the fridge up to 5 days.
Place the ribs and 1 cup apple juice into the Instant Pot / electric pressure cooker along with 1/4 cup of sauce drizzled on the ribs. Close and set to manual for 14 minutes.
Quick release the pressure once the time expires.
Preheat the oven to broil.
Place ribs on a foil lined baking sheet and brush with plenty of the BBQ sauce you made.
Broil for 8 to 10 minutes until bubbling and crispy.
Remove, eat, enjoy!