Jalapeno Salsa Verde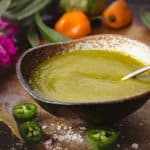 Author:
Prep Time:

15 mins

Cook Time:

15 mins

Total Time:

30 mins

Yield:

6 oz
Ingredients
1 poblano pepper
2 jalapeno peppers
2 tomatillos, skins removed
1 whole clove garlic
1 Tbs oil (your favorite flavorless oil)
½ cup white wine vinegar (or regular white vinegar)
½ cup water
1 tsp salt (additional to taste)
½ cup fresh cilantro
Instructions
Put the poblano, jalapenos, tomatillos and garlic in a dry cast iron skillet, turning every few minutes and char. If you'd rather, you can place them under the broiler for 10 min, turning halfway through and continuing to cook until skins are charred.
Once fully roasted, remove the stems from the peppers, then combine them all into a blender along with ½ cup water, 1 Tbs oil, and ½ cup white wine or regular white vinegar.
Blend until smooth.
Transfer into a sauce pot and bring to a simmer allowing the salsa to reduce by ¼, then transfer back to the blender along with the cilantro and blend until smooth.