Ryan is putting this Jalapeno Salsa Verde on everything from tacos to eggs to sandwiches.  And before you click away, fearing that this salsa is too spicy, never fear!  It's easily adjusted for your particular spice preference.
Serving Size
This recipe makes about a standard 6 oz small jar's worth of salsa.  But we're officially triple batchin' it because it's relatively easy to make and doesn't contain any mystery ingredients like most commercial salsas.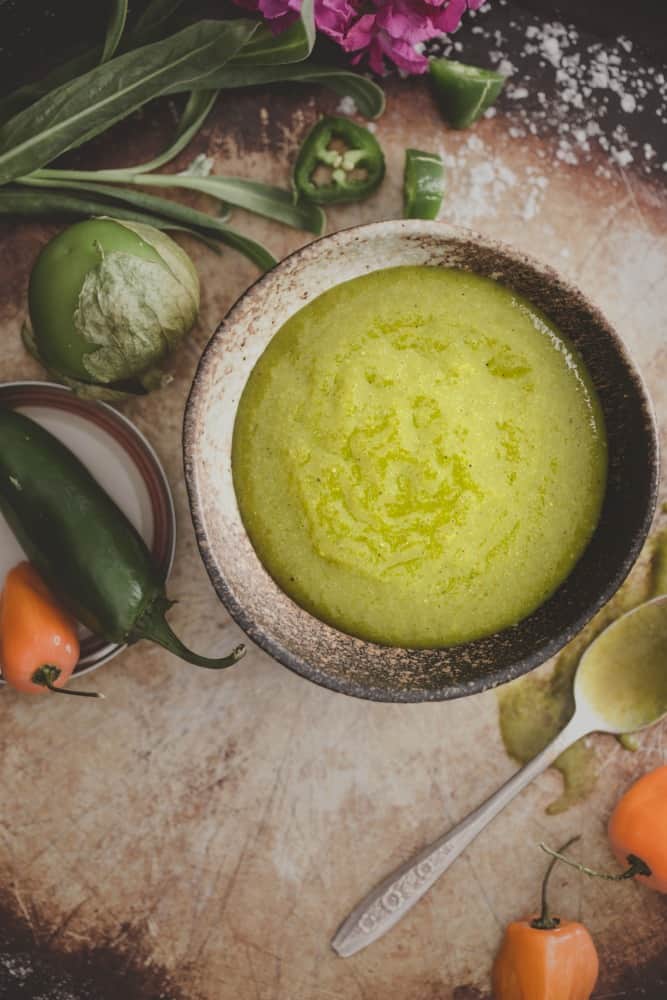 Pick Your Peppers
Start off with your selection of peppers for this salsa.  I'd stick with an anaheim pepper and a poblano pepper if you want mild salsa.  If you're going for medium, then follow the recipe as prescribed.  Go with habaneros to kick it into hotsy-totsy territory.
Heat varies within each type of pepper.  I've had some poblanos that were super mild, while others blew my face off.  Consider yourself warned.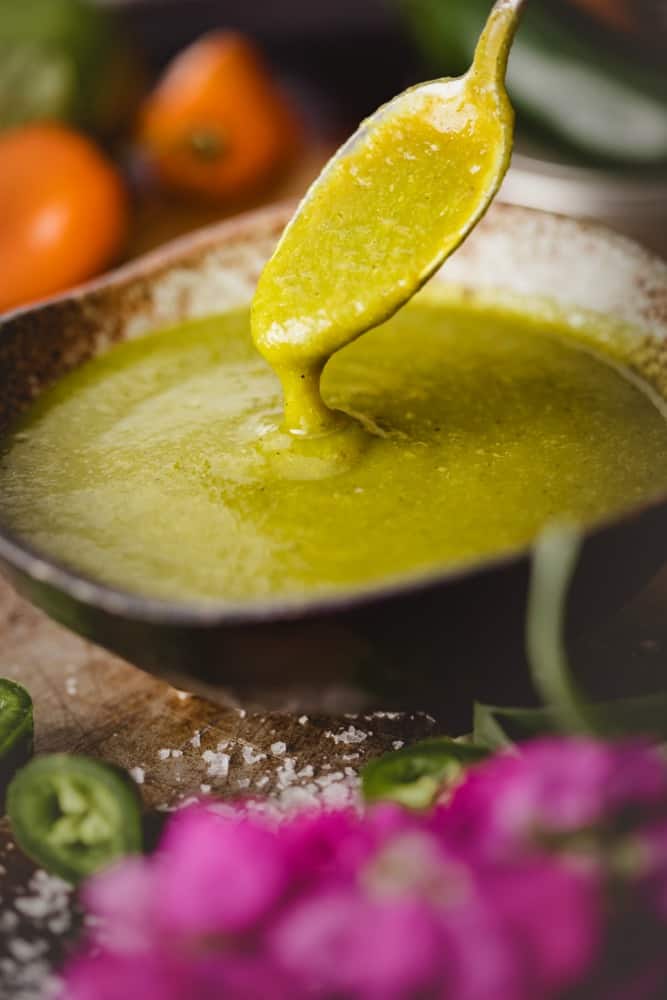 Jalapeno Salsa Verde
As you'll see in the recipe, you blend this salsa twice.  I know, that seems redundant, but I promise, there's method to my madness.  The first blend is of everything except for the cilantro.  This is because that first blending then gets thrown into a sauce pot and simmered in order to reduce and thicken a bit.  I leave the cilantro out of the step so that it doesn't get overly cooked and turn brown.  By saving it for a second blend after doing the cooking, then the cilantro is only slightly cooked, enough to become fragrant, and then still stays a nice bright green.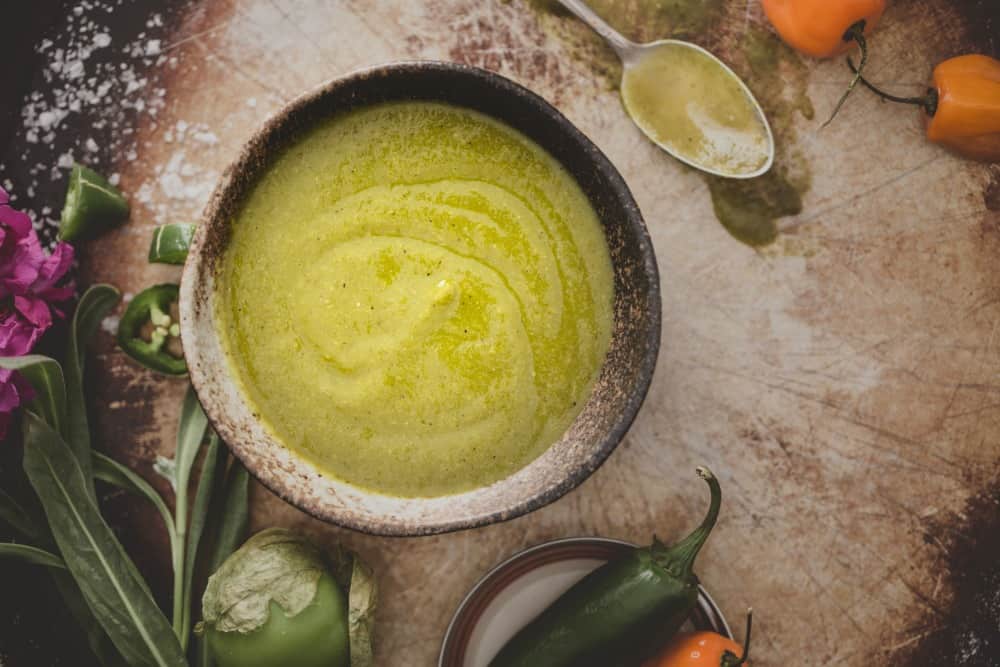 Because this is made with a fair bit of vinegar, it will keep in the fridge up to five days in an airtight container.  Meanwhile, this stuff has me thinking of what other recipe opportunities it might possess.  Chilaquiles, anyone?  Stay tuned 🙂
The Recipe
Print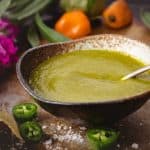 Jalapeno Salsa Verde
---
Author:

Total Time:

30 mins

Yield:

6 oz

1

x
1

poblano pepper

2

jalapeno peppers

2

tomatillos, skins removed

1

whole clove garlic

1

Tbs oil (your favorite flavorless oil)

½ cup

white wine vinegar (or regular white vinegar)

½ cup

water

1 tsp

salt (additional to taste)

½ cup

fresh cilantro
---
Instructions
Put the poblano, jalapenos, tomatillos and garlic in a dry cast iron skillet, turning every few minutes and char. If you'd rather, you can place them under the broiler for 10 min, turning halfway through and continuing to cook until skins are charred.
Once fully roasted, remove the stems from the peppers, then combine them all into a blender along with ½ cup water, 1 Tbs oil, and ½ cup white wine or regular white vinegar.
Blend until smooth.
Transfer into a sauce pot and bring to a simmer allowing the salsa to reduce by ¼, then transfer back to the blender along with the cilantro and blend until smooth.
Prep Time:

15 mins

Cook Time:

15 mins