How to Make Polenta Pizza Crust
You can change up your pizza game by using polenta for the crust and call it polenta pizza.  It's an easy dish loved by Italians.  Polenta pizza requires cooking the polenta in the correct ratio of 3 to 1.  That's 3 cups of water to 1 cup of polenta.  Cook it on the stovetop for a good long time, around 30 to 45 minutes.  It should be soft.  Next, spread it in a cast iron skillet, top it just like pizza and bake it at 375F for 15 minutes.  That will give you a crust that's soft on the inside, but firm enough to hold up when you slice into it.
From there, you top it how you want.  Keep on reading and I'll share with you my special Arizona inspired recipe for a Rustic Skillet Polenta Pizza.
What Inspired This Polenta Pizza?
The inspiration for this Rustic Skillet Polenta Pizza came from thinking about some of my favorite Arizona-made ingredients.  My friend Michelle at Bite Magazine proposed the idea of putting together a box for purchase online that would contain ingredients to a recipe on my YouTube channel.  So, I thought through some of my favorite ingredients and I knew I wanted to use Hayden Flour Mills' polenta, AZ Bitters Lab bitters and something from GoLbSalt.  What emerged after a quick brainstorm was this Rustic Skillet Polenta Pizza with bitters blistered shishito peppers, caramelized onions, fresh goat cheese and a tomato chili sauce.  I really think you're going to dig this one!
You can grab The Kitchen Kit that contains all of these specialty ingredients so you can cook along with me online!
It's also special to be using Hayden Flour Mills because of the story behind their father/daughter business. In the video Emma Zimmerman from Hayden Flour Mills, shares the story of their business and why their polenta is so much better than the industrially milled stuff.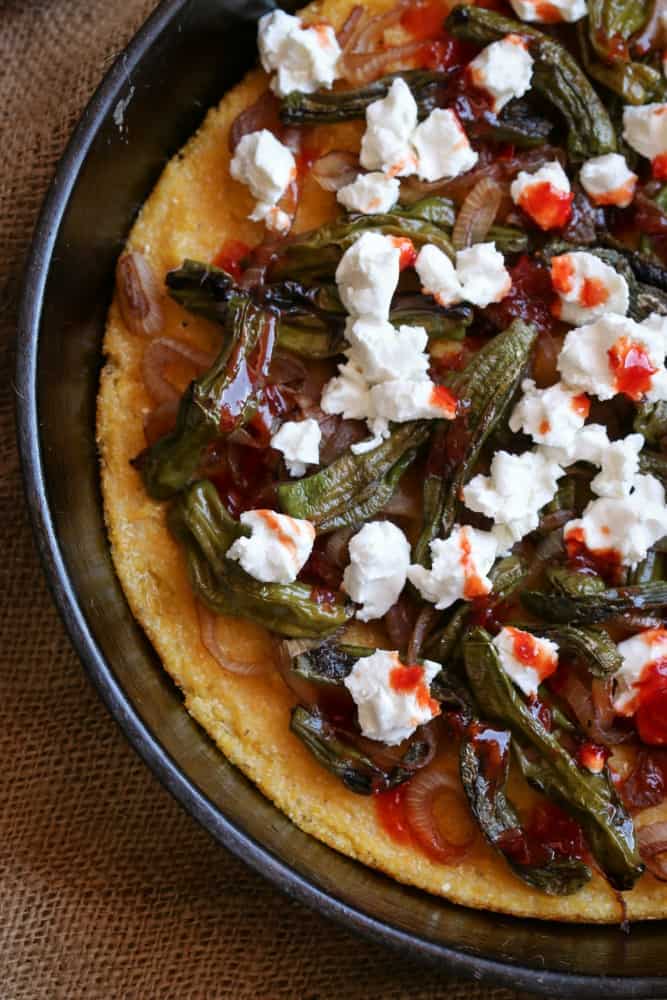 Cooking with Bitters
You might be looking at the ingredients and wondering what the heck bitters are doing in there.  Yes, bitters are most commonly used in beverages and cocktails.  But, I find that they're a secret flavor weapon, adding unique complexity and richness to anything from vegetables to meats.  The Mas Mole bittters from AZ Bitters Lab has the warm Mexican spices that I live for and do a great job of complimenting the vibrant shishito peppers and sweet caramelized onions.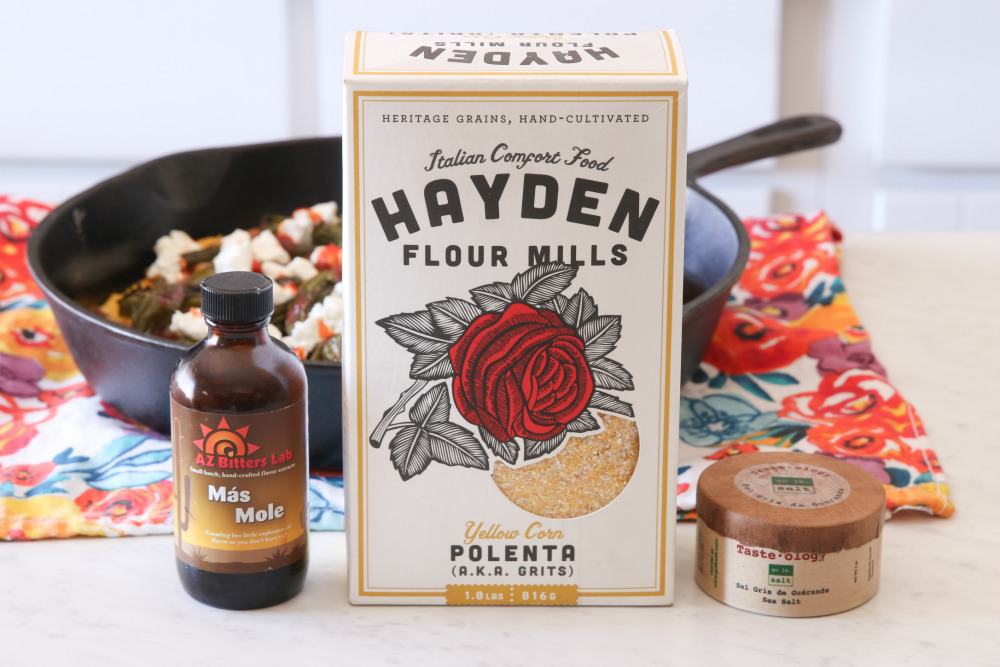 And because  no dish is complete without being properly seasoned, I wanted to include the Sel Gris from GoLbSalt.  It's a beautiful multipurpose salt with a clean flavor, adding a natural punch to all of the quality ingredients used in this recipe.  They also carry a wide variety of specialty salts that can add unique flavor to all sorts of dishes.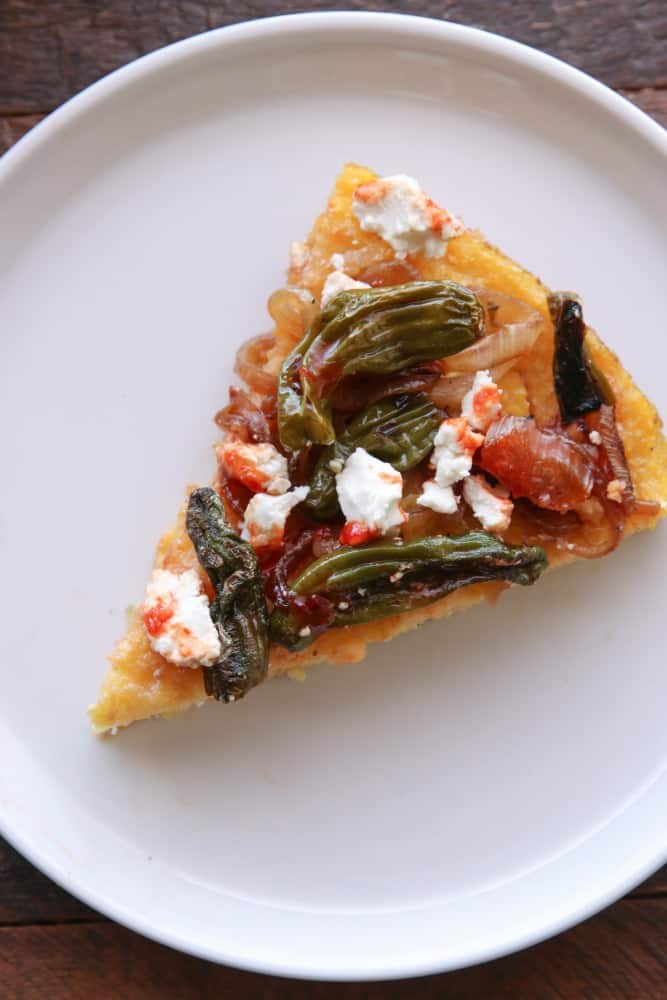 If you pick up the Kitchen Kit, there's enough to make not just one pizza, but at least two or three.  Plus, you'll have these special ingredients to experiment with in your own recipes.  You know I love a chance to get creative in the kitchen.
*This Rustic Skillet Polenta Pizza is a part of a collaboration with Bite Magazine and their Kitchen Kit series.  I do receive compensation from the purchase of The Kitchen Kit, but each product in the Kit was selected because I personally think they're amazing.
Print
Rustic Polenta Pizza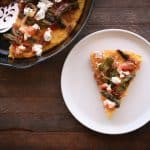 A rustic pizza made in a cast iron skillet with a polenta crust topped with bitters blistered shishito peppers, goat cheese, caramelized onions and a tomato chili sauce.
Author:
Prep Time:

20 mins

Cook Time:

85 mins

Total Time:

1 hour 45 mins

Yield:

4 - 6 servings

Category:

Entree

Cuisine:

American
Ingredients
1 cup Hayden Flour Mills polenta
3 cups water
1/2 tsp salt (plus more to taste)
2 Tbs butter
1 cup shishito peppers, stems removed
3 tsp grapeseed oil (divided three ways)
18 drops AZ Bitters Lab Mas Mole Bitters (divided three ways)
1 medium yellow onion, sliced into rings
3 – 4 oz goat cheese (to your liking)
1/4 cup sweet chili sauce
1 Tbs tomato paste
Instructions
The night prior to preparing this dish, soak the polenta in enough water until completely covered. This will soften the polenta and cut cooking time the next day. Drain it before using it and follow the rest of the recipe as follows.
Heat 3 cups of water in a large saucier or pot until a gentle boil then sprinkle in the polenta and 1/2 tsp salt constantly stirring until fully added and reduce heat to medium / medium low once the polenta starts to bubble. Continue stirring polenta every 10 minutes or so for a half hour until the polenta is nice and thick and soft, then stir in 2 Tbs butter.
Preheat oven to 375F.
Heat a cast iron skillet over high heat until searing hot, then add in 1 tsp grapeseed oil and add in the shishito peppers, frequently tossing and add in 8 drops of the Mas Mole bitters. Cook until the peppers are blistered and slightly softened. Then, remove from skillet and place in a bowl on the side to reserve for later.
To the same skillet, add in another teaspoon of oil along with the onion slices and another 5 drops of bitters and continue cooking over medium high heat, stirring occasionally to caramelize the onions. This process takes 5 to 10 minutes. Once caramelized, add the onions to the bowl with the blistered shishitos.
Next, remove the pan from the heat and add in the remaining teaspoon of oil, coating the entire inside of the pan. Then, add the polenta to the pan, smoothing out so that it it's an even thickness in the pan. Scatter the shishitos and onions over the top of the polenta like it's a pizza and place in the oven to bake at 375F for 15 minutes. The polenta should be firm and hold its shape, but not dry and hard. It should still be soft in the middle.
Combine the sweet chili sauce, tomato paste and 5 drops of bitters in a small container. Once the pizza is cooked, top with goat cheese and a liberal drizzle of the sweet chili sauce with bitters that you just made.
Serve and enjoy!
*the longer the pizza sits after cooking, the firmer the polenta will be. If you like polenta soft, serve immediately. If you like it firmer, let it cool for 15 or 20 minutes.