Growing up, there were two kinds of enchiladas.  The restaurant version that were rolled and covered in red sauce and cheese and the home version which were more of a Mexican casserole, dished out of a Pyrex and served in squares.  This recipe reflects the home version, a recreation of my Mom's go-to recipe.  This is a great dish to make if you have leftover rotisserie chicken, or in my case, it was near the end of the night and the grocery store had discounted the last rotisserie chicken before closing.
Shredded Chicken Enchiladas

One big note to mind is to heat your tortillas in a dry pan before rolling them.  That will make sure that they don't crumble and crack on you.  You can also toss them in the microwave as a stack for 20 seconds and that will do the same thing.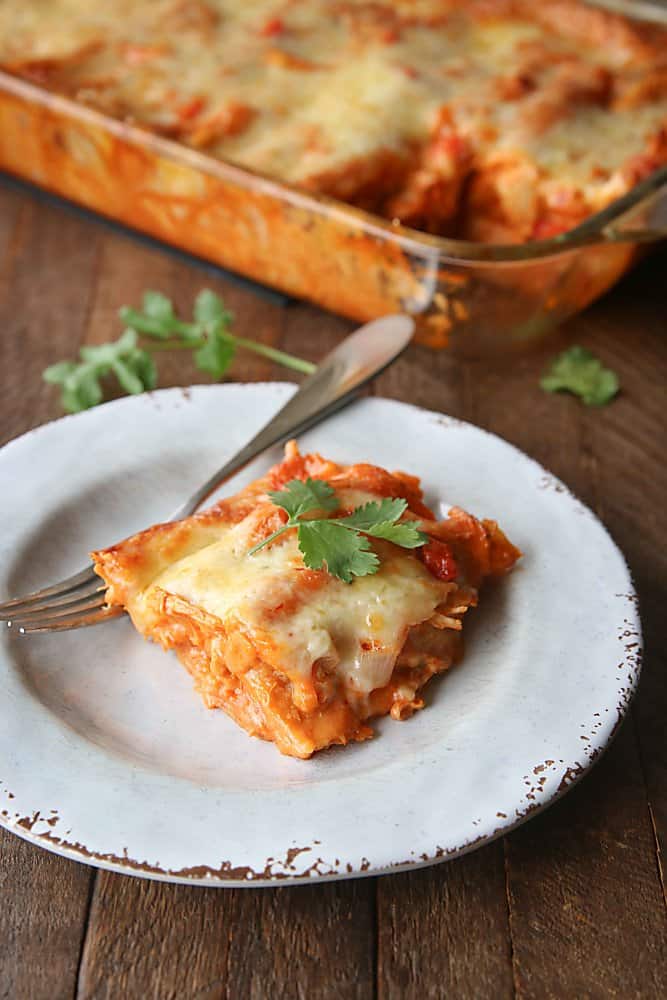 Of course, I like to eat this straight up with a side of beans or rice and a green salad.  But, you can also garnish it with avocados, sour cream or cilantro.  As long as it gets in your belly!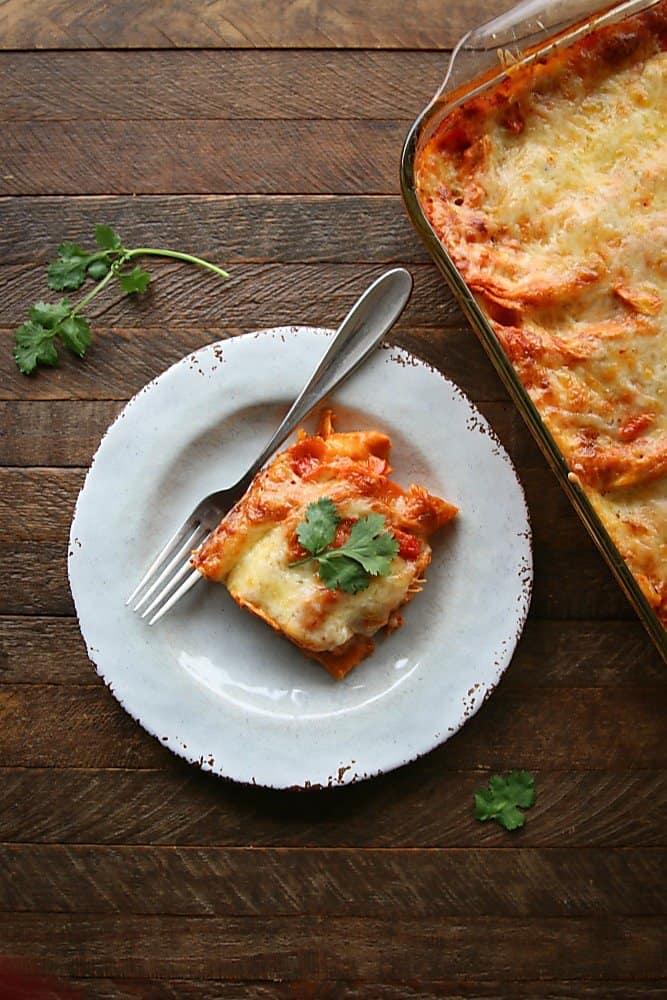 Print
Shredded Chicken Enchiladas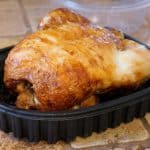 Chicken Enchiladas with cheese and a homemade red sauce
Author:
Prep Time:

15 mins

Cook Time:

45 mins

Total Time:

1 hour

Yield:

9 servings

Category:

Entree

Cuisine:

Mexican
Ingredients
5 cups shredded Rotisserie Chicken
1 T oil
8oz sour cream
15 oz can tomato sauce
1 red pepper diced
1 white onion chopped (halved) and diced
16 oz shredded white cheese (jack is my favorite)
12 – 16 corn tortillas (depending on the size of your pan)
7 dried chile pods
2 c water
1 Tablespoon paprika
1 tsp oregano
2 cloves garlic
Instructions
Preheat oven to 350F
Shred the meat off a rotisserie chicken.
Heat a dry pan over medium high heat and heat tortillas on both sides to firm them up.
Boil 2 cups of water and add in dried chile pods (stems removed) to rehydrate. Once rehydrated, add the pods, chile soaked water, garlic cloves, 1/2 onion and tomato sauce in a blender and blend until smooth.
Heat a large pan to medium high heat and saute peppers and onions in oil, stirring occasionally until tender and onions are translucent. Then add in the chicken and spices and chile sauce, and simmer a few minutes.
Then, remove pan from heat allow to cool for a few minutes and then add in sour cream.
Place 1 cup of chicken/sauce into the bottom of a 3 quart casserole dish.
Take each tortilla, cover in sauce in pan to soften, place a few tablespoons of chicken filling and cheese in the middle of the tortilla, roll and repeat, placing rolled tortillas side by side in the casserole dish. Then top it off with the remaining cheese.
Bake covered in tinfoil for 30 minutes at 350F.
Remove from oven, remove foil and bake another 10 minutes until browned on top. If it's not browning, turn it to broil for 2 minutes.
Slice and serve garnished with sour cream, guacamole, salsa, cilantro, whatever makes you happy.