*This Spinach & Artichoke Enchiladas recipe is sponsored by Shamrock Farms, makers of farm fresh, hormone-free dairy products, though all opinions expressed are my own.  Seriously, I only endorse stuff that I would actually pay real cash-money to buy for myself.
Can I say that we all love Spinach & Artichoke Dip?  Whether it's cold and schmeared on crackers or hot and bubbling out of the oven served in a cast-iron skillet, I've never met a Spinach & Artichoke Dip I didn't love.  So, why not toss it in some corn tortillas, a tomatillo sauce and call it dinner?  Take a turn for the extra creamy this Cinco de Mayo using Shamrock Farms natural and fresh sour cream.  Want to get extra loco?  Use their French Onion sour cream for extra flavor.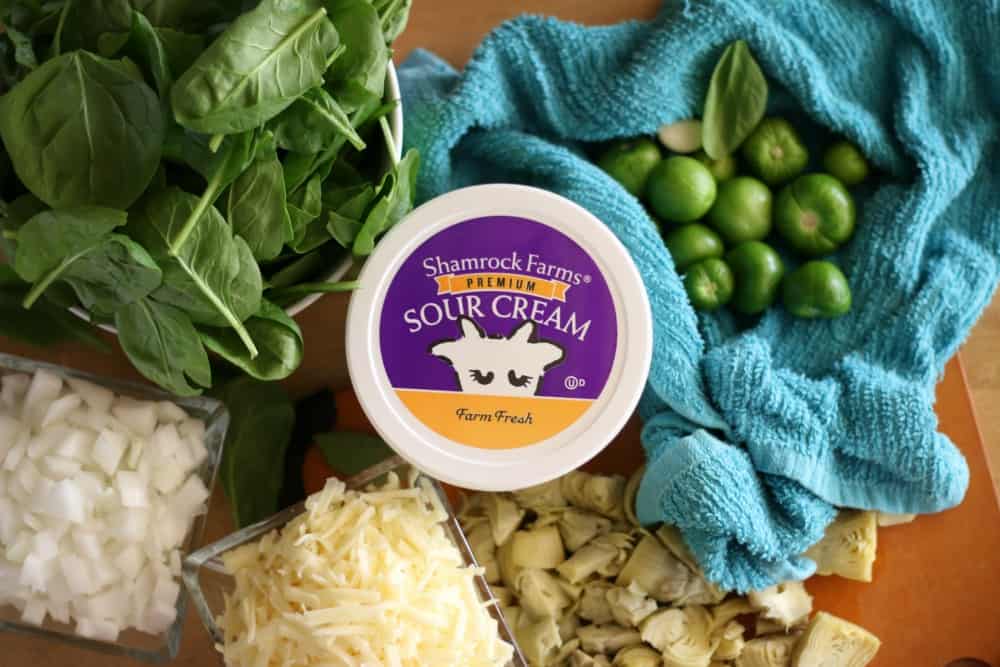 Spinach & Artichoke Dip Enchiladas
Here's how to make these pretty easy twist on a classic.
Put 1 Tbs butter into a sauté pan over medium heat and sauté the diced onion until it's soft and a little caramelized. Then add in the fresh spinach and artichokes and stir until the spinach is slightly wilted, but still a little tender. Remove from the heat and mix in ¼ sour cream and ½ tsp salt.  This will totally remind you of spinach dip, so resist dippin' your crackers in it.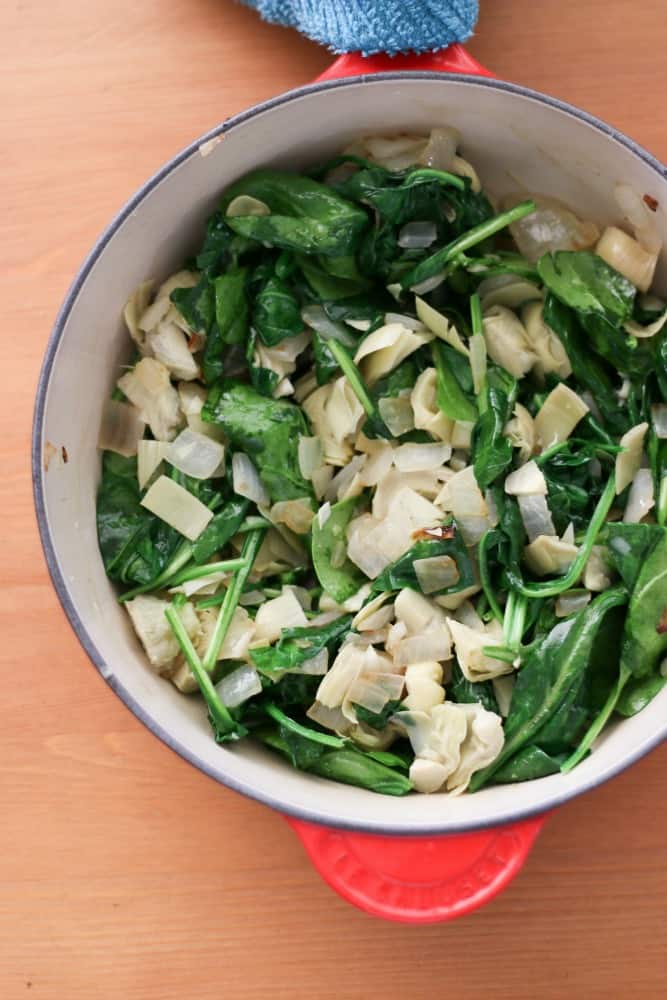 Next, tomatillos, garlic, green chilies and water into a blender and blend until smooth. Pour into a sauce pan over medium high heat until the sauce starts to simmer and allow to simmer on low for five minutes.  This will be your sauce.
Next, ladle ½ cup of the tomatillo sauce into the bottom of a 7 x 11 baking dish, then dredge a corn tortilla with the sauce and place several spoonfulls of the spinach mixture into the tortilla, roll and place in the dish. Repeat the process of dredging, filling and rolling tortillas until the dish is full.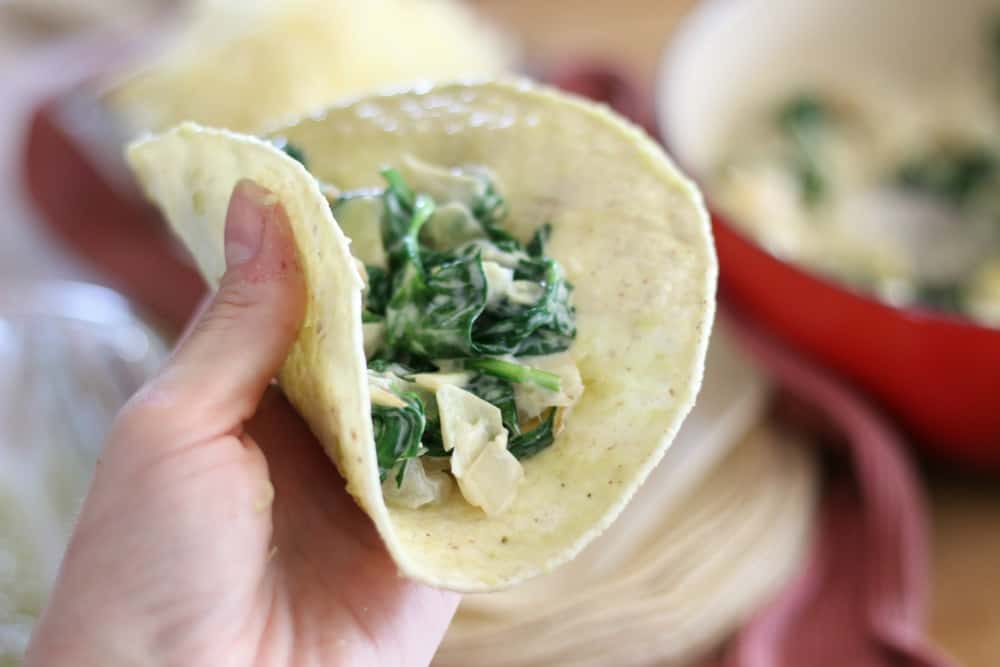 Top rolled tortillas with remaining sauce and then with 3 ounces of shredded Monterey jack cheese. Bake at 375F for 20 minutes until the center of the tortillas are cooked through and the cheese on top is melty. To get is extra crispy, place it under the broiler for 3 – 5 minutes.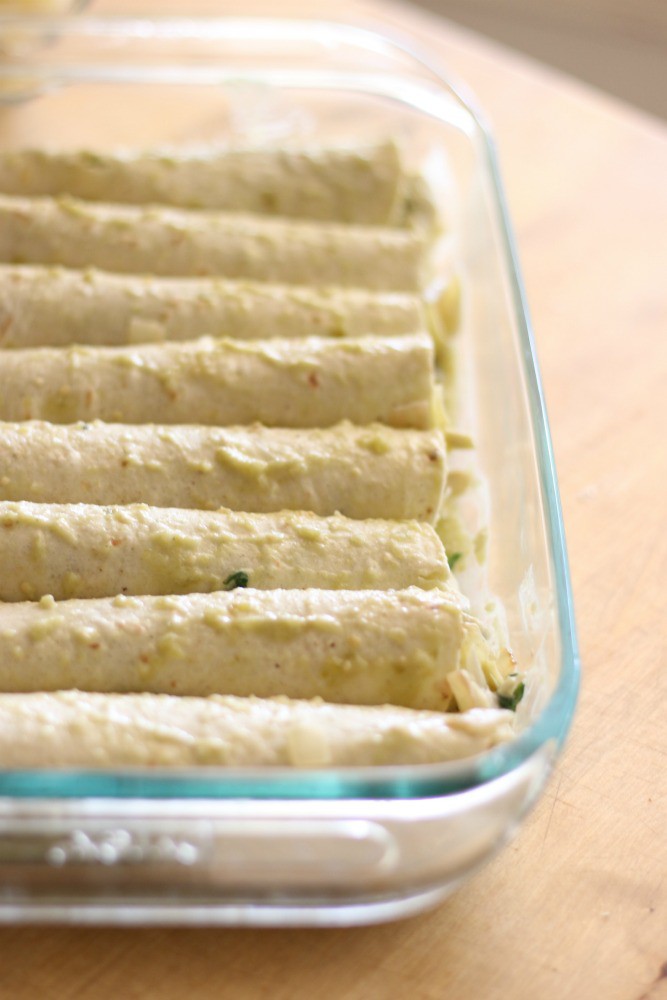 Serve warm garnished with cilantro and lime.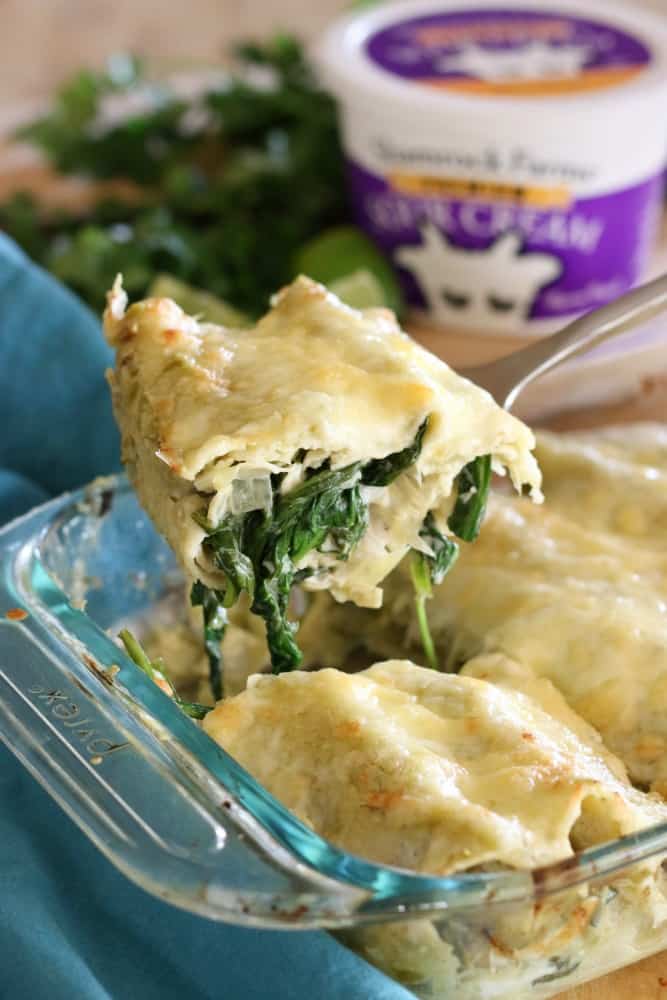 *Original Recipe by Joanie Simon (JoanieSimon.com)
Print
Spinach & Artichoke Enchiladas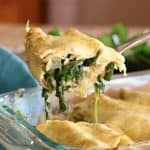 Turn enchiladas into something unique with the flavors of spinach and artichoke dip.
Author:
Prep Time:

30 mins

Cook Time:

30 mins

Total Time:

1 hour

Yield:

6 - 8 servings

Category:

Entree

Cuisine:

Mexican
Ingredients
2 Tbs butter
1 onion
12 oz fresh spinach
14 oz artichoke hearts, drained and chopped
1/2 cup sour cream plus 2 Tbs
1/2 tsp salt
12 tortillas
6 small tomatillos
2 garlic cloves
7 oz diced green chiles
2 Tbs oil
4 oz water
6 oz monty jack cheese
Garnish with cilantro and lime
Instructions
Preheat oven to 350F.
Place the 6 tomatillos, 2 garlic cloves, 7 oz diced green chilies, 2 Tbs oil and 4 oz water in a blender and blend until smooth. Season with salt to taste.
Place the blended sauce in a pot over medium high heat until it begins to simmer, then reduce heat to medium low and allow to simmer while you complete the rest of the assembly.
Heat the 2 Tbs butter in a saute pan over medium high heat and add in onions and sauté until onions are softened and slightly caramelized.
Add spinach and artichoke hearts to sautéed onions, stirring and turning spinach until all spinach is wilted, but still bright green and slightly firm. Do not over cook the spinach at this stage since it still has to bake in the oven.
Add 1/2 cup sour cream to the spinach and artichoke mixture and remove from the heat, turning everything together until the sour cream is fully incorporated into the vegetables.
Remove the tomatillo sauce from the heat and add in 2 Tbs sour cream and stir until combined.
Take out an 11 x 13 glass bake pan and ladle a cup of the tomatillo sauce into the bottom of the pan.
Next, dredge a corn tortilla in the tomatillo sauce so that it becomes flexible and less likely to crumble. Fill the dredged tortilla 2 – 3 Tbs of the spinach artichoke mixture, 1 Tbs of shredded jack cheese and roll, placing seam side down into the glass bake pan. Repeat through all of the tortillas until the pan is full. Depending on how much filling you use per tortilla might mean you'll fit more or less than 12 tortillas.
Cover the completed rolled tortillas with the remaining sauce, spreading evenly on the top.
Sprinkle remaining jack cheese over the top of the sauce and cover the baking pan with foil, baking for 25 minutes at 350F until the filling is visibly bubbling along the sides.
Turn the broiler on and uncover the enchiladas, placing under the broiler for 3 to 5 minutes until the cheese on top is all melted and bubbling.
Remove the enchiladas from the oven and allow to rest for 5 minutes so that all of the ingredients settle.
Serve hot, garnished with lime and cilantro.