Our friends at All-Clad in conjunction with the Today Food Club sent us a brand new, nifty slow cooker.  This is one is serious.  A shiny stainless steel, 7 quart beauty that was begging to be broken in.  For its maiden voyage, I created a Sweet & Sour Pork recipe that was nearly perfect straight out of the gate, but after three tests, I can confirm that this recipe will be a hit on your dinner table.  Granted, Blaise wouldn't eat it in this video, but he finally took a bite in the outtakes and happily gobbled down a few more bites as I put away the cameras.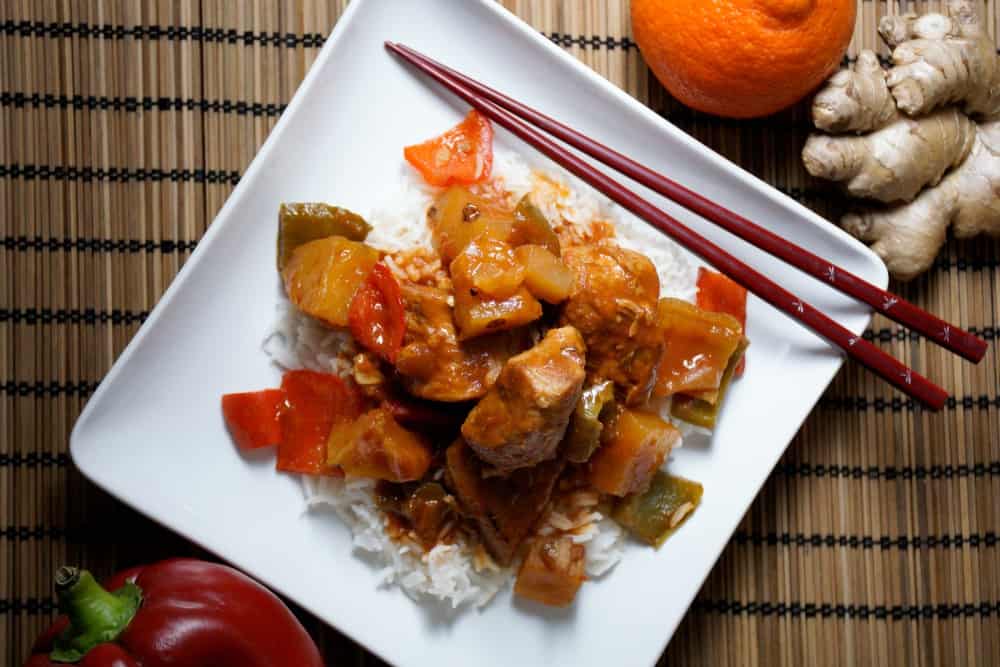 Sweet & Sour Pork
This recipe has a good number of possible substitutions, depending on what you keep on hand in your own pantry.  Some include:
Chicken for pork
Canned pineapple (drained) instead of fresh
Ketchup for tomato paste (though reduce the brown sugar to 1/4 in that case)
1/2 tsp ground ginger for the 1 Tbs ginger paste
White vinegar for rice wine vinegar
As always, any questions about this recipe or others, give me a holler in the comments and I'll get right back to you!
Print
Sweet & Sour Pineapple Pork
A slow cooker sweet and sour pork with fresh pineapple.
Author:
Prep Time:

15 mins

Cook Time:

6 hours

Total Time:

6 hours 15 mins

Yield:

8 servings

Category:

Entree

Cuisine:

Asian
Ingredients
1.5 – 2lb boneless pork sirloin roast
1 Tbs oil
1 Tbs flour
1 yellow onion chopped
2 red bell peppers chopped
1 green bell pepper chopped
1/2 fresh pineapple chopped
4 ounces water
1/4 cup orange juice
4 cloves garlic minced
6 ounces tomato paste
1 Tbs ginger paste
2 Tbs soy sauce
2 Tbs agave nectar (or honey)
1/2 cup brown sugar
2 Tbs rice wine vinegar
Instructions
Cut the pork roast into 2 inch cubes and toss with flour. Sear the pork cubes in a skillet over high heat in 1 Tbs oil just to get some browning on the outside of each.
Add the pork and all other ingredients into the slow cooker and cook on low for 8 hours or high for 6 hours. *If you prefer your peppers less soft, wait to add them until the last hour of cooking
*Original recipe by Joanie Simon (JoanieSimon.com)
*The slow cooker featured in this video recipe was provided by All-Clad