This recipe for Soba Noodles with an Almond Sauce reminds me of when Ryan and I lived in NYC. Two weeks after we got married, Ryan and I relocated to New York City.  Specifically, Jamaica, Queens.  Not quite the Sex-and-the-City, boho chic corner of the Big Apple that I had imagined, but it was one bus and one train ride away from the center of all the Manhattan action.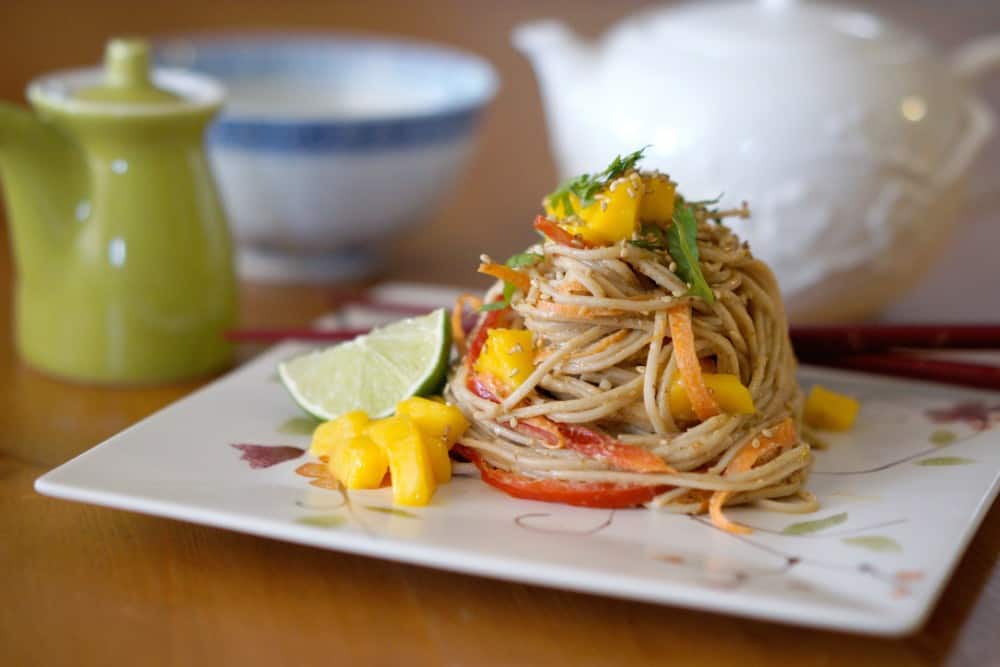 One of the best things about our temporary abode in Queens was being within walking distance of an Asian market.  It was overwhelming the first time, not knowing what half of what was on the shelves, and that mysterious funk in the air.  But, being that it was our closest grocery store and we didn't have a car, it became my go-to.  I quickly learned that this was actually the best thing ever. They carried super fresh fish at rock bottom prices.  I learned from the fish guy how to detect the freshness based on looking the little buggers in the eyes.  If they're clear, you're clear to buy.
The Asian market also afforded me the opportunity to discover new products, including the wonderful, wide world of noodles.  Pretty little cellophane packages, lining nearly an entire aisle, from somen to udon, each containing opportunities for experimentation.  Soba was one such experiment and it still makes a regular appearance in my pantry.  It cooks quickly and because it's made from buckwheat, it's an excellent option for serving gluten-free guests.  Yes, buckwheat is gluten free.  It actually has no relation to wheat, despite naming.
This soba dish is one I've made dozens of times, most often as a meal for a friend who has just had a baby.  It packs up nicely, travels really well, and is light and healthy.  It can be served as a side along with something like chicken teriyaki, or add more veggies and maybe some shrimp to make it a main dish.  To break it down, it's cold soba noodles and julienned veggies, tossed in a peanut sauce.  Thanks to the folks at Justin's, I crafted this version with their Honey Almond Butter.  I also tried it with their Honey Peanut Butter, which is equally tasty.  But, I was looking to change up this old standard, venturing into almond territory.  I love the hint of sweet that both of these butters have, and I'm especially partial to the almond butter.  It has a refined crunchiness, with little crackles of roasted almonds that give the sauce extra texture.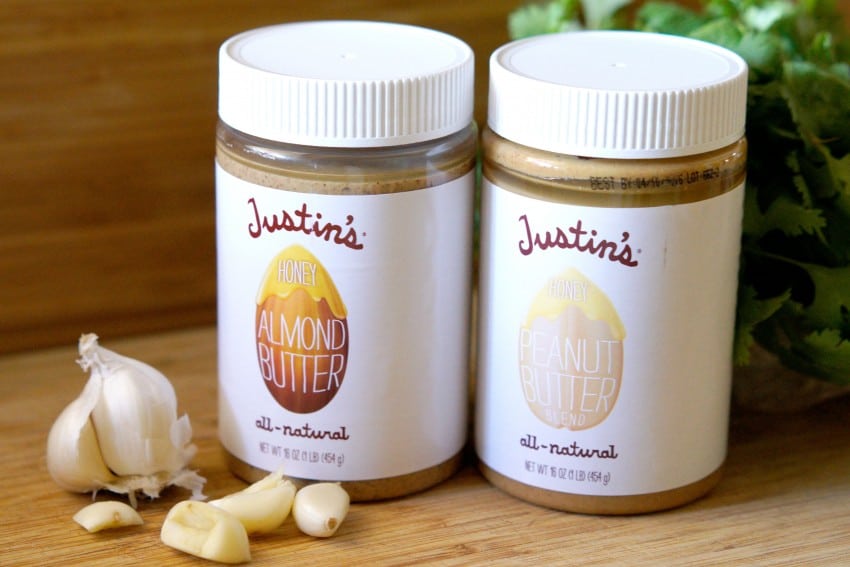 On to the cooking, already, Simon!!!  Okay…
Soba Noodles with Almond Sauce
Cook the noodles according to package directions, drain, rinse with cold water and cool.  Once you have your sauce ready, you'll serve the noodles either at room temperature or chilled, depending on your preference.
Next, toss into a blender 2 cloves of garlic (three if you're a garlic lover), 1 knob of fresh ginger (about the size of my thumb), 2 Tablespoons soy sauce (use tamari if you're making this gluten free), 3 Tablespoons ponzu, 2 teaspoons sambal olek (aka garlic chili paste), 2 Tablespoons rice wine vinegar, 2 Tablespoons fresh lime juice, 4 Tablespoons sesame oil, 1/4 cup water and 1/2 cup Justin's Honey Almond Butter.  Turn on the blender and let 'er rip until the sauce is smooth.
After that, create carrot strings with two carrots, using a peeler and shaving off long strips of carrot.  Combine the carrot strings, the soba,  and one julienned red bell pepper and toss with the blended almond sauce.
To serve, garnish with chunks of chopped mango, a sprinkle of sesame seeds, chopped cilantro and lime wedges.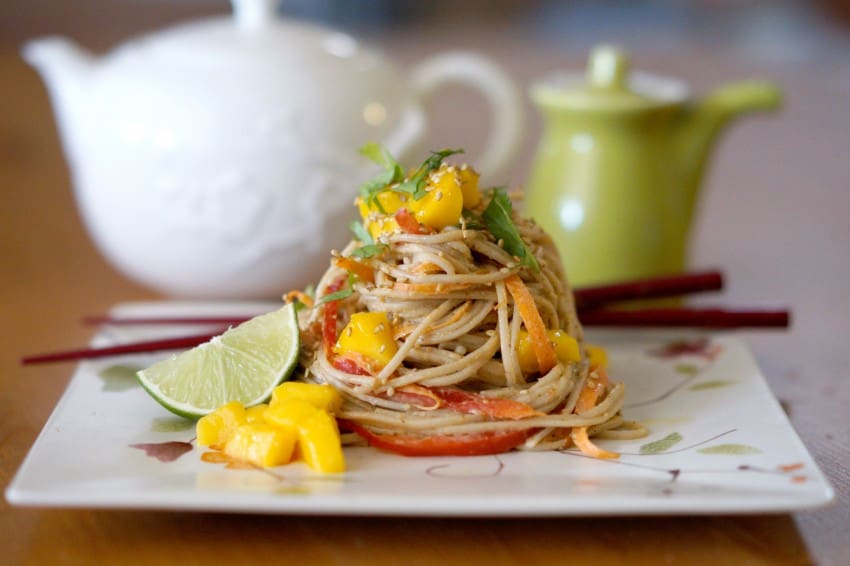 If you are planning to take this to someone or preparing to serve it later, wait to toss the noodles in the sauce until you're ready to serve.  Soba noodles love to suck up moisture, so dressing them ahead of time means you'll end up with mushy noodles.  But, it's simple enough to pack the noodle/carrot/pepper mix into one container, put the dressing into another, and the garnishes into little baggies.  Toss that all into a shopping bag and you'll feel like you're a meal delivery professional.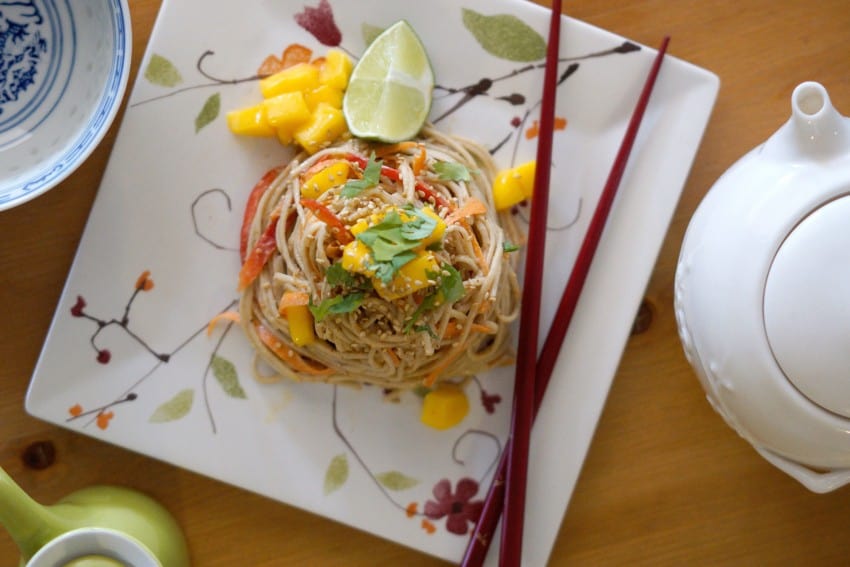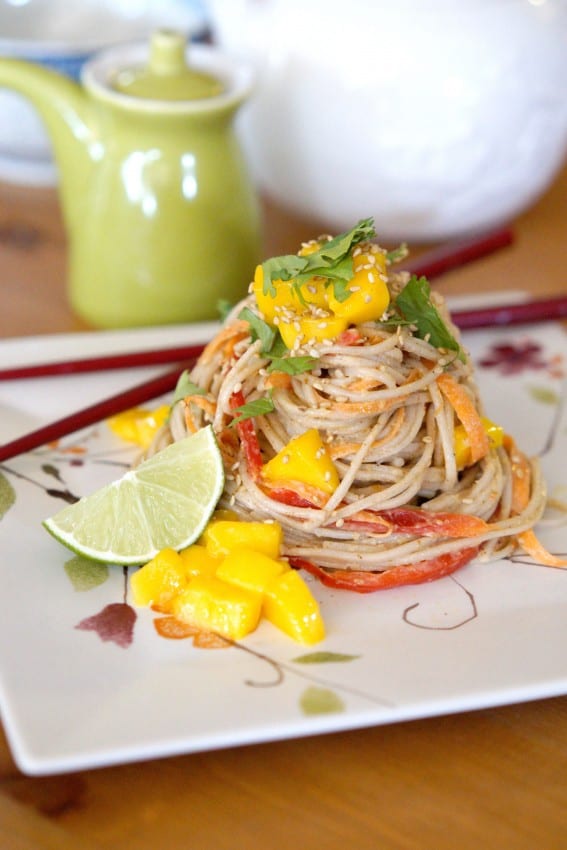 *Original recipe by Joanie Simon (joaniesimon.com)
Print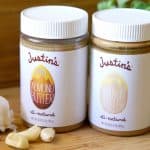 Thai Almond Soba Noodles
---
Author:

Total Time:

35 mins

Yield:

6

servings

1

x
Description
Soba noodles dressed up with Asian flavors and almond butter.
---
1

–

9.5

oz package of soba noodles

2

–

3

cloves of garlic

1

knob fresh ginger (size of a thumb)

2

T soy sauce (tamari if glu

ten

free)

3

T ponzu

2 tsp

sambal olek

2

T rice wine vinegar

2

T lime juice

4

T sesame oil

1/2 cup

Honey Almond Butter

2

carrots

1

red pepper, julienned

1/4 cup

chopped cilantro

1

mango, chopped
sesame seeds

1

lime cut into wedges
---
Instructions
Prepare soba according to package instructions, drain, rinse with cold water and allow to cool.
Add carrot ribbons and julienned peppers to the noodles.
Combine in a blender the garlic, ginger, soy, ponzu, sambal olek, rice wine vinegar, lime juice, sesame oil and almond butter. Blend until smooth.
Dress the soba/carrot/peppers with the almond sauce and serve garnished with cilantro, mango, sesame seeds and lime wedges.
Prep Time:

30 mins

Cook Time:

5 mins

Category:

Entree

Cuisine:

Asian