This easy sesame shrimp recipe was inspired from the fact that I don't cook shrimp as often as I would like.  Shrimp was on sale at the grocery store and I wanted to keep the flavors simple and light.  You know, let the shrimp do its thing.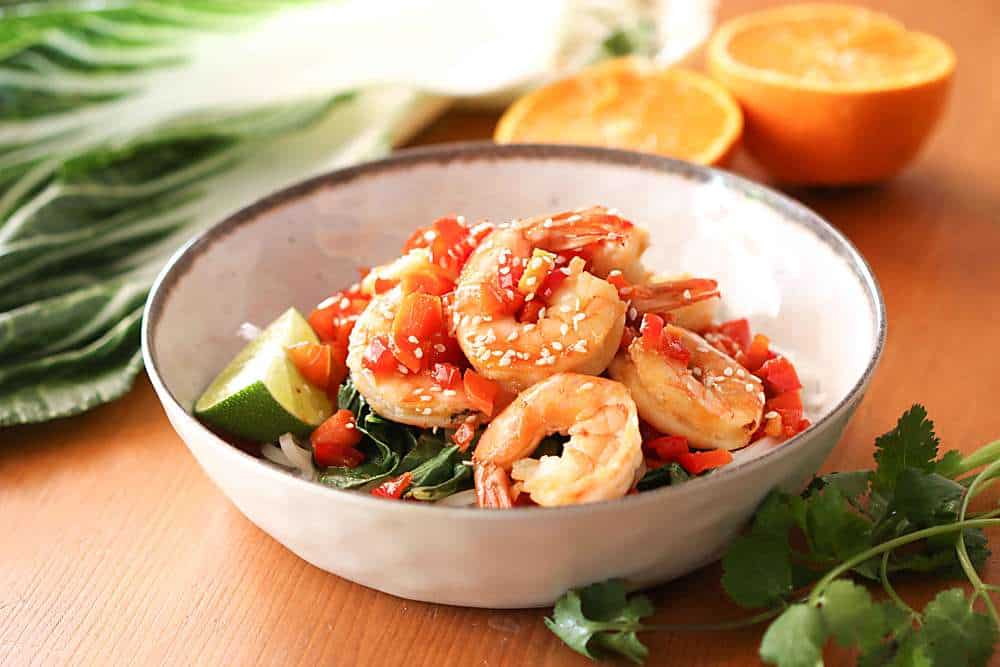 Sesame Shrimp (or chicken for that matter) is an American concoction served in English speaking Chinese restaurants.  The "sesame" is based on the fact that the final dish is topped with sesame seeds.  The only other sesame found in it is sesame oil used to simmer the aromatics.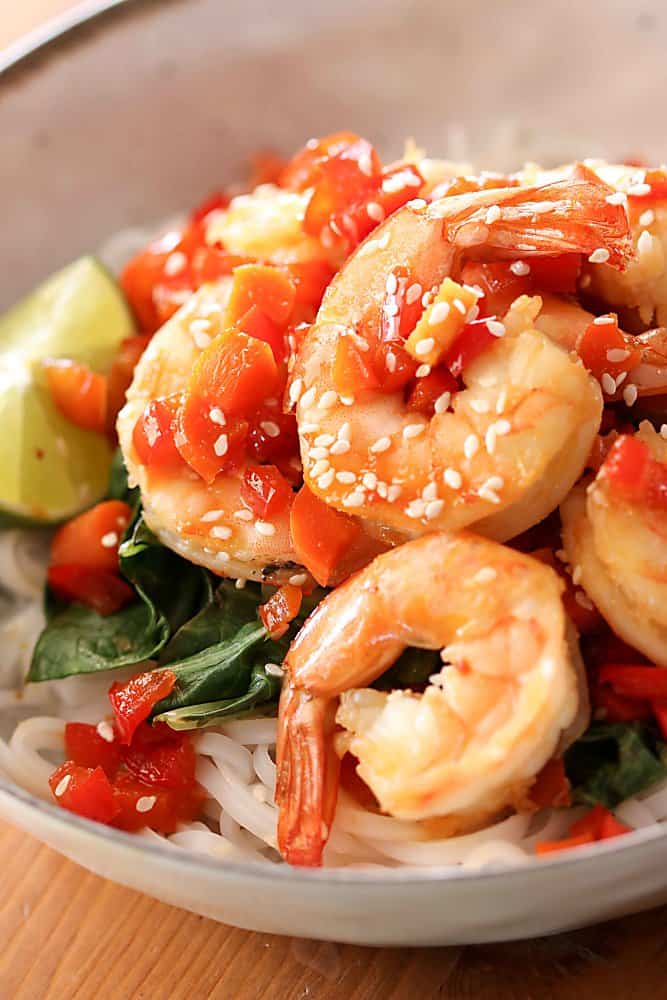 It's up to you if you want to toast the sesame seeds or not.  I opted to leave them un-toasted since this is meant to be a speedy weeknight meal.  This recipe comes together quickly if your shrimp are already shelled.  All you need to do is simmer the aromatics, build the sauce, toss in the veggies, toss in the shrimp and serve it over noodles or rice.
Print
Easy Sesame Shrimp with Bok Choi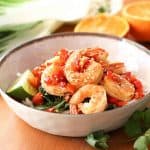 A quick version of sesame shrimp with a light soy based sauce, bok choi, shrimp and served over rice noodles.
Author:
Prep Time:

15 mins

Cook Time:

15 mins

Total Time:

30 mins

Yield:

2 servings

Category:

Entree

Cuisine:

American
Ingredients
1 x 1 inch cube of fresh ginger, minced
1 Tbs sesame oil
1 red pepper diced
1/4 tsp garlic salt
1/2 cup orange juice
1/4 cup lime juice
3 Tbs soy sauce
2 Tbs honey
1 carrot, diced
3 leaves bok choy, chopped
12 – 15 medium shrimp, deveined, shelled, uncooked
2 – 3 Tbs sesame seeds
Instructions
Heat a large pan over medium high heat and add in the ginger, sesame oil and diced pepper and saute until fragrant and slightly softened.
Add in the garlic salt, orange and lime juice, soy sauce and honey and simmer for 8 – 10 minutes to reduce and thicken slightly. Add 1 Tbs cornstarch if you like the sauce even thicker.
Add in the bok choy and carrots and simmer another 5 minutes.
Add in the shrimp, stir to combine, then cover with a lid and simmer over medium for 3 – 5 minutes, until the bok choi is softened and the shrimp is pink and cooked through. Try not to over-cook the shrimp because they'll become rubbery.
Serve immediately over rice or noodles.