*This post is sponsored by Dietz & Watson in support of their #ChooseTheTable campaign and your chance to win a chef curated dinner.  However, all opinions expressed are genuine and honest.
Hosting a party is up there on my list of favorite things.  From the planning to the shopping to opening the door when guests arrive. I'm so thankful to get to share my home and my table with people.  I have hosted hundreds of gatherings, and in that time, have learned some very important lessons.  Party planning and execution can be easy and you can enjoy the party as much as your guests if you just follow a few helpful tips based on a recent party I hosted.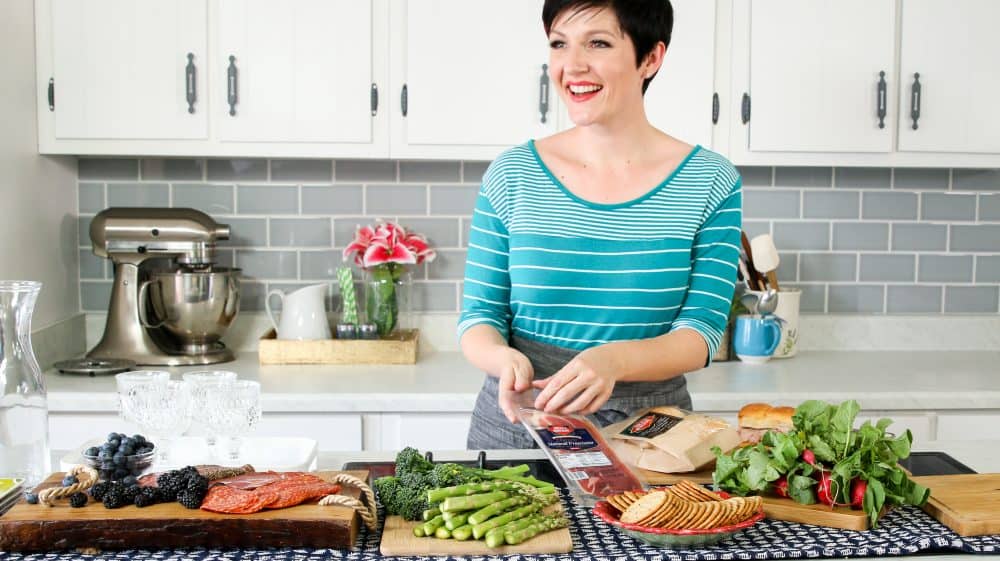 The Most Important Part
What's the most important part of any party?  As much as I love everything food, it's the people who come first.  I have always seen the food as a conduit to creating community and inspiring friendships.  Breaking bread together is essential for personal connection.  The fine folks at Dietz & Watson have the same perspective, too, encouraging people to #ChooseTheTable as a place to come together.  Whether a picnic table, an extravagant dinner party or just your every day Tuesday night dinner, it's worth taking the time to come to the table.
In the spirit of this mission, Dietz & Watson is hosting a special giveaway to land you dinner for two curated by a top chef (for my Arizona readers!).   Winners receive dinner for two at Crudo in Phoenix by entering the #ChoosetheTablePHX contest.  Chef Cullen Campbell will curate the meal for four winners and their guests. You get to experience the best of Phoenix's dining scene while making memories with fellow friends in food.  ENTER HERE before the deadline at the end of the month!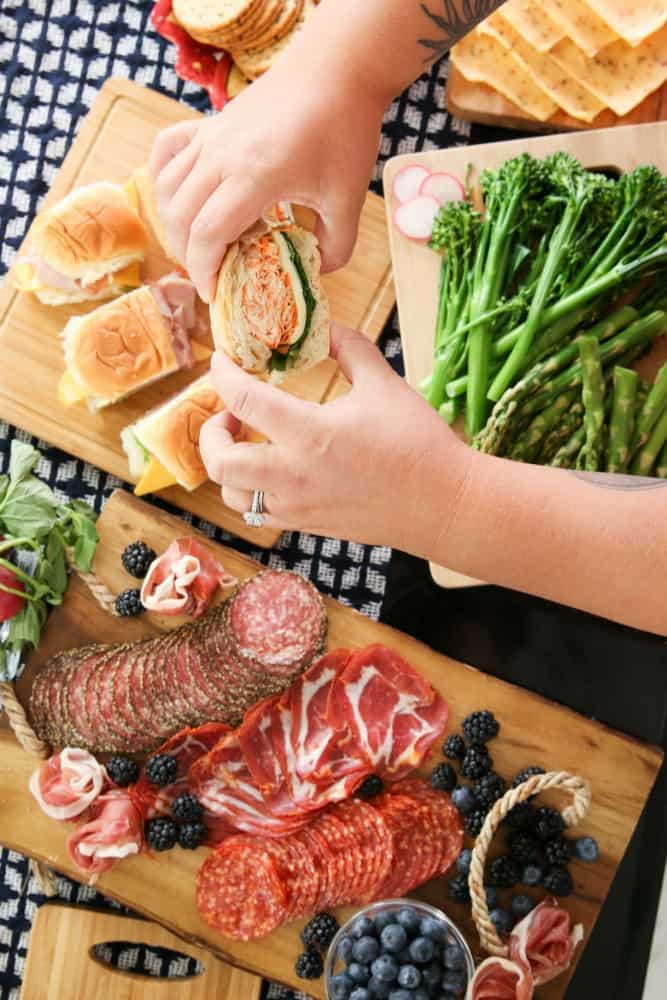 Home Entertaining Without the Hassle
I recently hosted a happy hour in my new studio kitchen with a few girlfriends and was reminded how easy entertaining can be if you keep a few important tips in mind. I guarantee that your next soiree will be less of a sweat and more enjoyable.
Be Realistic
I know I can get a bit over-ambitious when contemplating a party.  First, be realistic about the number of people you should invite.  I love the idea of hosting 30 people for dinner, but the reality is that is too many people to fully seat for dinner at my house.  If a guest list of 30 is required, then consider having the party at a time when a full meal is not expected.  Whether happy hour or an evening dessert, be realistic about how many people you can comfortably accommodate.
In line with that, be realistic about the kinds of dishes and food you will serve.  A build-your-own hoagie buffet is much easier to execute than plated chateaubriand. Of course, the occasion can sometimes dictate the meal, but don't put the pressure on yourself to cook up something complicated.
Take shortcuts on the menu
Not everything has to be homemade and not everything homemade has to look like it came from Pinterest.  I always make sure to balance out my menu selection.  If I'm hosting a dinner and I really want to make a special main dish, I guarantee that it will be paired with a simple salad or a special bread from the store.  I put my energy into one or two things and keep everything else super simple.

Survey the Path
This one sounds neurotic, but it's something I always do. The night before the party, I think about the traffic flow for where the food and drinks will go.  I typically put the drinks at one table, and the food in another, with plenty of space between.  This helps avoid traffic jams and creates multiple places for people to gather.
Too, I think about the flow of items on the tables.
For the drink table, I set out the water dispenser, ice bucket, corkscrew, bottle opener and any glassware that will be used.  If there's going to be a BYO situation with the drinks, I also pull out the cooler, ready to fill with ice.
For the food, if it's buffet style, I map out where the plates, napkins and flatware will go and then set out serving spoons and such where the various menu items will go.  That ensures the serveware is already there and I'm not scrambling for it when I bring the food to the table.  Too, you'll know if you have enough room for everything that you're going to serve.  It would be a bummer to bring out your beautiful salad and then find out there wasn't room for it on the table.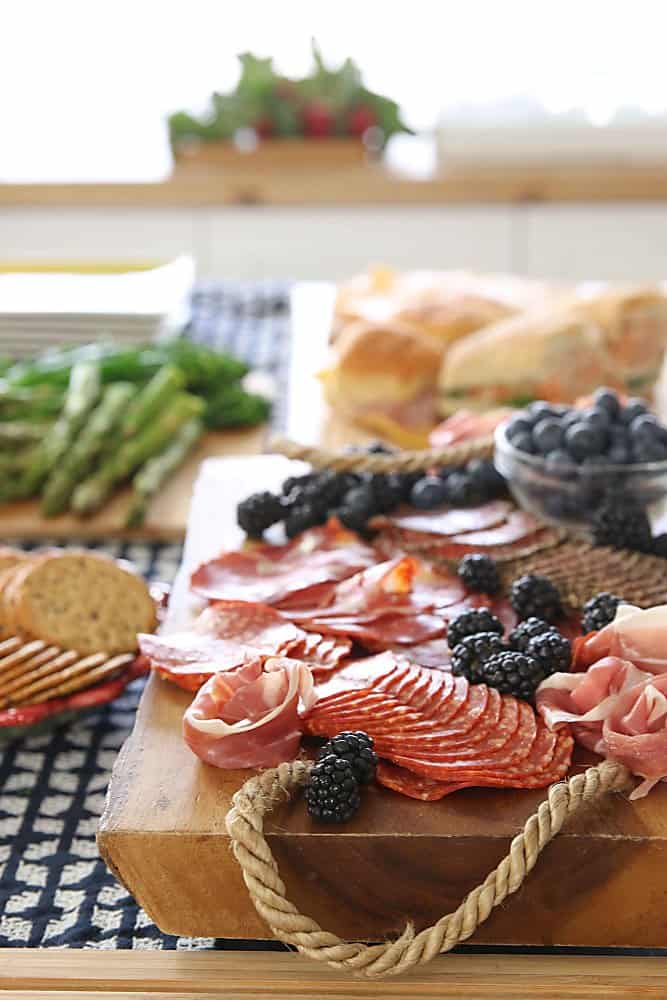 Lists
I live by my lists for parties.  I personally keep my life in Evernote, starting a note for the party as soon as the guest list is made.  I keep the RSVP list there, the menu, and a grocery list.  This makes it easy so when it's time to put it all together, I know how many chairs to set out, what to buy at the store and a checklist to make sure I've put all of the dishes on the table when it's time to eat.  I can't tell you how many times I had accidentally overlooked something that was meant to be served at the party, only to find it untouched in the fridge after everyone had left.  Making a list of what's being served has prevented that from happening.
Perhaps some of this is overkill, some verging on obsessive, but I figure the more planning I do for the party ahead of time, the more I can be present and in-the-moment to enjoy the people at my party.  Do you have any secret ninja entertaining skills?  Something you do for every party that makes your life easier or things more enjoyable for your guests?  Please share in the comments below!
Also, don't forget to enter the Dietz & Watson giveaway for dinner at Crudo and join us in spreading the love of food, friends and #ChooseTheTable.