I have made some version of these tarts a bazillion times in the past month.  For the Test Kitchen, they were served a la mode.  At the Cheese 101 Class they had cheddar in the crust.  On Sonoran Living, they were drizzled with caramel.  After that many renditions, I can confidently say, we've got a winner.  The major trick to these came compliments of someone in my Test Kitchen event who suggested cooking the apples before baking the tarts.  This helps to cook them down so they don't deflate in the oven, enabling more apple flavor to be packed into every tart.  These are fun precisely because they are so versatile.  If you want to get wacky, add 5 ounces of shredded cheddar into your shortbread dough.  Or maybe you want to go chocolate, toss a few ounces of mini chocolate chips into them.  The following is the basic recipe, but feel free to riff on it and exercise your creativity.
Full printable recipe at the bottom of this post.
Start by making your shortbread by combining 1/2 cup softened butter, 1 cup flour and 1/4 white sugar.  Mix by hand until you have a dough forming.  Then, divide the dough between 6 muffin cups and form around the edges to make a shorbread crust.
Stick the muffin tin in the freezer so that the butter firms back up (at least 15 minutes) and preheat your oven to 375F.
Next make your filling.  Combine 3 diced Granny Smith apples along with 1 Tbs lemon juice, and 1/4 cup brown sugar in a saute pan and stir until the apples become soft, then add in 1 Tbs flour, 1 tsp cinnamon, 1/4 tsp cloves and 1/4 tsp ginger until you have a thick, caramely sauce and soft apples.
Pull your muffin tin back out of the freezer and pile high each of the shortbread filled muffin cups with equal portions of apples.  Pile them high as they will bake down.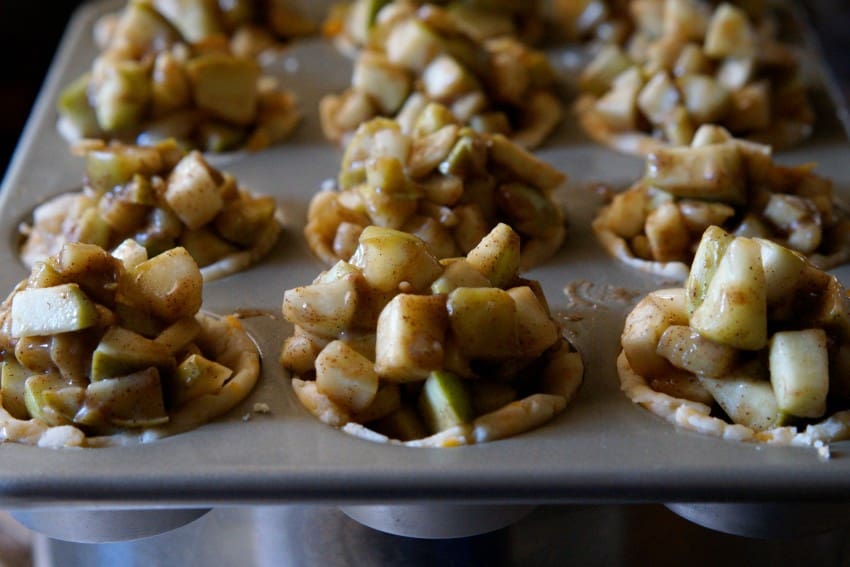 Stick that in the oven at 375F for 25 minutes (rotate the pan halfway through for even baking).  Let them cool and then pop them out individually by running a knife along the side.
Serve a la mode and/or drizzled with caramel.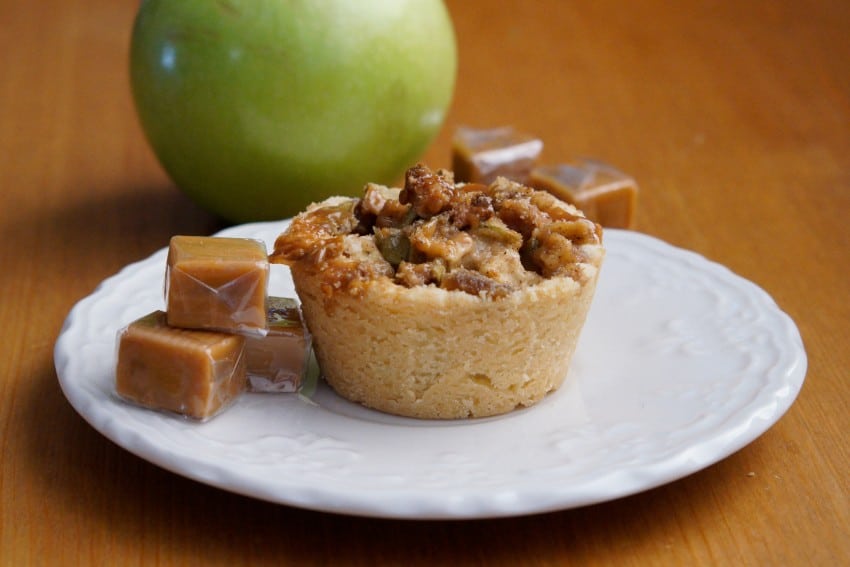 *Original recipe by Joanie Simon (JoanieSimon.com)
Print
Apple Shortbread Tarts
---
Author:

Prep Time:

15 mins

Cook Time:

25 mins

Total Time:

40 mins

Yield:

6

1

x
Description
Apple pie meets shortbread tart and includes the classic Midwest addition of cheddar cheese.
---
Scale
Ingredients
1 cup

flour

1/2 cup

butter (softened)

1/4 cup

sugar

3

granny smith apples diced

1

Tbs lemon juice

1/4 cup

brown sugar

1

Tbs flour

1 tsp

cinnamon

1/4 tsp

cloves

1/4 tsp

ginger
---
Instructions
Combine flour, butter and sugar into a bowl and mix with your hands to form a dough.
Divide the dough between 6 muffin cups and form around the edges to make mini crusts.
Stick the crusts in the freezer for 15 minutes while you make the filling and heat the oven to 375F.
In a saute pan, add the diced apples, lemon juice and brown sugar and stir over medium high heat until apples soften. Once softened, add 1 Tbs flour, cinnamon, cloves and ginger.
Remove the crusts from the freezer and fill evenly with the apple filling, piled high.
Stick them in the oven for 25 minutes or until the crust tops are golden.
Allow to cool for a few minutes, then run a knife around the edge of a tart, pop it out and repeat until all are removed.
Serve with caramel sauce and/or a la mode.
---
Category:

Dessert

Cuisine:

American