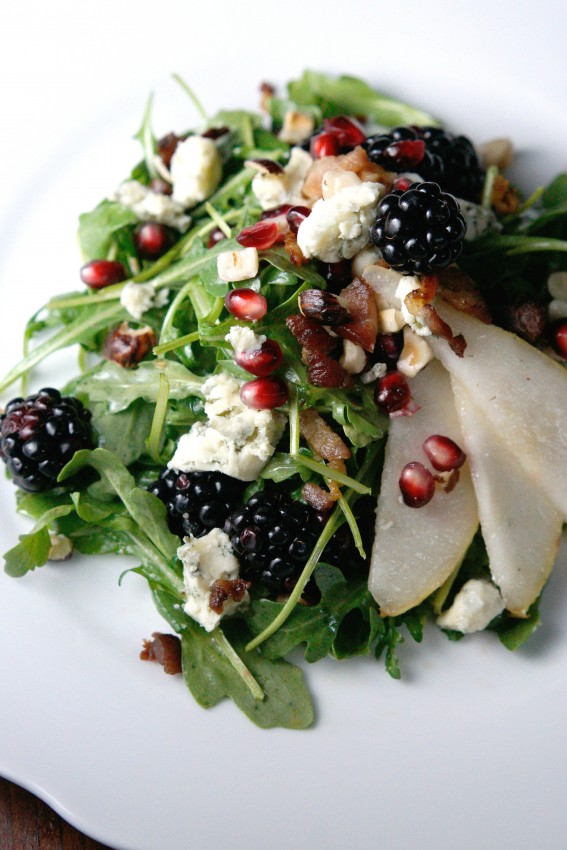 This salad was inspired from my obsession with lighting berries.  Yes, I'm weird, but hey, it's my blog.  I do what I want.  As you can see, this salad has blackberries.  They reflect light in such a ridiculously luxurious way, like light bouncing off a dozen mini mirrors.  Look at them, aren't they dreamy!?!  This salad was so much fun to shoot.  But, per confirmation from Mr. Simon, it's as luxurious in taste as it is in pictures.  It hits the notes of acid, fat and sweet, balanced by peppery arugula.  Some people don't like arugula.  I don't understand those people.  Arugula is my jam.
*Full printable recipe at the bottom of this post
Some notes on this salad:
Bacon: I specifically used the Trader Joe's bacon ends and pieces.  It's a mishmash of leftover bacon parts and perfect for bacon bits.  All I did was take 4 ounces of the pieces, rough chopped them, then threw them in a skillet headed over medium heat and slow sizzled them for 20 minutes.  The slower medium to medium low heat method renders the fat in the bacon more effectively, causing your bacon bits to be more flavorful and rich.  Once they're golden and the fat is mostly rendered, transfer the bits with tongs to a plate with a paper towel.  The towel will absorb the excess drippings.
Hazelnuts: …but don't toss that bacon grease yet!  I threw 4 oz chopped hazelnuts into the grease over medium high heat and added extra flavor and crisp to the nuts.  Once they turned a bit golden, I added them to the bacon on the towel.
Blue Cheese:  I used a Danish Blue Cheese in this salad as it's on the milder end of the blue cheese spectrum.  A hint of the fabulous funk is a nice addition to the salad, but don't go overboard with a super blue like Roquefort or Stilton that could overpower your whole salad.
Fruit: I opted for blackberries, pears and pomegranate seeds here.  Certainly, there's no reason  you couldn't mix things up and do grapes, blueberries, raspberries, or apples.  I wouldn't necessarily go to citrus here but there's no rules saying you can't.  Do what makes you happy.
Arugula:  I adore arugula, but I realize a lot of people don't.  If you're not partial to this peppery green, feel free to use another instead.  I would stick to the heftier greens, perhaps kale, red leaf lettuce or field greens.
Dressing:  I attack every dressing with the same checklist.  Acid, texture, sweet, depth and oil.  If you have those five things, you'll end up with a balanced salad dressing.  This dressing fulfills that equation accordingly:  lime, dijon, honey, Worcestershire, and grapeseed.  Dijon is "texture" because it helps the emulsification process when you mix up all of the ingredients, making a smooth creamy texture.  Eggs and mayo do this in other dressing applications.  Also, as far as grapeseed oil, it's my go-to dressing oil.  It's light, mostly inexpensive and has very little flavor so it doesn't compete with the other ingredients.  Do not forget to add some salt to the dressing.  It will be flat if you don't unlock the flavors with proper seasoning.  How much is enough salt?  You'll have to taste the dressing and adjust accordingly.
Once you have all of these items, dress your greens and layer on the other elements.  Enjoy!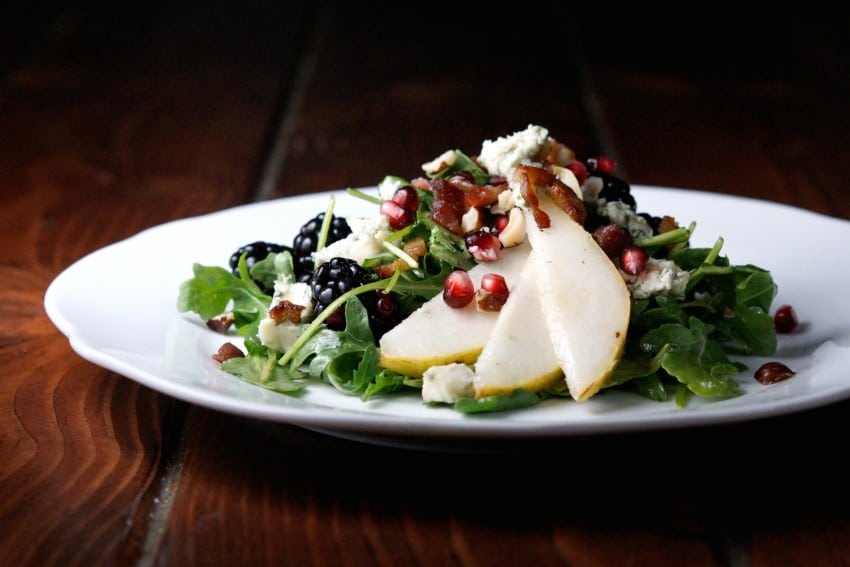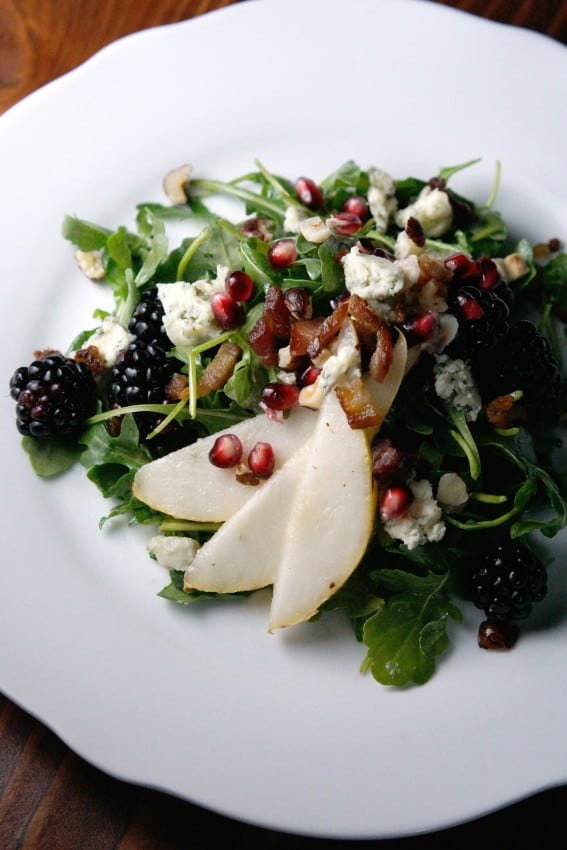 *Original recipe by Joanie Simon (joaniesimon.com)
Print
Berry Blue Arugula Salad
---
Author:

Total Time:

35 mins

Yield:

4

1

x
Description
A simple but decadent arugula salad.
---
4 cups

arugula

4 oz

bacon chopped and fried into bits

4 oz

chopped hazelnuts

1

pear, sliced

1 cup

blackberries

1

pomegranate, seeded

4 oz

crumbled Danish blue cheese

2

Tbs lime juice

1

Tbs dijon mustard

1

Tbs honey

1/2 tsp

Worcestershire sauce
salt and pepper

1/4 cup

grapseed oil
---
Instructions
Prepare all of the toppings: bacon, hazelnuts, pear, blackberries, pomegranate and blue cheese.
Make the dressing by combining lime, dijon, honey, worchestershire, grapeseed oil, salt and pepper.
Dress arugula with the dressing and decorate the salad with the toppings.
Prep Time:

15 mins

Cook Time:

20 mins

Category:

Salad

Cuisine:

American