All of the awful kale salads out there have given good kale salad a bad name.  Kale salad can be wonderful when you prepare the kale properly and pair it with complimentary accompaniments.  Follow this recipe for Kale Salad with Parmesan Vinaigrette and you might just get turned on to raw kale.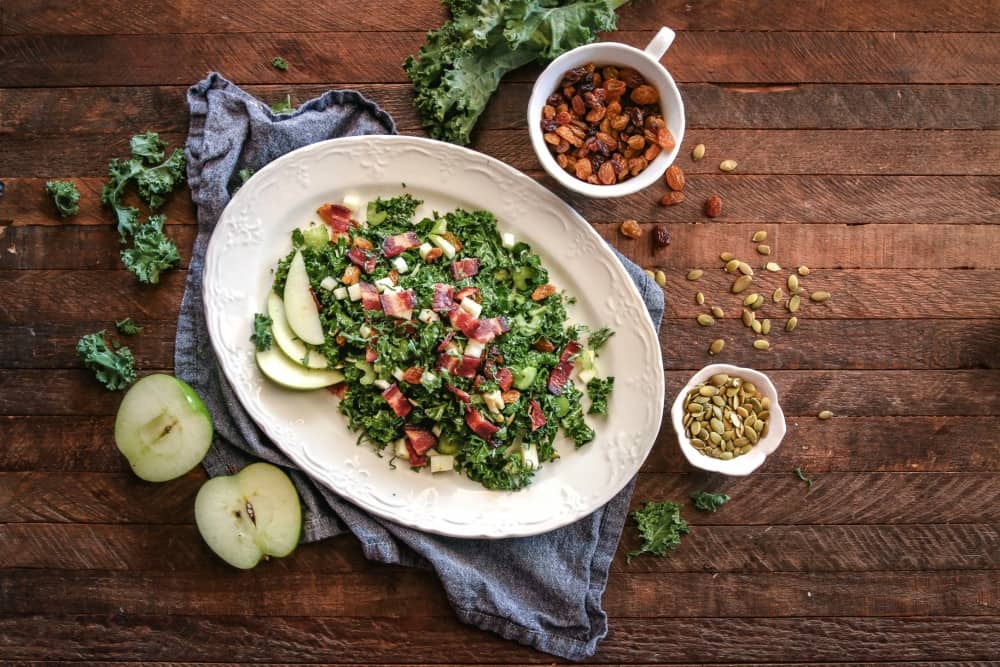 Why We Dislike Kale
The texture of raw kale is one thing folks mention when they say they don't like kale.  I've had kale salads that shredded my mouth because the leaves were so spiny and, for lack of a better word, sharp.
A few years ago, I came across an amazing kale salad at a restaurant.  The kale was nice and smooth but still crisp and fresh.  The chef said that he tossed the kale leaves in pickle juice earlier in the day to soften them up.  It's the acid that breaks down the spiny edges of the leaves, saving the roof of your mouth from being destroyed.
In this recipe, I treat the kale the same way, but use lemon juice instead, since the dressing includes lemon juice.  But, of course, feel free to pickle it up!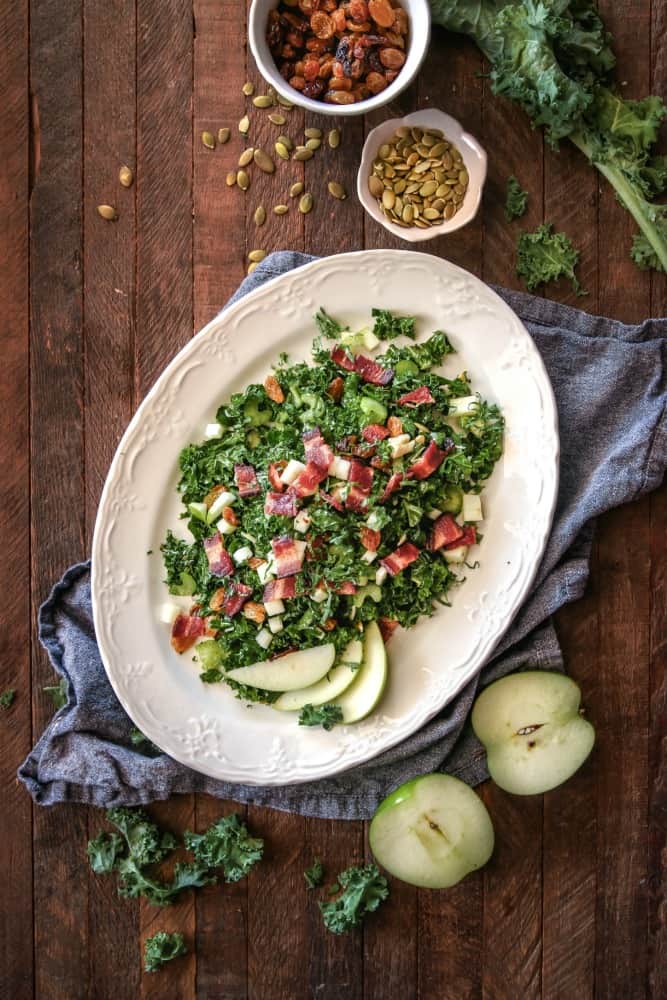 Get the Right Flavor Combo
The other problem with kale is the bitter flavor.  The lemon / pickle solution will help a bit with that.  But, the other key to improving the taste is in selecting the right dressing and toss-ins.  The parmesan vinaigrette I use in this recipe delivers a nice acidic punch from dijon and lemon to override the bitterness of the kale, while balancing it out with the creaminess of parmesan cheese.  Then, everything else I toss in adds sweetness: golden raisins, apples and a sweet cured bacon.  I also add in pumpkin seeds, mostly because they're my current obsession and a healthy alternative for those of us who are crouton fans.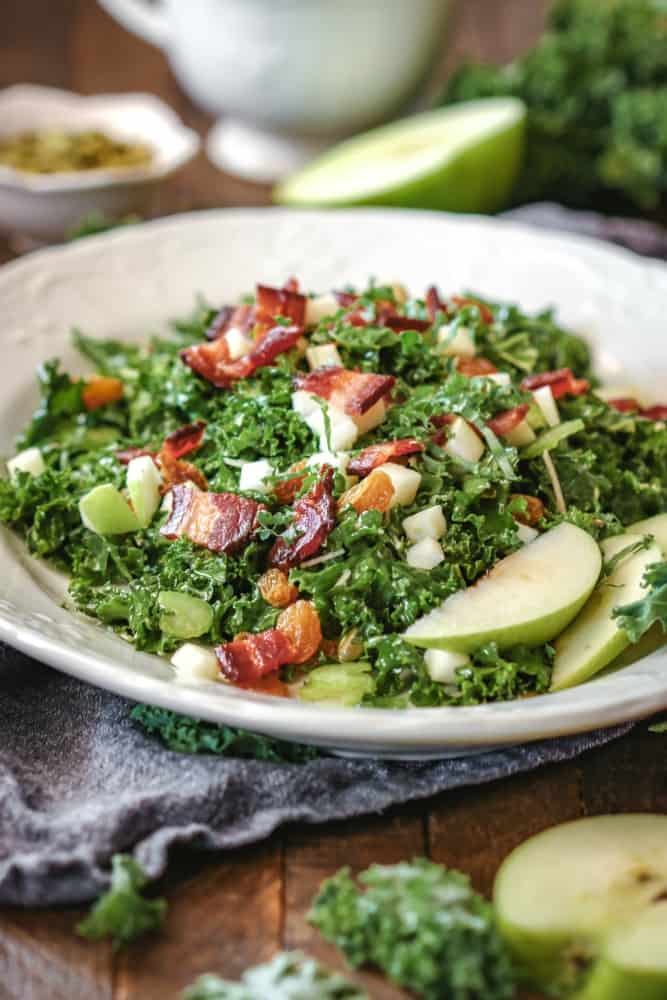 This recipe comes together quickly and could make for a nice weeknight dinner by adding chicken or some other protein to bulk it up.  I think it would be wonderful to serve at a lunchtime party as a part of a buffet alongside some kind of grain salad and grilled BBQ chicken.
Print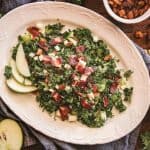 Kale Salad with Parmesan Vinaigrette
---
Author:

Total Time:

25 mins

Yield:

4

-

6

servings

1

x
6 cups

kale, fine chopped

1

lemon (cut in half and divided)

1

clove garlic, minced

1/4 cup

oil

2 tsp

dijon mustard

1

tbs honey

1/3 cup

fresh grated parmesan

1/4 tsp

pepper

1/4 tsp

salt

1/4 cup

golden raisins

2

stalks celery, sliced

4

strips of maple bacon, fried and chopped

1/4

pumpkin seeds

1

granny smith apple, diced
---
Instructions
Combine the kale with 1/2 the juice of a lemon and toss, then set aside in the refrigerator at least 30 minutes.
Prepare the dressing by combining the remaining lemon juice, garlic, oil, mustard, honey, parmesan, salt and pepper. Whisk until it becomes creamy.
When your kale is ready, toss with the raisins, celery, bacon, pumpkin seeds and apple and dress with your desired amount of the prepared dressing.
Serve