This recipe is one that brings our whole family together.  A few years ago Ryan mentioned how much he loves smoked salmon, especially on a bagel with cream cheese.  I quickly discovered that packaged smoked salmon is expensive and most times, too salty for my tastes.  Fortunately, we had inherited a smoker from my in-laws, so before you could say 'bagels & lox' we had cured a 2 lb salmon filet and were tossing it into the smoker.  This is definitely the way to go!  I always handle the spice rub and curing process.  Ryan is in charge of the smoker.  In the end, we end up with enough smoked salmon to cover 8 to 10 large bagels for less than $15.  I actually did this for an Easter brunch last year as a part of a make-your-own Bagels & Lox bar.  It's easy because you can make everything the day before and serve the salmon chilled.
Sweet Smoked Salmon on Bagels with Chive Cream Cheese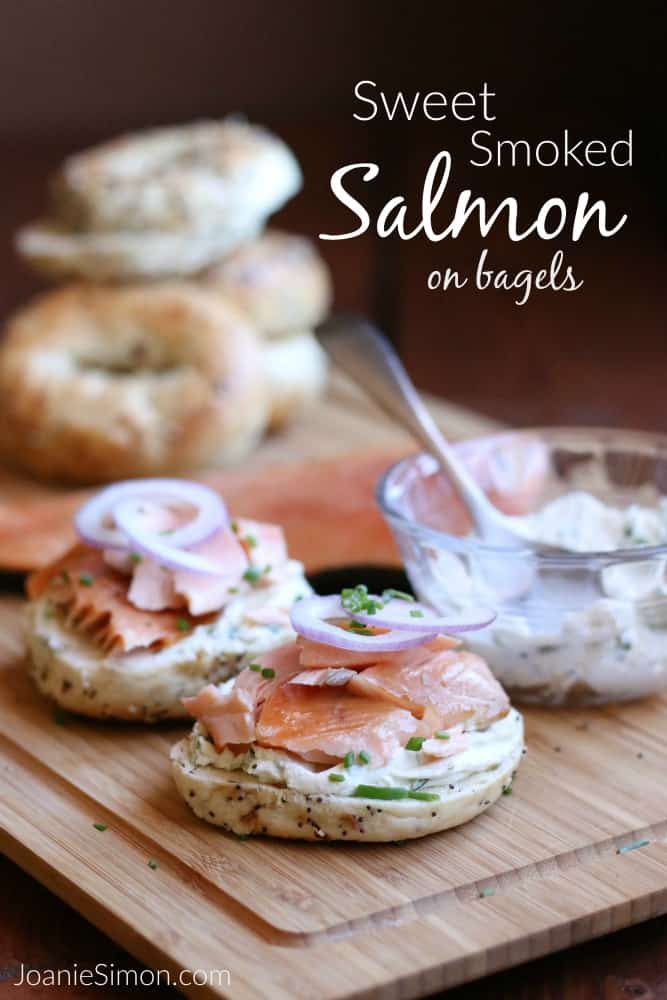 Print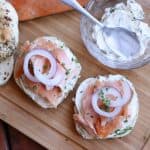 Sweet Smoked Salmon on Bagels
---
Author:

Total Time:

24 hours 35 mins

Yield:

8

servings

1

x
1.5

to

2

lb fresh salmon filet, skin on

1 cup

brown sugar

1 cup

sea or kosher salt

1

Tbs. ground black pepper

1

Tbs smoked paprika

8

bagels

8 oz

cream cheese

1 oz

fresh chives chopped

1/2 tsp

garlic powder
optional garnishes: sliced red onion and capers
---
Instructions
Salmon:
Rinse and dry the salmon filet and place on a clean baking sheet on top of a large piece of cling wrap.
Mix together remaining ingredients and sprinkle all over the salmon and rub into both the skin and the flesh sides.
Place the fish flesh side down and pull up the sides of the cling wrap to cover the salmon. Use more cling wrap if needed. The idea is to get the salt and sugar rub to cling closely to the fish.
Place the wrapped fish on the baking sheet in the refrigerator for at least 12 hours then flip the fish and allow it to sit in the fridge for another 12 hours.
Remove the fish from the fridge, remove the cling wrap and thoroughly rinse off all of the rub. Pat dry with towels and allow to sit on a clean surface for at least an hour to allow the remaining moisture to evaporate.
Prepare your smoker and bring it to a temp of 150 to 165.
Place the dry fish in the smoker and cook until it reaches an internal temperature of 150F.
Remove and either serve immediately or refrigerate and serve cold.
The Schmear:
Combine the 8 oz cream cheese, 1 oz chopped fresh chives and 1/2 tsp garlic powder in a bowl and mix with a hand mixer until the chives are incorporated and the cheese is smooth.
Put It All Together:
Slice the bagels in half and spread on the schmear, top with sections of the smoked salmon, sliced red onions and capers.
Prep Time:

24 hours

Cook Time:

35 mins
*Original recipe by Joanie Simon (JoanieSimon.com)