Mussels are one of the easiest fancy things to make.  Don't let their shells fool you.  As long as you know a few simple things, you'll be makin' mussels like a gym rat.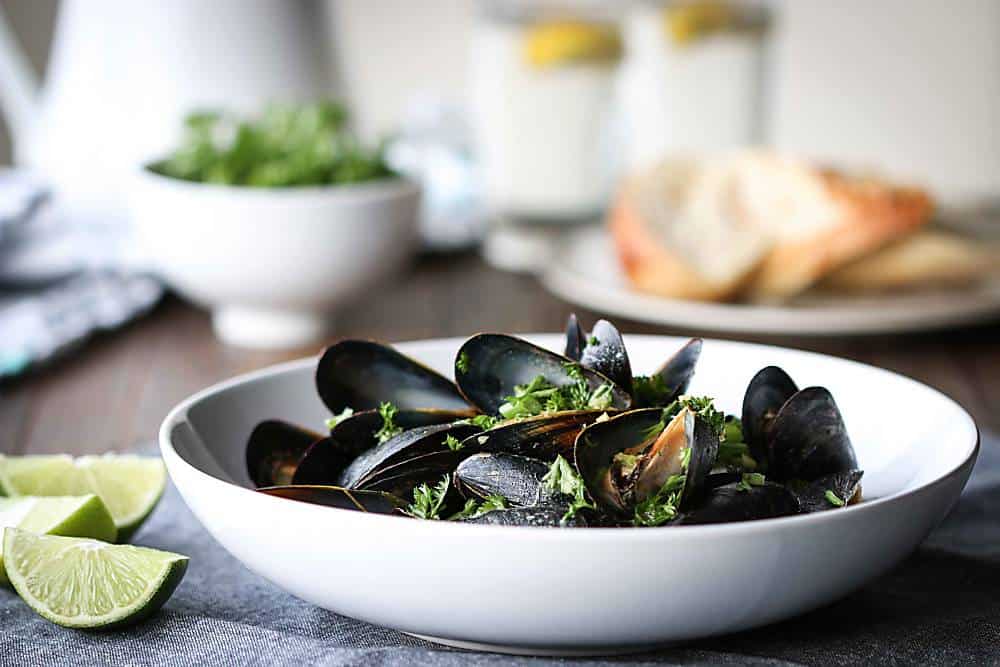 First step, clean your mussels.  If you buy them at a high end grocery store, many times they'll do this for you.  Start by rinsing them.  Next, discard any with cracked shells.  Any that are open, squeeze them and if they close naturally, that means they're still alive and good for cooking.  If they don't close, toss 'em.  Then, any that have a fuzzy bit on the outside (that's the beard) pull that off and discard.  No one wants to eat beards.  Once they're all cleaned, store them in the fridge until you're ready to cook them.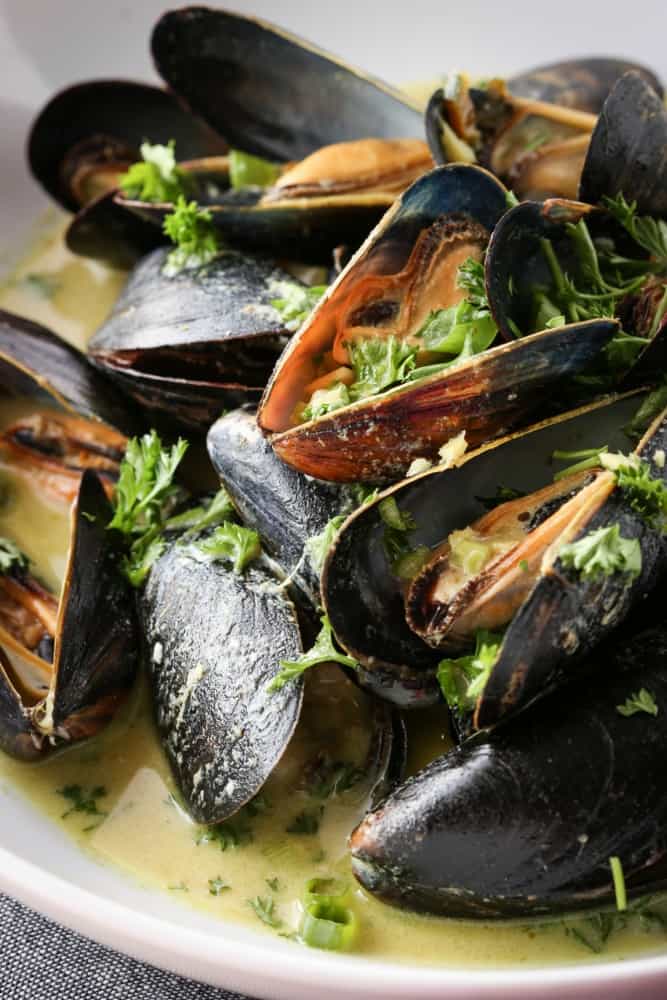 Next comes the broth.  This might be the most important step in the process.  The broth is an integral part of the mussel eating experience.  Crust bread for dunking required.  Some folks prefer a traditional white wine broth.  In this case, I'm going for more Asian flavors with a Thai curry broth.  I find this to be super easy and extremely flavorful.
I use Thai Kitchen's Green Curry Paste as the main flavor component of my broth.  It's full of lemongrass and other bright herbal accents.  I combine it with creamy smooth coconut milk and a little bit of funky fish sauce for the flavors my favorite Thai restaurants at home.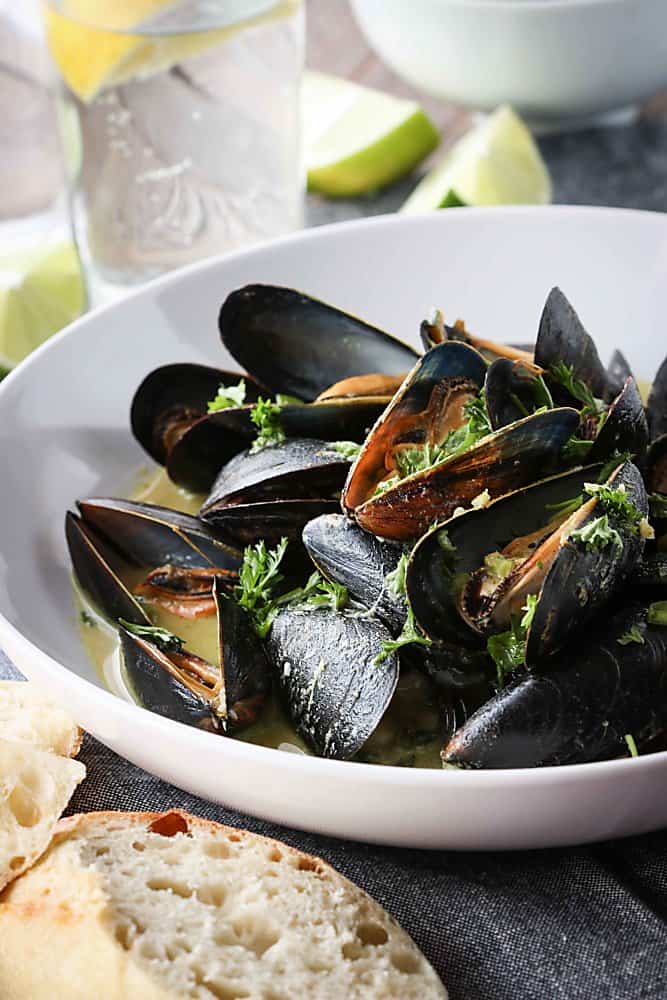 Then, once you've made your both, toss in the cleaned mussels, stir and cover the pot.  Let them cook for 2 to 3 minutes over a simmer.  After that, open up the pot and if the majority of the mussels are open, it's time to eat.  If they're only halfway open, give them another minute or two.
Serve them in a bowl with plenty of the broth and aforementioned crusty bread.
Do note, though, that any mussels that did not open when you cooked them should be thrown away.  They're duds and you shouldn't eat them.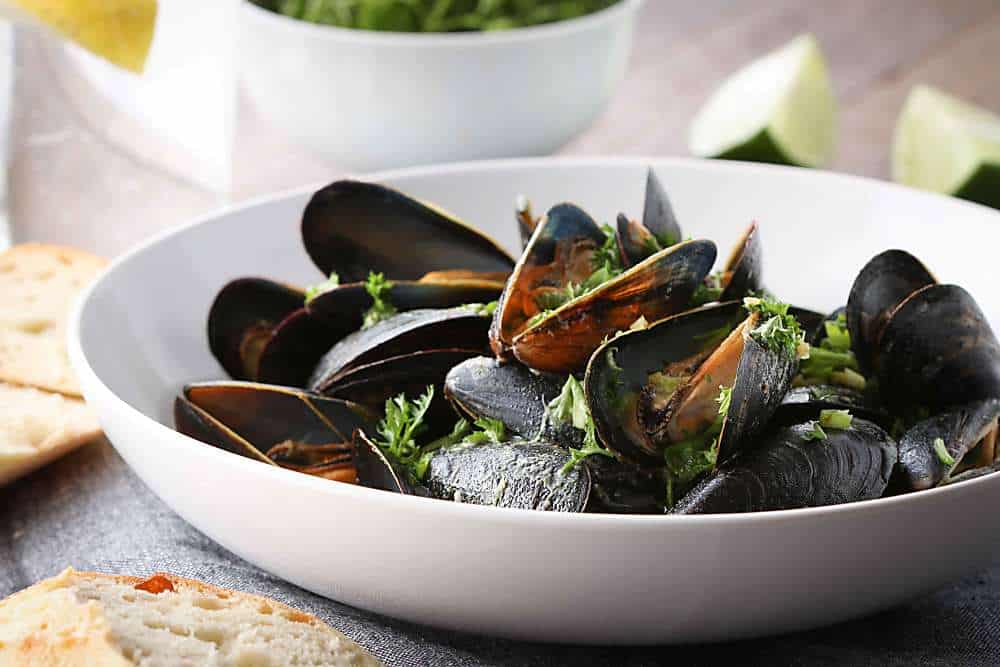 I promise, if you make this next time you have someone over for dinner, you'll be the talk of the foodie town.  You don't have to tell them it took longer to clean the little buggers than to cook them.
Enjoy!
Print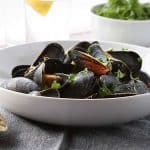 Thai Curry Mussels
---
Author:

Total Time:

25 mins

Yield:

3

-

4

servings

1

x
2 tablespoons

peanut oil

1

Tbs fresh ginger, minced

2

cloves fresh garlic, minced

1

serrano pepper, minced

3 tablespoons

Thai green curry paste

¼ cup

rice wine vinegar
can unsweetened coconut milk

1 tablespoons

fish sauce (nam pla)

2

limes

1 1/2

pounds mussels, debearded and scrubbed

¼ cup

of fresh basil and cilantro chopped together
---
Instructions
Heat a wok or large pot on the stove over medium high heat with the peanut oil, then add in ginger, garlic, and pepper and sauté until soft.
Then add in the curry paste and stir to combine with the vegetables.
Then add in the coconut milk, vinegar and fish sauce and simmer 10 minutes to allow the flavors to intensify.
Next, prepare your mussels and then add them to the simmering broth, stir and then cover with the pot's lid and steam 3 minutes or until they're all opened.
Move the mussels to a serving dish and garnish with fresh herbs and lime wedges.
Prep Time:

20 mins

Cook Time:

5 mins