Okay, so there are no 'cookies' in this dessert version of hummus, but I swear you'll take a double take when dipping into this Chocolate Chip Cookie Hummus.  Dessert hummus has been picking up momentum as a 'thing' so I figured I'd enter my take on it into the cosmos, just in case you were in need of a sweet fix that also happens to be mostly healthy.
Dessert Hummus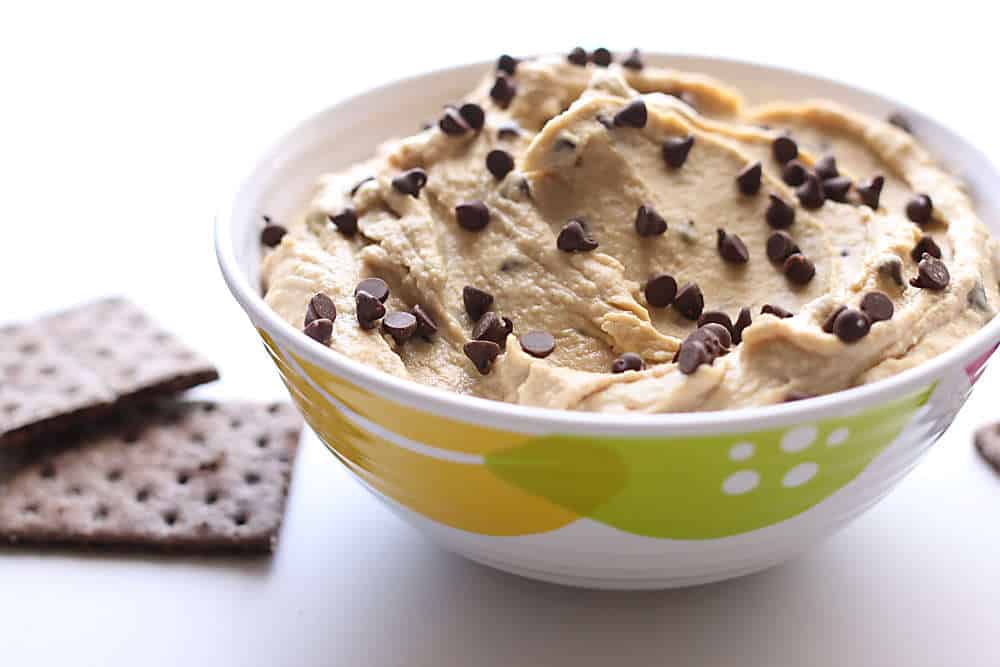 Watch me make it!
The "unhealthy" parts of it are simply one tablespoon of sugar and then, if you use standard chocolate chips.  You know me, I believe in sugar and chocolate chips, but for those to really commit to the health conscious angle of this concoction, rock on with some stevia and carob.
But, if you're like me and have humans in your house that you want to sneak a few good-for-you-things into, this is a well-balanced sweet.  Or, if you're like me and get a hankering for something sweet after dinner but know that the carton of Ben & Jerry's should stay in the freezer, this is a satisfying alternative.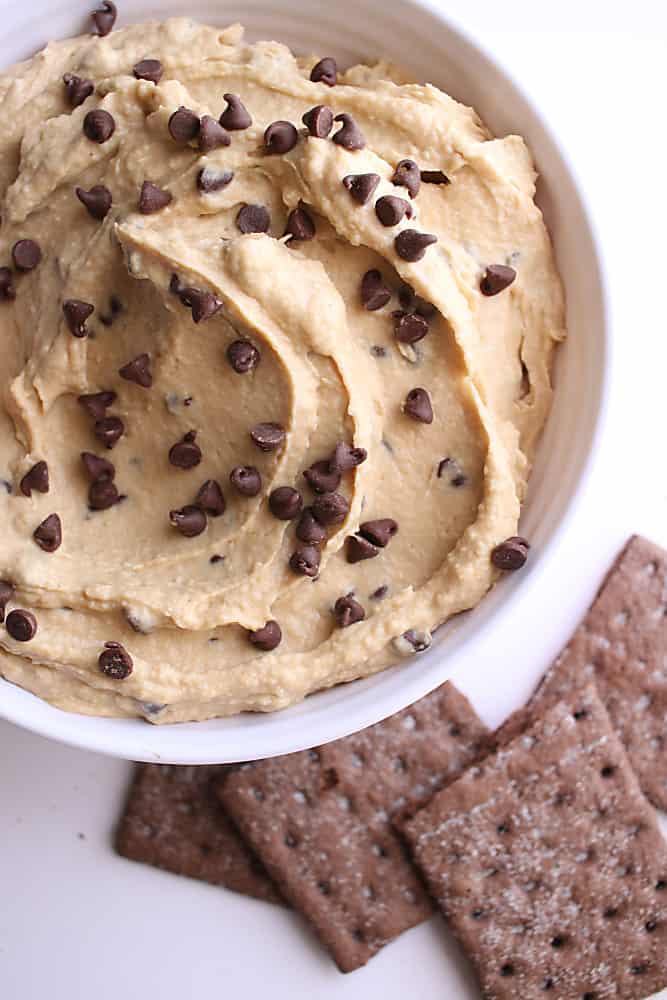 I start with my secrets to great hummus for this recipe, which I talked about when making my Best Homemade Hummus.  Don't forget the baking soda trick to help  make it creamy!  Then, from there, it's just a matter of making this into a dessert hummus instead of following the standard savory path.  Peanut butter, honey, ginger, vanilla…and of course, lots of mini chocolate chips!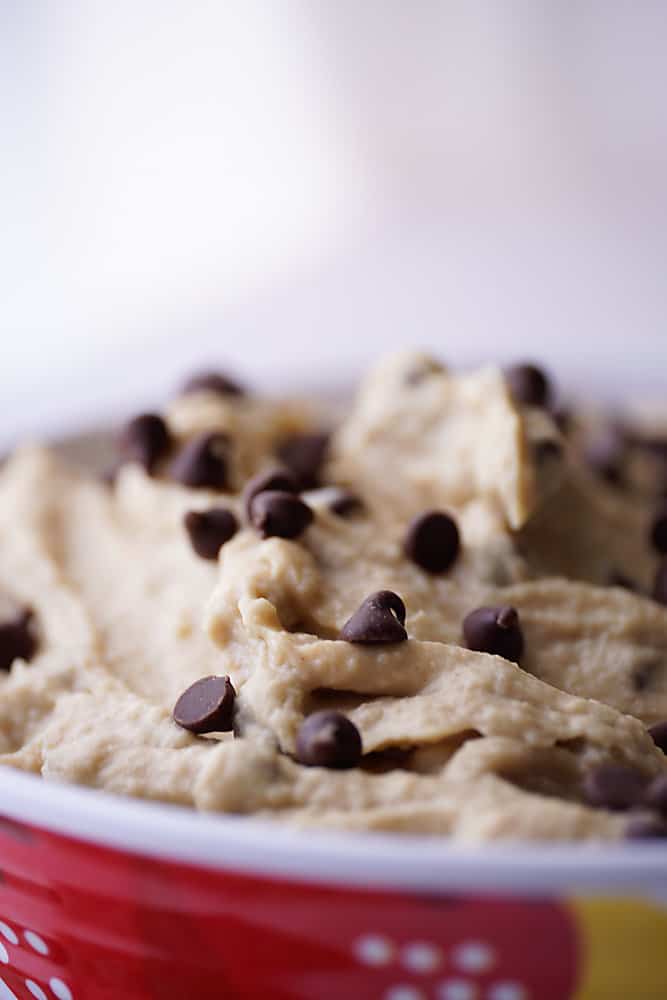 Then from there, serve it up with whatever you think is the best delivery device.  I really dig it with chocolate grahams, but you could go for fruit, standard grahams, or even just a spoon.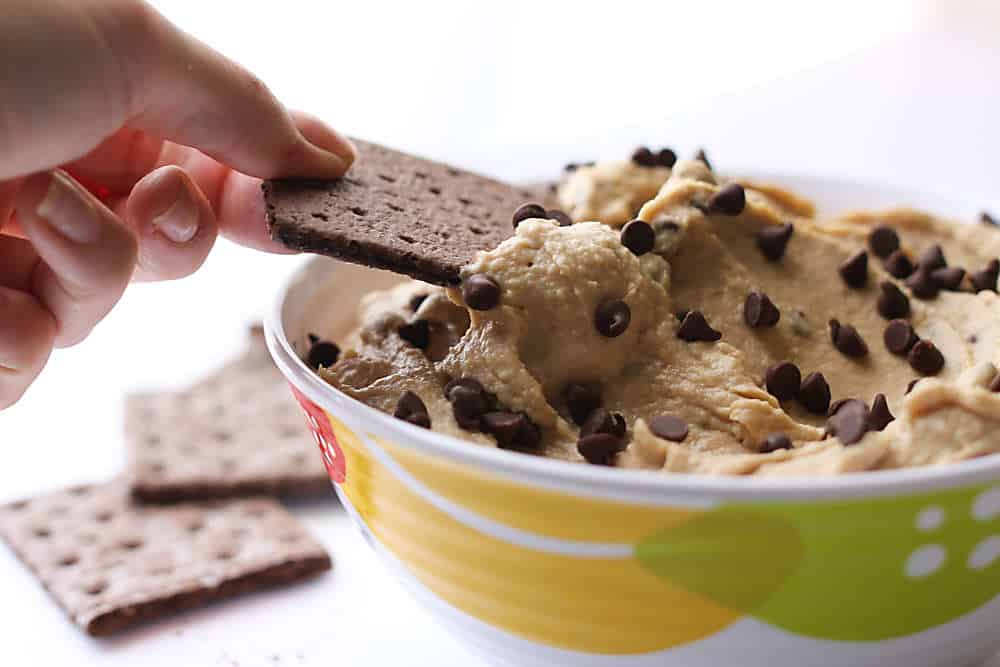 Hummus is such a fun canvas to build on.  What creative take do you spin on your hummus?  Leave a comment and let me know!
Print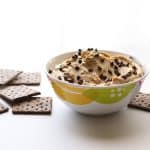 Chocolate Chip Cookie Dessert Hummus
Author:

Prep Time:

15 mins

Cook Time:

8 mins

Total Time:

23 mins

Yield:

16 servings

Category:

Dessert

Cuisine:

American
---
Description
A healthy dessert hummus naturally sweetened up with peanut butter and chocolate for those late night sweet cravings.
---
Ingredients
11oz dried garbanzo beans
1 cup water
2 tsp baking soda
2 Tbs honey
1/2 cup creamy peanut or almond butter
1/4 tsp dried ginger
1/2 tsp vanilla
1 Tbs confectioners sugar
1/4 tsp salt
1 Tbs oil
1 Tbs lemon juice
1/2 cup water
6 oz mini chocolate chips
---
Instructions
Cover 11 oz dried garbanzo beans with water so fully submerged and add 1 tsp baking soda. Allow to soak 6 to 8 hours.
Drain the soaking beans and add them to a pressure cooker with 1 cup water and 1 tsp baking soda and cook on high for 8 minutes. *if you don't have a pressure cooker, boil in a pot on high for 20 to 40 minutes until soft and slightly over cooked, but not too mushy
Add the beans to a food processor with honey, peanut butter, ginger, vanilla, sugar, salt, oil and lemon juice, slowly adding in water until the hummus it the consistency you like. Adjust water and salt until desired flavor and texture.
Mix chocolate chips in by hand and garnish with additional chips on top.
Serve with graham crackers and/or fruit
*Original recipe by Joanie Simon (JoanieSimon.com)