Ever since Chef Rich Hinojosa mentioned grilled pineapple on the podcast a few weeks ago, I've been obsessed.  This is, of course, in line with my new-found love of grilling.  We recently inherited a fancy-schmancy new grill and it's testament to the fact that cooking is more fun when you have the right tools.  This puppy gets screamin' hot, which gives everything those beautiful signature grill marks.  Am I the only nerd who geeks out on grill marks?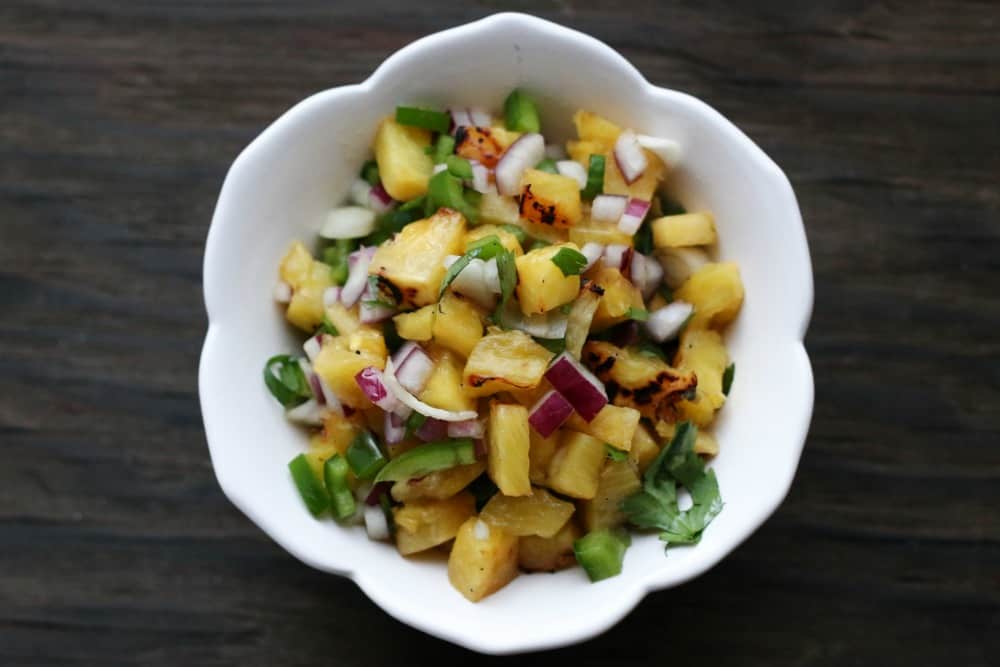 So why grilled pineapple?  Because the extreme heat from the grill coaxes out the natural sugars in the fruit to the surface, which then caramelize upon impact with the heat.  Pineapple is already one of my favorites for its candy-like sweetness.  But, adding a little charred caramelization with some smoke puts pineapple over the top.
Naturally, it's great just on its own.  But, if you're planning a taco night or prepping for Cinco de Mayo this Grilled Pineapple Salsa has that killer savory / sweet combo and takes you out of the everyday salsa.  I mean, I love me some tomatoes, but just imagine grilled pineapple salsa on pork tacos… sounds amazing, right?  Right.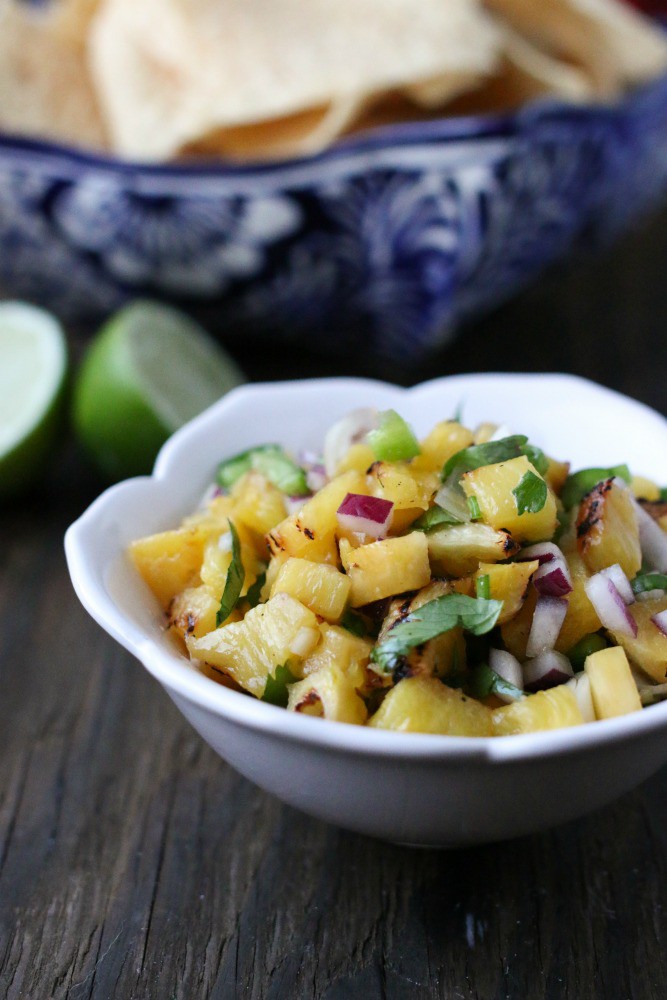 Grilled Pineapple Salsa
All you have to do is fire up the grill, slice up a pineapple into spears, grill 'em with those aforementioned sexy grill marks, dice 'em and toss it all together with red onion, peppers, cilantro, salt, lime and a little olive oil.  Toss that on the table with my pork carnitas and some crunchy chips and you'll be in full fiesta mode.
*In the recipe, I mention using an Anaheim pepper.  This is not a mandatory variety.  If you like spicy, jalapenos would be great.  Or, if you're going mild, stick to fresnos or poblanos.  Anaheims are mild, too, but sometimes, depending where you are, can be hard to find.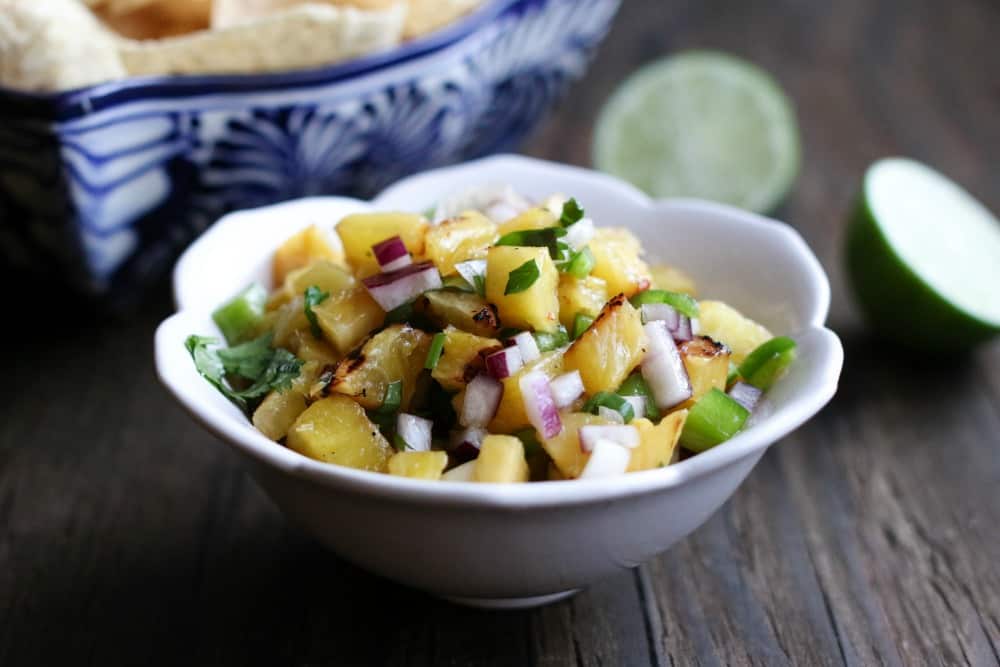 *Original recipe by Joanie Simon.
Print
Grilled Pineapple Salsa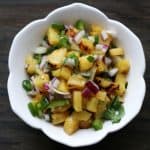 Use grilled pineapple to make a sweet, savory salsa.
Author:
Prep Time:

10 mins

Cook Time:

10 mins

Total Time:

20 mins

Yield:

2.5 cups

Category:

Condiment

Cuisine:

Mexican
Ingredients
1 large fresh pineapple (looking for a yield of 1.5 cups)
1/2 large red onion or 1 small red onion, diced (go for 1/2 cup's worth of onion)
1 Anaheim pepper, diced
1/2 cup loose packed cilantro, chopped
2 Tbs extra virgin olive oil
juice of 1 lime
salt to taste
Instructions
Fire up the grill on high heat
While the grill is heating, wash your pineapple and cut away the top and the skin. Slice into 1 inch planks/spears.
Once the grill is heated, place the pineapple spears on the grill and cook 5 minutes each side until they get visible grill marks and just a little charred on the edges.
Place the grilled pineapple on a plate and allow to cool. Any liquid that gathers under the pineapple, be sure to keep to add to the salsa.
Dice the cooled pineapple and put it in a mixing bowl with the remaining ingredients, including any pooled pineapple juices and toss to combine.
Serve with chips or as a condiment to tacos.