This recipe had to be made for two reasons.
1) This is my Mom's all-time favorite thing that I make.  She is a bonafide carnitas freak and I wanted to show her how to turn a 13-pound picnic roast into sweet, fall-off-the-bone taco extravaganza.
2) I previewed my gigantic 20-quart stove top pressure cooker in a video two weeks ago and got a few requests to bust her out for my pork carnitas recipe.  I have only ever made pork carnitas in this pressure cooker, so yes, it's a little nuts to have a giant pressure cooker taking up space purely for the sake of pork tacos.  But, I take my tacos seriously and when situations arise where I need to make enough for an army, the video below shows exactly what I do.
If you prefer an Instant Pot version of this recipe check out my Instant Pot Pork Carnitas.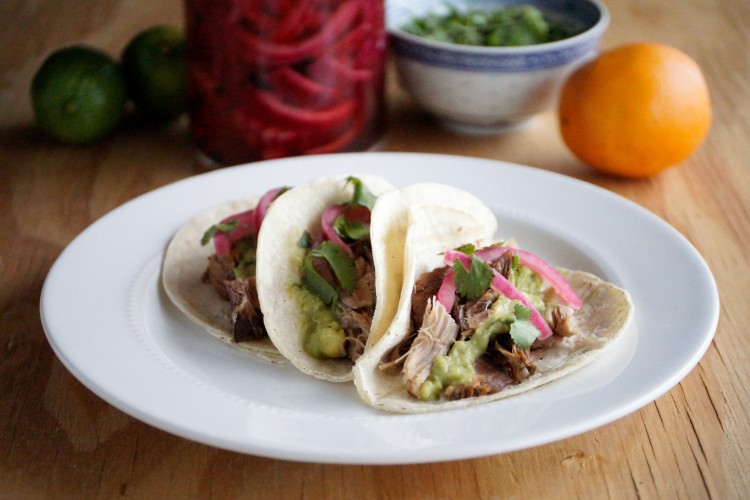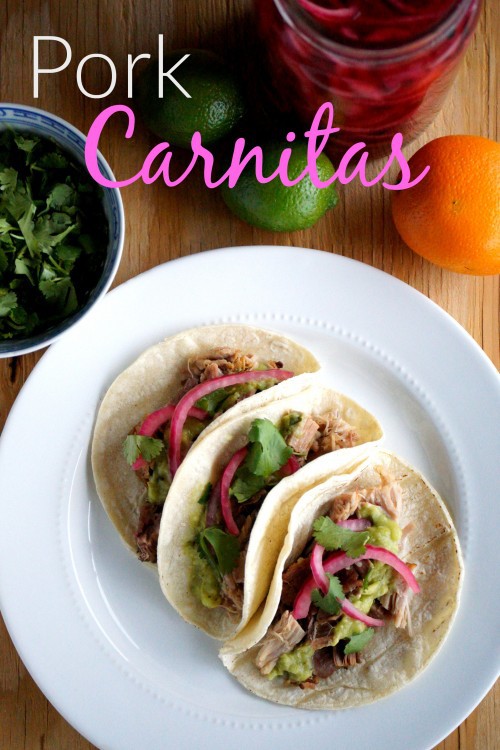 *original recipe by Joanie Simon (joaniesimon.com)
Print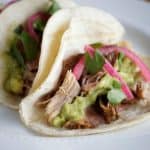 Pressure Cooker Pork Carnitas
---
Author:

Total Time:

3 hours 10 mins

Yield:

40

tacos

1

x
Description
Easy fall-off-the-bone pork carnitas with traditional flavors made in a flash in the pressure cooker.
---
13

lb bone-in skin-on picnic shoulder pork roast

2

Tbs oil

1

Tbs dried oregano (or

3

Tbs fresh)

2

Tbs salt

1

Tbs chile powder

1/2 tsp

cinnamon

1 cup

white vinegar

1 cup

apple cider vinegar

2

white onions, halved

1

head of garlic, cloves removed from skins

5

oranges, quartered

4 cups

water
---
Instructions
*This is using a stove top 20 quart pressure cooker (read blog post at joaniesimon.com/pressure-cooker-pork-carnitas for alternative suggestions for electric pressure cookers and smaller roasts)
Heat pressure cooker over high on the stove top and add in oil
Once oil is heated, add the roast in to sear off the meat sides (the skin side does not need to be seared). Searing should take 2 – 3 minutes on either side to get a little bit of browning and to seal in moisture into the roast.
Then add in 1 Tbs dried oregano, 2 Tbs salt, 1 Tbs chile powder, 1/2 tsp cinnamon, 1 cup white vinegar, 1 cup apple cider vinegar, 2 white onions, 1 head's worth of garlic cloves, 5 oranges and 4 cups of water.
Place lid on top of the pressure cooker according to manufacturer's directions and leave the stove top on high heat until the pressure rises in the cooker to 10 – 12 PSI. Once is reaches that range, reduce the heat on the stovetop to medium to medium low heat to maintain 10 – 12 PSI. You do not want to exceed 15 PSI.
Once the seal is made and the locking mechanism pops on the lid, start the timer for 3.5 hours (or 15 minutes per 1 lb of your roast).
Once the time is up, remove the pressure cooker from the heat and allow the PSI to reduce to 0. This can happen by just leaving it alone or using the pressure release.
Once the PSI is at 0 and you can remove the lid, then remove the roast (probably will remove in pieces because it will be so tender). Leave the juices, oranges and onions in the pot.
Shred the meat of the roast, discarding excess fat and skin and bones.
Chop the shredded meat and douse with some of the cooking liquids from the pressure cooker.
Serve with tortillas, guacamole, picked red onions, cilantro and any other favorite taco accompaniments.
Prep Time:

10 mins

Cook Time:

3 hours

Category:

Entree

Cuisine:

Mexican
If you don't have a 20 quart stove top pressure cooker:
Electric Pressure Cooker –  Likely if you have one, it's 6 quart, so that means you need to get a smaller roast.  Find a four to five pound boneless pork shoulder or pork butt, preferably with a good layer of fat.  That's about as big of a piece of meat that you'd want to put in there.  Never fill a pressure cooker over 3/4 full.  Then, reduce all other ingredients by 1/2, except for the water, only put in 1 cup of water.  Then, set on the pressure cooker for 15 minutes per pound of the roast you have.  So, if it's a four pound roast, set it for 60 minutes.
If you don't have a pressure cooker or you don't have one big enough and want to do a 13 lb roast, you can try doing this in the oven.  But, I would suggest searing off the roast on the stove top just like the original recipe, then place the roast in a large roasting pan with all of the other ingredients and then cover it with foil and roast at 350F for an hour per pound or until it pulls apart easily with a fork for shredding.  Then, follow the rest of the directions as instructed.