This recipe has been tested and approved by real, live humans! I made this Strawberry Shortcake Cobbler four times in live demos at the Le Creuset store in Scottsdale, showing just how easy this beautiful dessert is to make.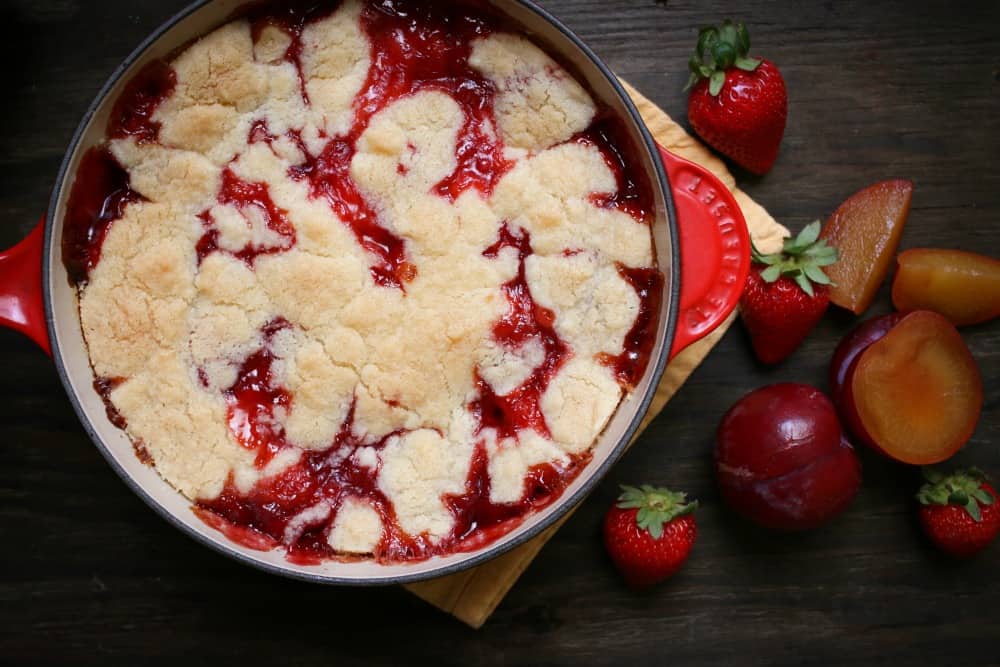 To make things more exciting, I set up cameras and recorded one of the demos.  This video shows you how to make this strawberry cobbler plus some of the unpredictable fun that happens when presenting to a live audience:
Strawberry Shortcake Cobbler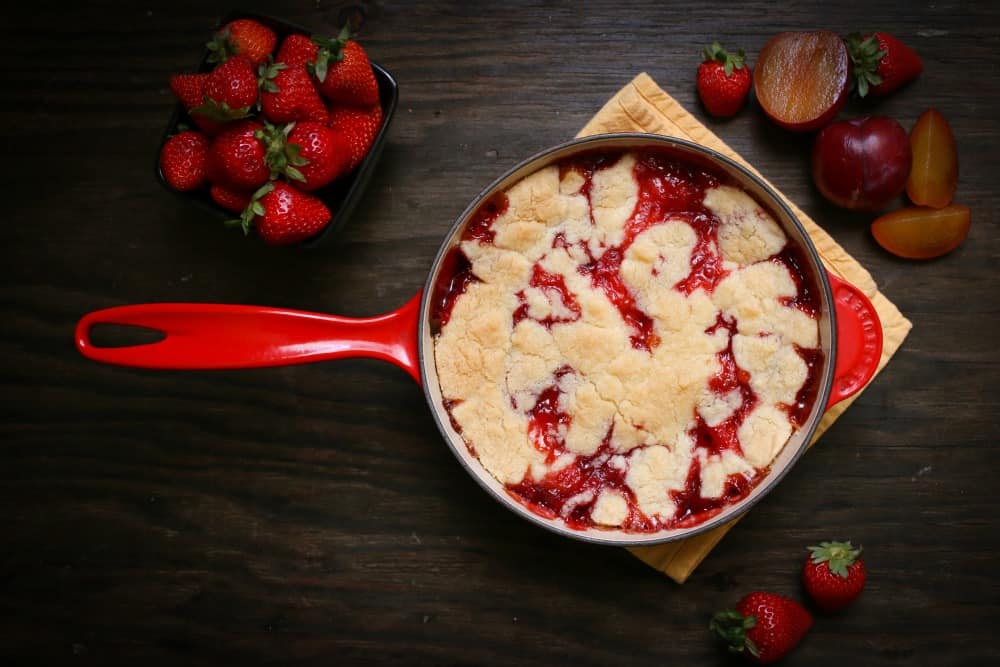 This cobbler recipe is so easy to pull together and isn't super finicky like most baking recipes.  It's also versatile in that you could change out the strawberries for cherries or peaches and achieve the same results.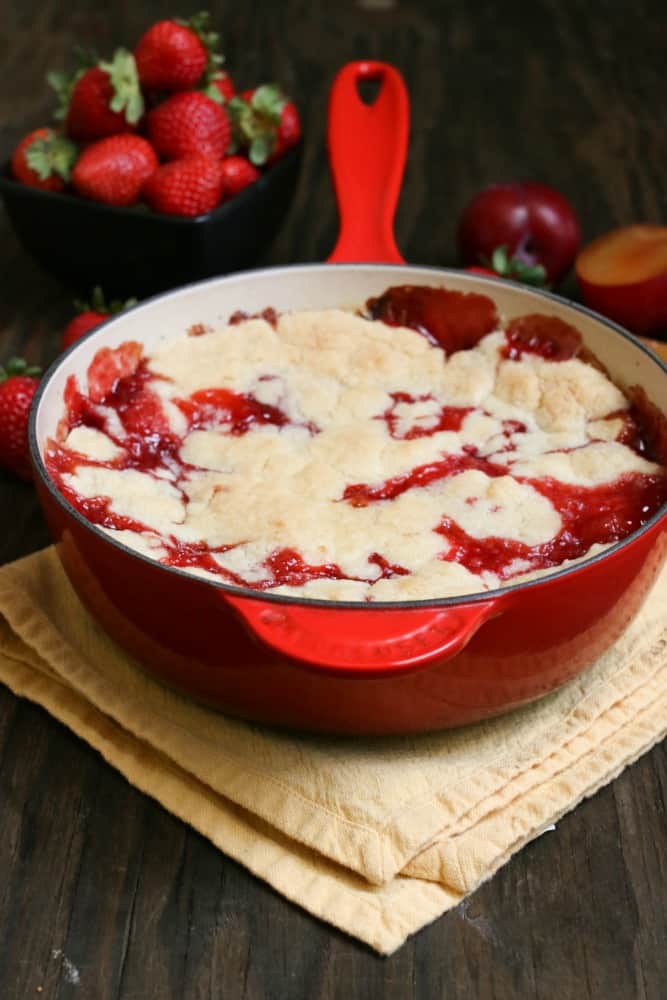 Best news about this recipe is that it's a 1-pot wonder when using cast-iron.  Because Le Creuset cookware is so pretty, you can serve dessert right out of the dish it was prepared in.  I've been using my Le Creuset pices for 10 years and they're still going strong.  The prove the concept that you get what you pay for.
If you make this dessert for your crew, let me know how it goes!  I think they'll really enjoy it, especially topped with fresh whipped cream or ice cream!
Print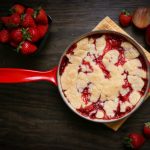 Strawberry Shortcake Cobbler
Author:

Prep Time:

15 mins

Cook Time:

40 mins

Total Time:

55 mins

Yield:

6 servings

Category:

Dessert

Cuisine:

American
---
Description
An easy, summery fruit cobbler with bright strawberries topped with a cookie biscuit dough for a strawberry shortcake experience.
---
Ingredients
12 oz strawberries, quartered
1/2 cup sugar
2 plums, 1/4 in diced
1 Tbs cornstarch
2 tsp lemon juice
1 cup flour
8 Tbs butter, softened
3/4 cup sugar
1/2 tsp salt
1/4 cup milk
---
Instructions
Preheat the oven to 375F
Combine strawberries, 1/2 cup sugar, plums, and lemon juice in a 3.5qt cast iron or other oven safe pan. Cook over medium high heat until the fruit releases its liquid and the mixture becomes soupy. Mix in cornstarch to thicken the sauce and set aside.
Combine flour, 8 Tbs butter, 3/4 cup sugar and salt into a mixing bowl and mix by hand until it forms a crumbly dough. Then add in milk, 2 Tbs at a time until the mixture becomes like the consistency of a standard cookie dough. Don't use the entire 1/4 cup of milk if your dough comes together before adding it.
Take the dough and pull off small wads, leaving them raggedy and smashing down into flattened rough disks, placing them on top of your fruit until all of the dough is used and the fruit is covered.
Bake uncovered at 375F for 35 to 40 minutes. You want the top of the cookie crust to be golden browned and the dough within the fruit to be fully cooked without losing the sauce to evaporation.
Remove from oven and allow to sit at least 10 minutes to cool. Serve warm with fresh whipped cream or vanilla ice cream.
*Original recipe by Joanie Simon (Joanie Simon Media)