This Trail Mix Rice Crispy Treats recipe combines two favorite snacks and makes for a healthy sweet treat in a lunchbox or after school.
It's a heartier, healthier version of the Rice Krispie Treats, loaded with trail mix favorites like dried cranberries, raisins, almonds and coconut.
Skip the corn syrup
Instead of corn syrup, we rely on brown rice syrup to bond everything together.  And the marshmallow creme from Toasted Mallow (formerly Fluff-It Marshmallows) adds a little bit of creaminess and delivers on natural vanilla flavor.  You could use regular marshmallow fluff, but this particular whip is made without corn syrup and the flavor is far superior.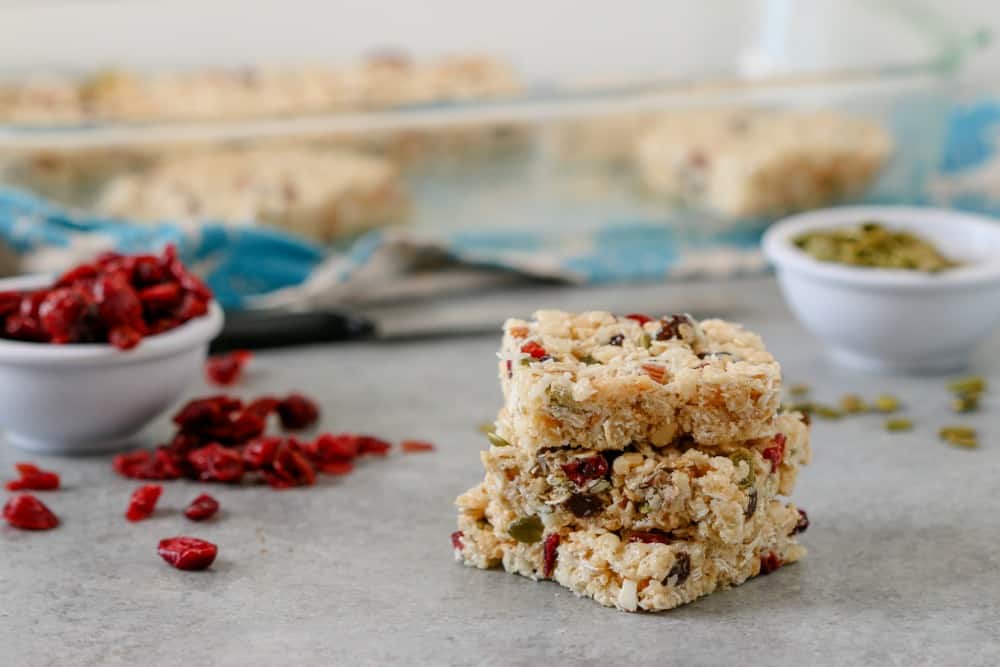 These come together quickly, though you do need to let them set at least two hours.  They need time to firm up before cutting into them.  But, once you do that, they'll be gone in a flash.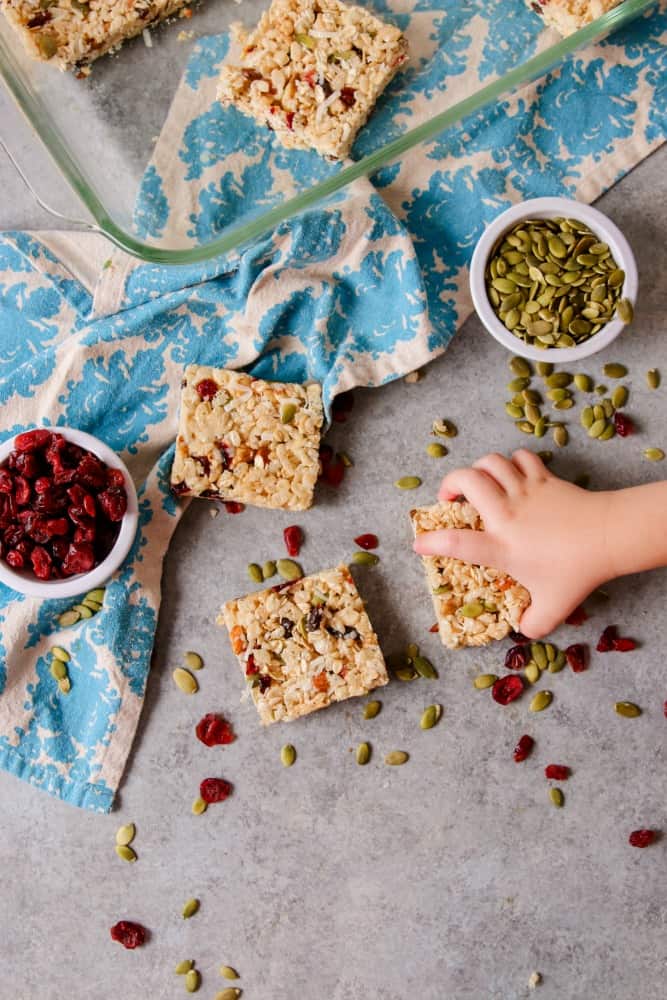 The Recipe
Trail Mix Rice Crispy Treats
Prep time:
Cook time:
Total time:
A recipe mashup that adds trail mix to a healthier version of rice krispie treats.
Ingredients
3 cups rice krispies
¾ cup rolled oats
½ cup unsweetened coconut flakes
¼ cup pumpkin seeds
¼ cup walnuts chopped
¼ cup dried cranberries
¼ cup almonds chopped
¼ cup raisins
¼ tsp almond extract (optional)
½ cup brown rice syrup
3 Tbs butter
½ cup marshmallow creme
Instructions
Combine all dry ingredients in a large bowl and set aside.
Spray a 9 x 13 glass pan (or other microwave safe pan) with cooking spray
Add brown rice syrup to a pan on the stove over medium high heat and add in butter and simmer on a soft boil for at least a minute, stirring constantly until butter is melted and the sauce slightly thickens.
Add in the marshmallow creme to the pot and continue stirring, cooking for another minute until the creme is dissolved and the sauce is a thick creamy syrup. If adding the almond extract, stir that in at this point.
Pour the sauce over the bowl of dry ingredients and toss everything together until all of the dry ingredients are coated and then transfer to the 9 x 13 pan and spread the cereal evenly.
Press the bars down with a smaller pan inset into the larger pan, just to ensure the bars are well compacted and hold together once they've set.
Microwave the 9 x 13 pan with the bars for 1 minute on high, just to ensure everything sets and is bonded by the syrup.
Allow to cool and set for 2 hours, then cut into squares and serve.