I think of parfait, I think of Eddie Murphy as Donkey in Shrek.
You know what ELSE everybody likes? Parfaits! Have you ever met a person, you say, "Let's get some parfait," they say, "Hell no, I don't like no parfait."? Parfaits are delicious!
So, being that everyone likes parfaits, I figured I'd make one for you.  I made it for my in-laws, my Bible study, my kids.  Yep, they all liked it, so here you go.  Something you can make that everyone will like.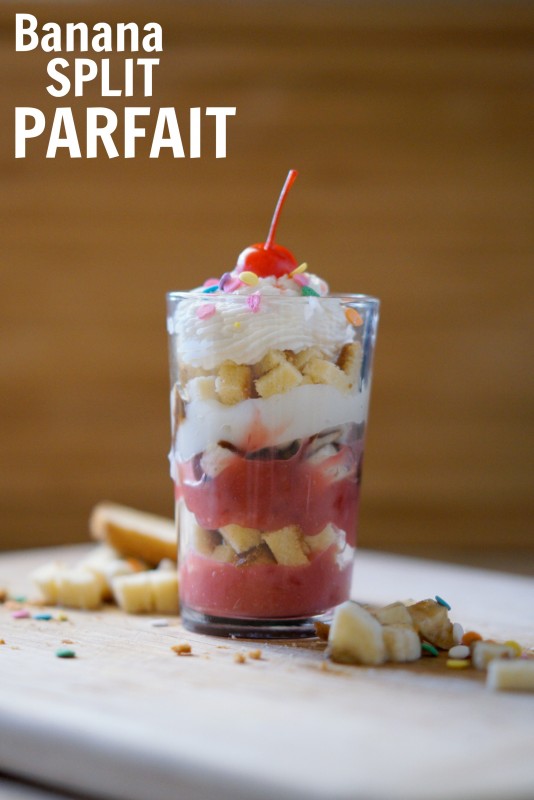 Fair warning, this is so easy to prepare, you might not qualify it as a recipe.  I'll claim a certain level of creativity for mixing a few things together, but it's so simple and only requires bowls a knife and spoons.  No baking, no precision, just assembling layers of tasty stuff.
If you want to get all artisanal and stuff, you can make your own pudding, pie filling, etc… from scratch.  However, when I first made this, I wanted something that would look fancy but took zero effort.  To me, that's the point of parfait.  If I wanted to spend hours on a dessert, I'd make something more nuanced, like cheesecake or macarons.  But hey, to each his own.
Here's my zero effort Banana Split Parfait "Recipe"
Get out all of your ingredients and prep them, then layer 'em up.  That's all you're doing.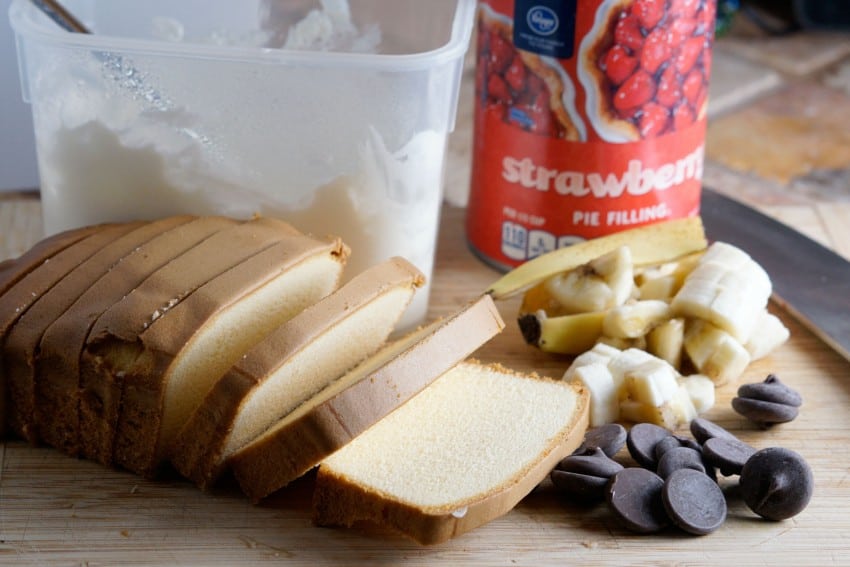 Dice up 1/2 of a Sara Lee pound cake (sorry, you'll have to find some other recipe to use the other half, or you can double this recipe for a party).  Dice up a banana.  Keep it a small dice on the banana and pound cake so that they look pretty in the glass and distribute evenly.  Because, after all, isn't it all about looking pretty?
Prepare the whipped cream.  I didn't include a whipped cream recipe here, but if you need one, Alton Brown's ratio of sugar to cream is my go-to.
Prepare the instant pudding and divide between two bowls.  Mix the pie filling into one of them and leave the other plain.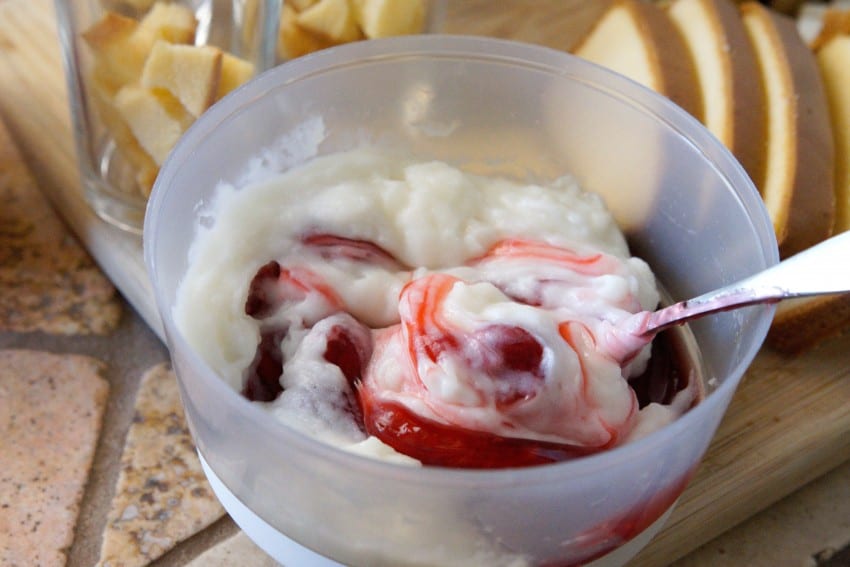 Melt the chocolate according to package directions, which involves a microwave and taking the bowl of chocolate chips in and out and in and out and stirring.  This it the most complicated step in the whole equation.
From there, start the layering.  There's no wrong way to do this, but I advise starting with a pudding layer on the bottom, drizzling the chocolate on the banana and using the whipped cream as the topping.  Otherwise, it's all up to you how many layers and which order.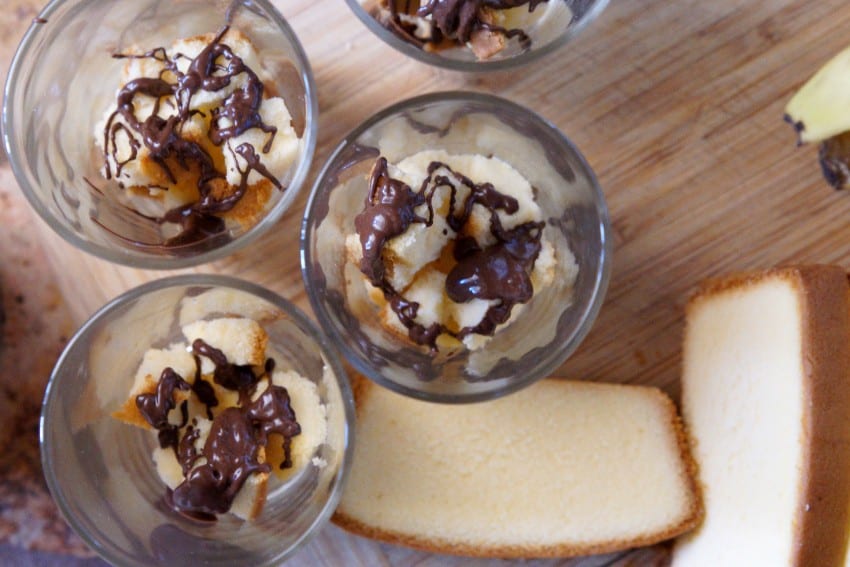 My optimal order of ceremonies ended up being:  strawberry pudding, pound cake, plain pudding, bananas, chocolate, strawberry pudding, pound cake, plain pudding and whipped cream, followed by sprinkles and a cherry.  But, as you'll see in the picture, I had a different configuration.  At the end of the day, it all gets mixed together once you plunge your spoon in anyway.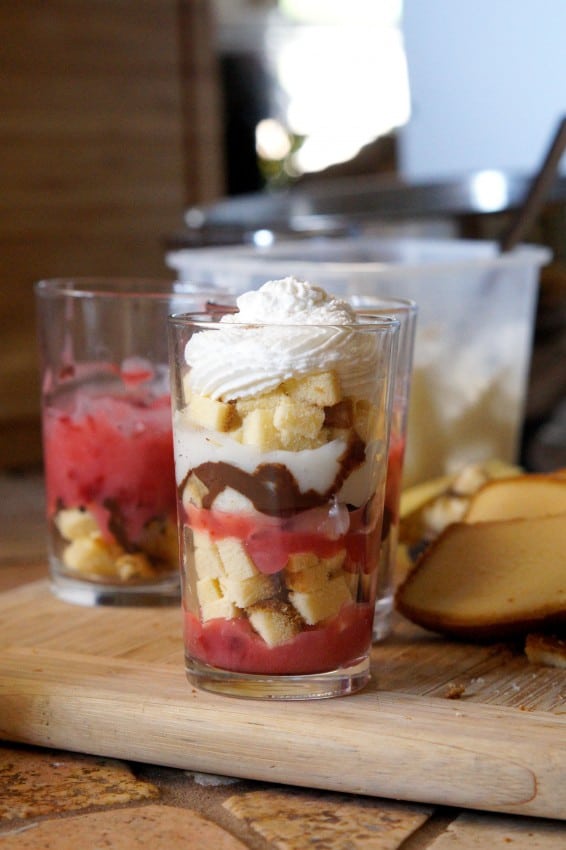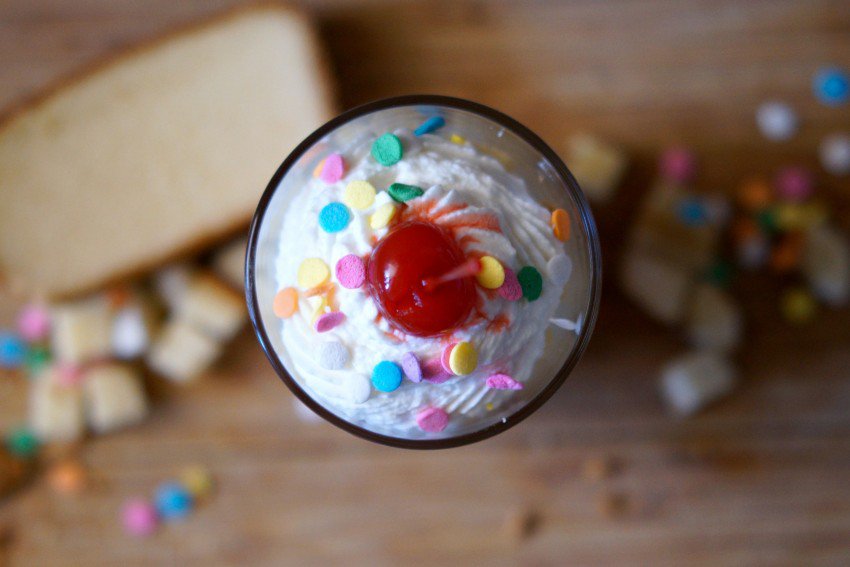 When you deliver these to the table you'll get ooh's and ahh's because, as you can see they look fancy.  You'll say, "Oh, these little things? I barely lifted a finger. Easy peasy!"  And this time, you'll won't be lying…because sometimes you need an easy button.  You work hard.  Take it easy this time.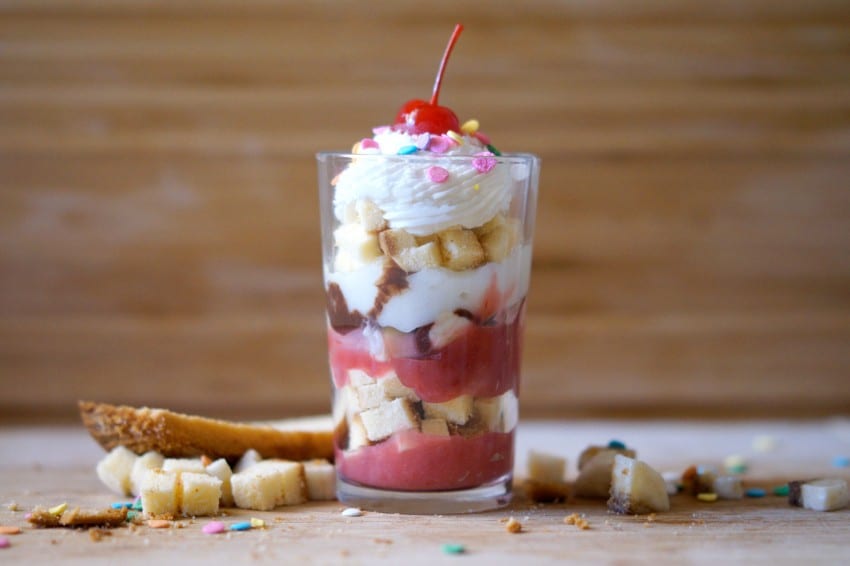 Print
Banana Split Parfaits
---
Author:

Total Time:

15 mins

Yield:

8

servings

1

x
Description
The flavors of banana split in a quick and easy parfait.
---
3.56 oz

Hershey's White Chocolate Instant Pudding (divided)

10oz

. strawberry pie filling

2

c whipped cream

4 oz

. Ghiradelli dark melting chocolate

1

banana

½

Sara Lee Pound Cake
---
Instructions
Prepare the instant pudding.
Divide instant pudding into 2 bowls. One to remain plain, the other, mix in the strawberry pie filling.
Melt the chocolate per the package instructions until liquid.
Dice banana (small dice is idea so that bananas evenly distribute in the parfait)
Dice pound cake
Put a dollop of the strawberry pudding mix in the bottom of each of 8 small juice glasses or other decorative serving glasses
Sprinkle in a small layer of diced pound cake
Put a dollop of plain pudding on top of cake and spread around to compact prior ingredients
Sprinkle in a small layer of diced bananas
Drizzle chocolate over bananas.
Sprinkle in a small layer of pound cake
Put a dollop of strawberry pudding mix on top and spread around
Top parfait with whipped cream, sprinkles and a cherry
Prep Time:

15 mins

Category:

Dessert

Cuisine:

American