These Bloody Raspberry Lime Ice Cream Floats are sponsored by Torani but all opinions expressed are genuine. Too, they're giving us all 10% OFF your First Purchase when you sign up for their E-Newsletter!" Who doesn't love that?
Ice Cream Floats
I haven't had an ice cream float in eons.  As a kid, we'd make them fairly regularly.  I loved that icy texture that developed on the ice cream from the soda.  Thanks to our friends at Torani, we're resurrecting ice cream floats at Casa de Simon, but with a super spooky Halloween twist.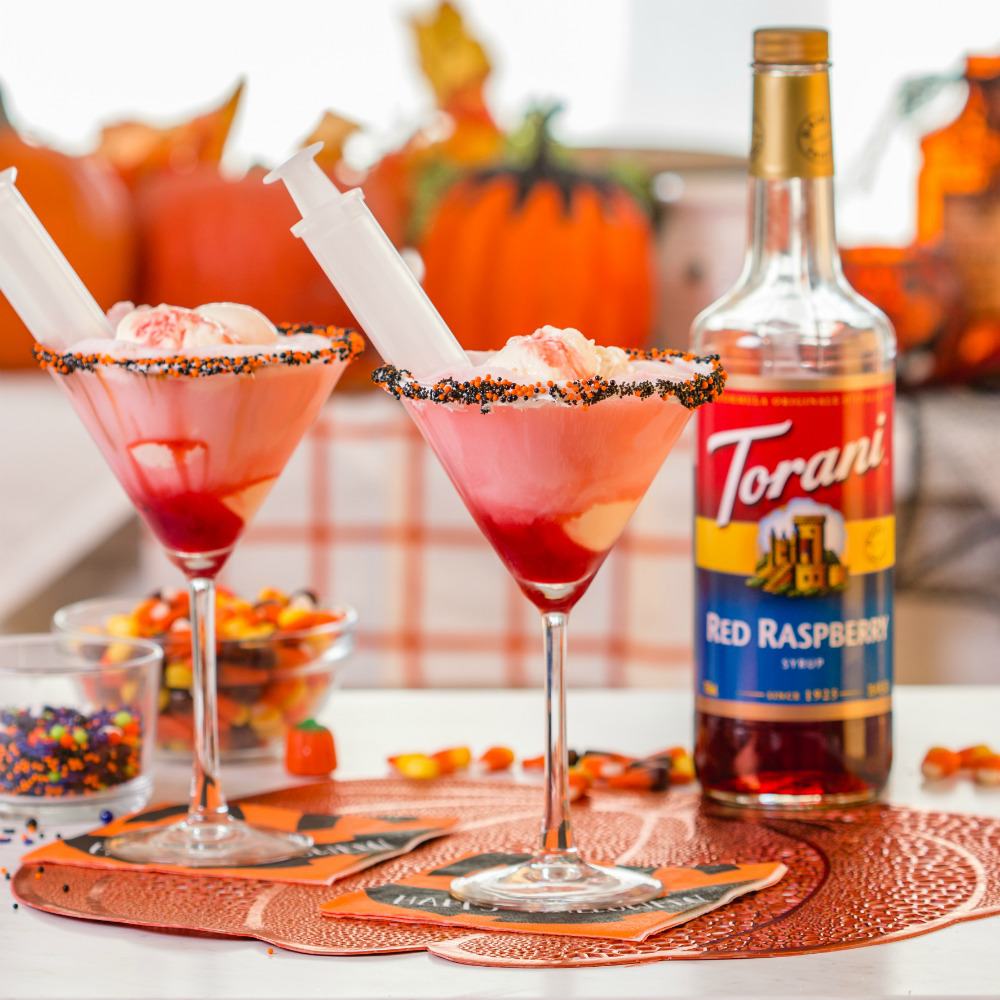 I don't get into the super grotesque Halloween foods. I still want my food (and drinks!) to be appealing.  I figured an oversized syringe filled with Torani's Red Raspberry syrup wouldn't be too off-putting.  Right?  The kids couldn't wait to dive into these!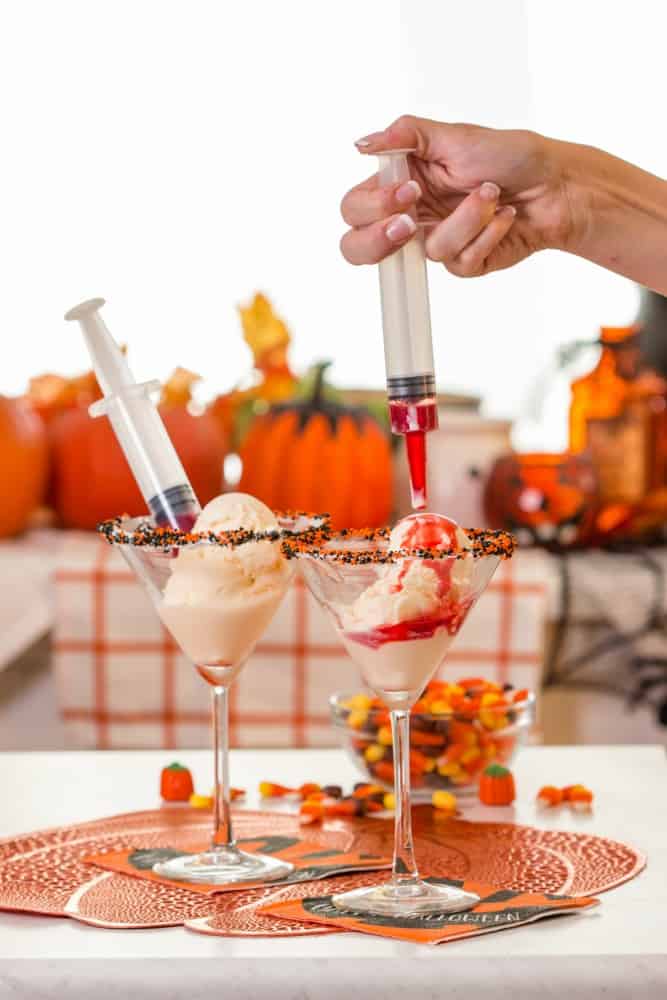 I have been a long time fan of Torani.  For me, they're the only flavored syrups I use.  They are made with simple ingredients like pure cane sugar and natural flavors.  I'm also a big fan of their sugar free flavors that are sweetened with sucralose.  Torani syrups are an easy way to jazz up everything from coffee to cocktails to desserts.
Stylin' Your Floats
It's up to you on the glassware you want to use for this dessert / drink.  I went for martini glasses and rimmed them with white frosting and rolled them in Halloween sprinkles.
Next scoop your favorite vanilla ice cream into the glasses and serve it with a syrup-filled syringe.
One great thing about Torani's red raspberry syrup for this recipe in particular is that it's a flavor that plays well with dairy.  Before attempting these floats with other Torani flavors, just check the label for "Dairy Friendly Formula."  Otherwise, it won't mix in that oh-so magical way with your ice cream.  This float is all about being smooth and creamy, so check the label first.
Of course, this wouldn't be a float without adding soda.  I used Lemon Lime Soda because, for me, raspberry and citrus are a happy pairing.  Too, because it's clear, it kept the beautiful vibrant red color.
Want to learn more about Torani?  Visit them online or follow them on social media including Facebook and Instagram.  And don't forget that 10% off discount!  Just follow the LINK, sign up for their E-newsletter, make it #AToraniHalloween and have fun stocking your bar with fun flavors.
Recipe
Print
Bloody Raspberry Lime Ice Cream Floats
---
Author:

Total Time:

10 mins
Description
A light and vibrant Lime and Raspberry Ice Cream Float with a spooky syringe.
---
White frosting
Halloween sprinkles
Vanilla ice cream
Torani red raspberry syrup
Lemon Lime soda
---
Instructions
Using a knife, apply white frosting to the rim of a martini glass.
Pour sprinkles into a shallow dish and dip the frosted rim of the glass into the sprinkles so they adhere.
Fill plastic syringes with 1 – 2 Tbs of red raspberry Torani syrup.
Scoop one or two scoops of ice cream into the rimmed glass.
Insert the syringe into the ice cream.
Pour lemon lime soda on top of the ice cream and serve.
Allow guests to inject the syrup into their own drinks for a fun entertaining drink/dessert!
Prep Time:

10 mins

Category:

Dessert

Cuisine:

American