This past Sunday I survived teaching my first cooking class and the patty melt was a hit!  Fifteen people in attendance, seated around the demo kitchen counter at Luci's Healthy Marketplace.  I was nervous and wound tighter than a tick from fear of the unknown, but I've grown accustomed to the discomfort of growth recently.  Grin, bear it, and be proud of following through.  All that to say, I had the time of my life.  Sure, it wasn't perfect.  Yeah, there was a grease fire.  No, I didn't burn the place down.  Yes, we all laughed a lot.  Heck yes, I can't wait to do it again.
What did we make?  It was a 50s Diner theme, so I went classic with Patty Melts, Oven Baked Fries and Malted Milkshakes.  According to the attendees, these were mighty tasty.  I can't say I disagree.
Classic Patty Melt Recipe
(Full printable recipe at the bottom)
Start by caramelizing the onions.  Slice a white or yellow onion into thin strips and add to a hot pan over medium heat with 1 Tbs oil.  Fair warning, these take time.  It's a slow process of the sugars to creep out and mix with the heat and turn that nice, caramely golden brown.  Don't rush the onions, my friend.  Stir them around occasionally until they get nice and golden.  This will take approximately 15 to 20 minutes.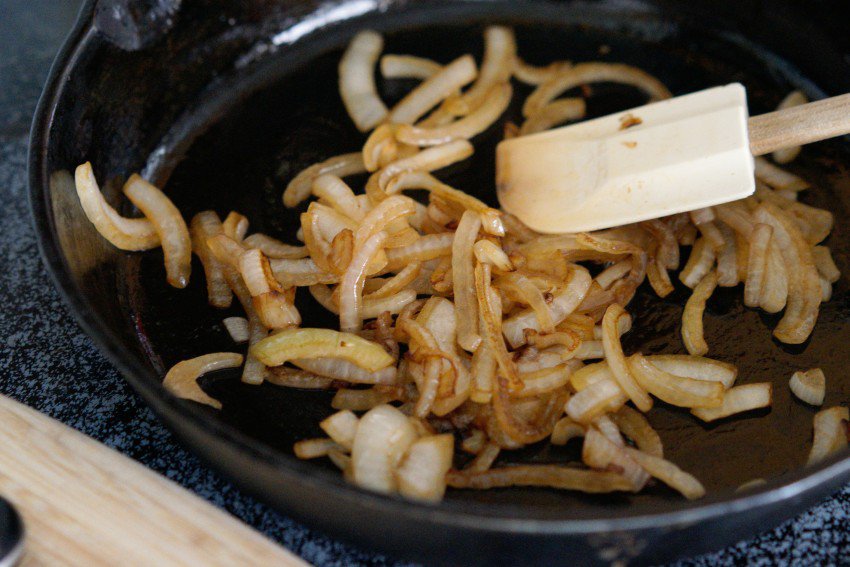 In between stirring onions, prepare your patties.  I used an 80/20 mix of ground beef and added in 1 Tbs of Worcestershire sauce, 1/2 tsp granulated garlic and 1/4 tsp Lawry's seasoned salt.  Mix that together and then divide into fourths.  Each quarter of the beef, roll into a patty and flatten, making it oblong so as to mirror the size of your bread.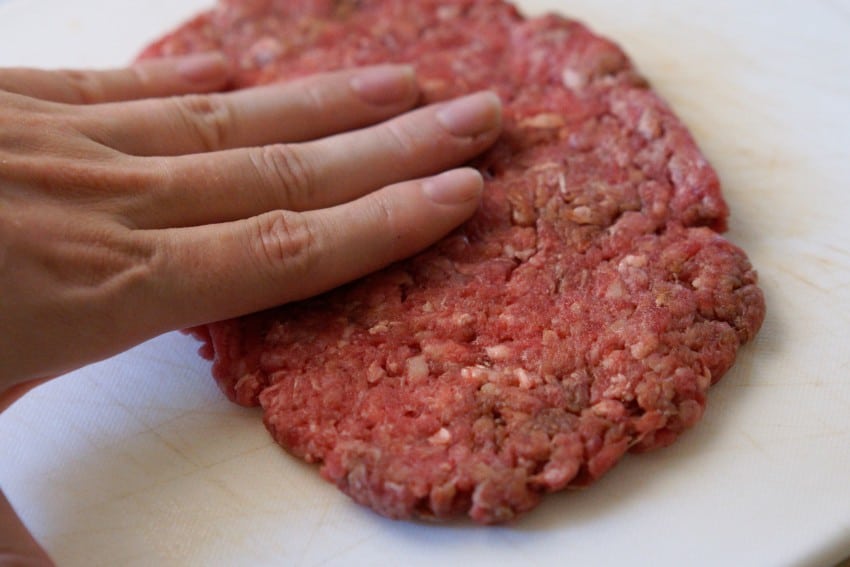 After that, cook your patty in a pan on the stove to desired doneness.  I'm a mid rare girl, myself.  After that, and when your onions are nice and caramelized, you're ready to assemble and griddle.
Each of your bread slices, schmear one side of each with mayo.  Some people like to use butter, but mayo actually works better because the egg browns up the outside nicely and adds a certain crispiness.  Think like in French Toast.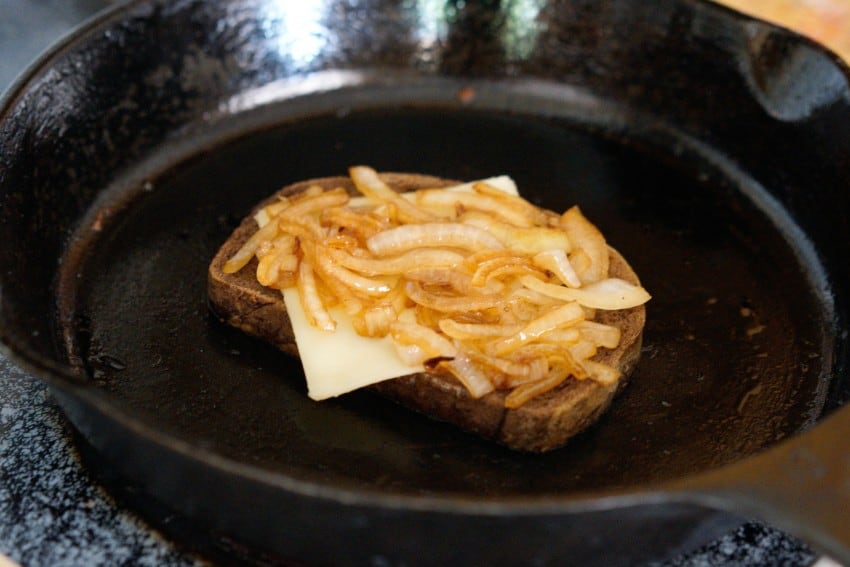 After the breads are schmeared, place one slice schmear side down, layer on a slice of swiss cheese, a heap of onions, a cooked patty, another slice of cheese and another piece of bread, schmear side up.  The schmear is up because you're going to flip the sandwich once the bottom is browned and crisped.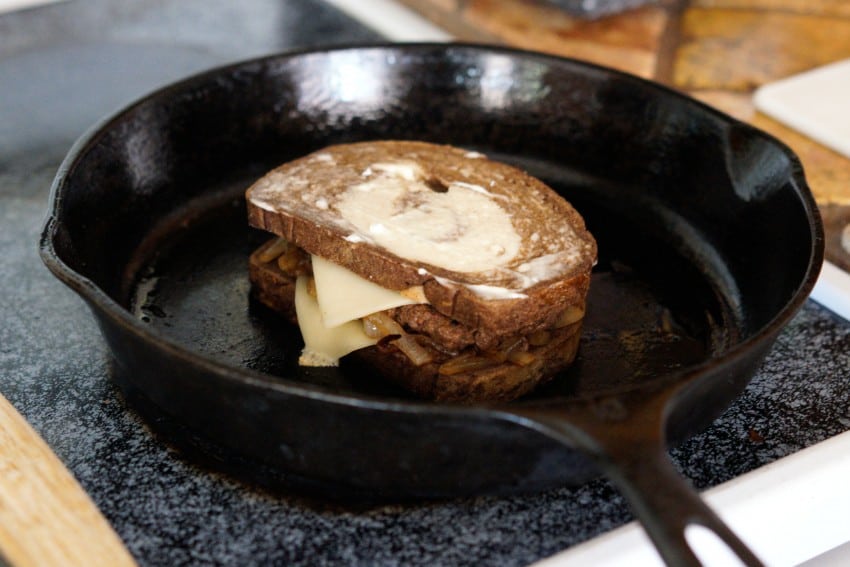 Once both sides are browned, cut your patty melt in half and serve.  Side note, if you want the cheese to get extra melty, place a pot lid over top of the sandwich to trap in the heat and cause some extra melting to happen.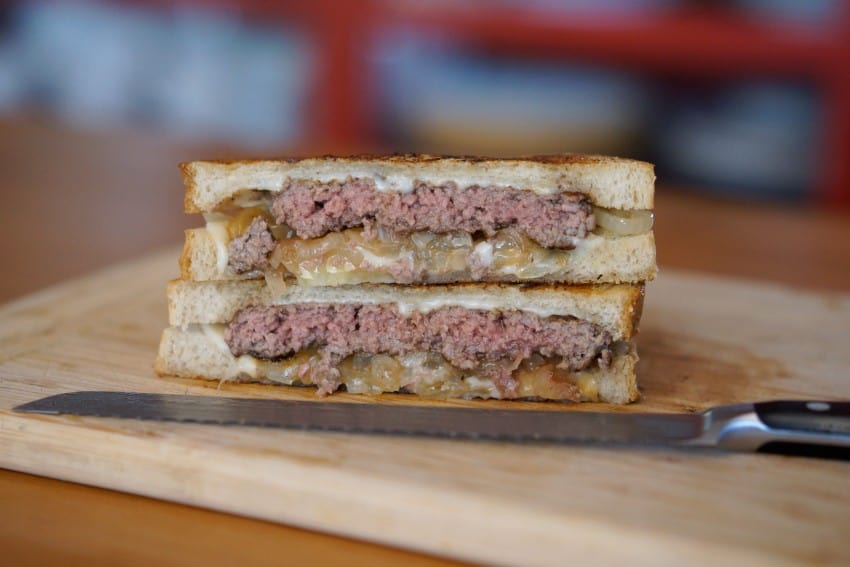 Print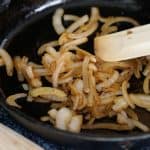 Classic Patty Melt
---
Author:

Total Time:

35 mins

Yield:

4

sandwiches

1

x
Description
A Classic from the 1950s diner, the patty melt involves break, cheese, onions and an all beef patty.
---
1

lb 80/20 ground beef

1

T worcestershire sauce

1/2

t granulated garlic

¼ tsp

Lawry's seasoned salt

1

sweet yellow onion, sliced

1

T bacon grease or oil

1 tsp

balsamic vinegar

8

slices swiss cheese

8

slices bread (Chompie's marble rye suggested)

8

schmears mayo
---
Instructions
Mix beef, worcestershire, garlic and seasoned salt in a bowl and mix with hands to combine.
Divide meat into quarters and form each quarter portion into a flat patty, approximately mirroring the size of the bread you're using.
Heat bacon grease/oil in a pan over medium high heat and add onions, stirring occasionally until softened.
Once onions are translucent, add balsamic vinegar and continue stirring occasionally until onions are caramelized, but still have just a little bit of crunch left in them.
Remove onions from pan and set to the side.
Add a bit more grease/oil if none remains after removing the onions.
Add in beef patties, one at a time, cooking two minutes per side to cook through to your desired level of doneness (2 minutes per side gets you medium rare, depending on thickness of patties.)
Once all patties are cooked, set aside.
Using the same pan, lower temperature to medium.
Schmear mayo on one side of each slice of bread and then add one slice of bread, mayo side down to the pan and listen for a slight sizzle (don't want the heat too high and burn the bread).
While the bread sears, add a slice of cheese, ¼ of the onions, 1 beef patty, another slice of cheese and another slice of bread, mayo side up. Allow to cook for another minute after sandwich is assembled. Use spatula to check on the bread's sear and crispiness.
Once the bottom bread is seared to golden brown, carefully place spatula under the sandwich, holding the top bread with your hand to steady the sandwich and then flip, so that the mayo side of the top bread is now searing on the bottom. Place a lid over the sandwich while it cooks for the next minute so as to help the cheese melt.
Once the bottom is crispy brown, remove from pan, cut in half and serve.
Prep Time:

10 mins

Cook Time:

25 mins

Category:

Sandwich

Cuisine:

American
This recipe originally posted at JoanieSimon.com from Joanie Simon.