These light and airy meringue nests filled with homemade lemon curd and berries are a festive dessert for Easter.  Only a few simple ingredients to make this visually stunning dessert that will stand out among the other holiday sweets.
Lemon Meringue Nests for Spring Holiday Dessert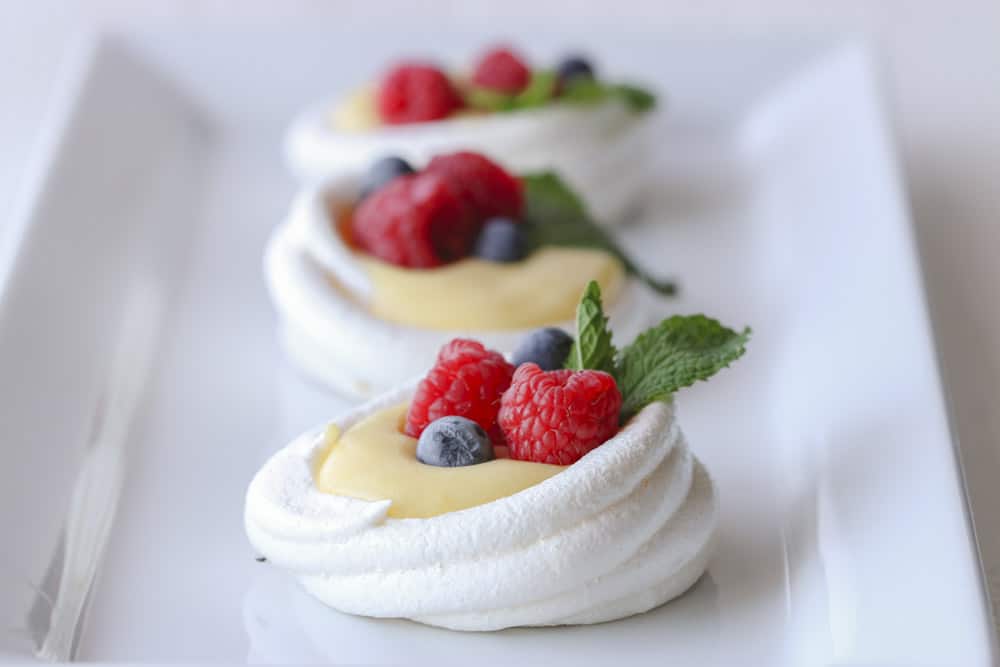 Make the Meringue
Meringue is simple and only requires four ingredients.  Egg whites, cream of tartar, superfine sugar and vanilla.  And don't toss those yolks when you separate the eggs!  Save the yolks for making the lemon curd.
Never heard of superfine sugar?  Nope, it's not powdered sugar. You can buy it, but you can also make it very easily at home.  Just put regular granulated sugar into a food processor and pulse for a minute.  This will make the sugar a finer consistency so that it dissolves into the eggs quicker.
All of the directions on how to make these meringue nests are below on the recipe card.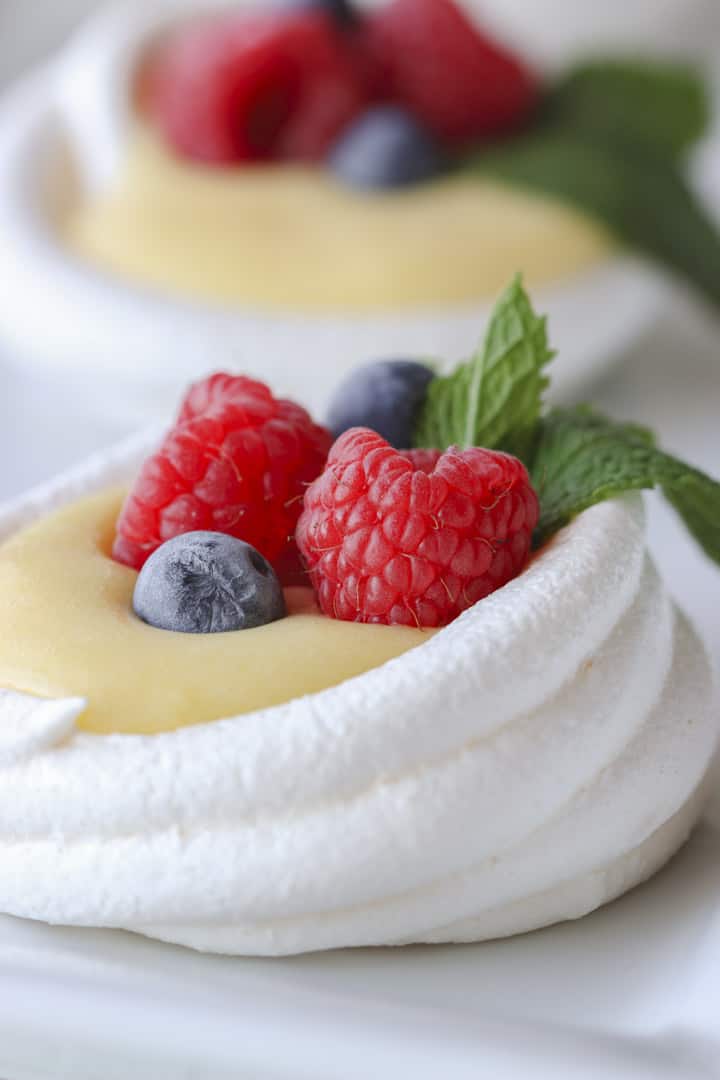 Make the Curd
Making the lemon curd can happen up to five days before you want to serve the lemon meringue nests.  Fair warning, making curd, though not difficult, does require some patience.
It is important to do this over a double boiler.  If you're not familiar with a double boiler, all you need is a pot of boiling water on the stove and then a heat proof bowl to place over it to whisk and cook your curd.  This form of indirect heat ensures a slower rise in temperature, preventing your eggs from scrambling.  You want a thick, smooth curd and using a double boiler is how you get there.
Some recipes suggest straining the curd through a fine mesh sieve after adding in the butter.  But, I experimented with and without straining and for me, it didn't make a noticeable difference.  Granted, if your curd gets lumpy because of inconsistent heating during the cooking process, then straining would be important.  But, as long as you're patient and the curd is smooth, I went ahead and put it strait into a container for chilling.  It's up to you if you want to strain or not.  I just prefer to wash less dishes whenever possible.
Assembling the Meringues
Feel free to customize these however you'd like!  Fruit, mint, candy, nuts, it's up to you how you want to serve these.  Along those same lines, if you'd rather go chocolate on these, skip the lemon curd and go for a chocolate pudding or mousse.
The Recipes
Print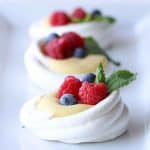 Lemon Curd
---
Author:

Total Time:

40 mins

Yield:

16

1

x
Description
Classic lemon curd made with fresh lemons.
---
4

egg yolks

1/3 cup

granulated sugar

1/4 cup

lemon zest

1/2 cup

lemon juice

1/2 tsp

salt

8

Tbs unsalted butter, softened
---
Instructions
Start a small pot of water over medium high heat and when steam forms, place a heatproof bowl over top of it to create a double boiler.
Combine egg yolks, sugar, zest, juice and salt into the heatproof bowl, whisking constantly for 7 to 10 minutes until it thickens and creates ribbons when the whisk is pulled away from the bowl.
Remove the bowl from the heat and add in 1 Tbs of butter at a time to the lemon sauce, whisking until it melts, then add an additional tablespoon at a time in the same fashion until all are added.
If there are any visible lumps in your curd, strain it through a sieve.
Then, transfer the curd to a container, placing plastic wrap directly on the top surface of the curd so that it prevents a film from forming as the curd chills.
Chill for at least three hours up to five days, then serve.
Prep Time:

10 mins

Cook Time:

30 mins

Category:

Dessert

Cuisine:

English
Print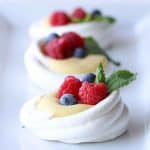 Meringue Nests
---
Author:

Total Time:

2 hours 25 mins

Yield:

16

nests

1

x
Description
Classic meringue piped into the shape of nests for a festive Easter dessert.
---
4

egg whites

1/4 tsp

cream of tartar

1 cup

superfine sugar *see blog post for how to make at home

1/2 tsp

vanilla extract
---
Instructions
Preheat oven to 200F
Put four egg whites into the bowl of a stand mixer (or a bowl using a hand mixer)
Beat eggs at medium speed until frothy, then add in cream of tartar and continue to beat at medium speed until soft peaks form.
Add in superfine sugar a Tablespoon at a time, allowing it to gradually dissolve until all sugar is incorporated and you have stiff peaks with a glossy sheen.
Scrape down the sides of the bowl, add in the vanilla and beat another 30 seconds.
Transfer the meringue to a piping bag and pipe onto a parchment lined baking sheet. *if parchment won't lay flat, pipe a bit of meringue onto the corners and press down the parchment on top.
Pipe the meringue onto the parchment in a cup or nest form by making a circular base, then continuing the circles around the edges.
Bake the meringues in the oven at 200F for 2 to 3 hours. The exterior should be crisp, but the interior slightly soft.
Remove from oven and cool, then transfer to an airtight container until ready to serve. Can be made up to two days in advance of serving.
Prep Time:

25 mins

Cook Time:

2 hours

Category:

Dessert

Cuisine:

American