There were three dishes my Mom made when I was a kid that I loved.  Sherry Beef (Beef in a sherry cream sauce over egg noodles), Spinach Fandango (A rice, beef, spinach, cheese casserole monstrosity) and Meat Crust Pie.  Thus, today's inspiration for Mini Meat Crust Pies.
"Hey, the 1960s called.  They want their recipes back!"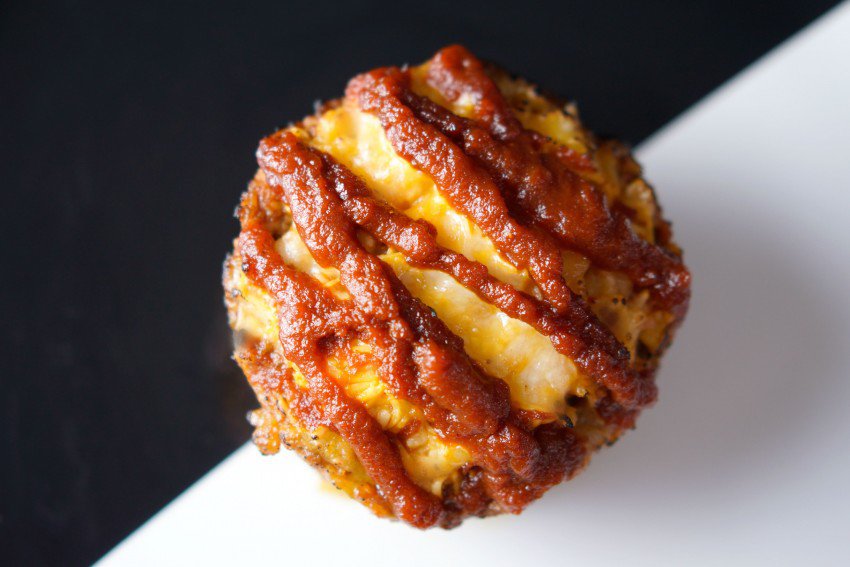 I'll reserve re-mixed versions of the Sherry Beef and Spinach Fandango (cha-cha-cha) for another time.  Right now, it's pie time.  Meat crust pie.  It's exactly what it sounds like.  A pie with meatloaf for crust.  I have other friends whose midwestern mothers made something similar, most likely inspired by some Betty Crocker cookbook somewhere.  Inside the beefed-up crust is a cheesy tomato rice, topped with more, you guessed it, cheese.
It's not gourmet, it's not refined, but it evokes distant yet strong food memories and Ryan loves it. But, it was time to change it up. What better way to recreate an old favorite than to mini-fy it?  Trading in the pie plate for a muffin pan, here's the twist on my family favorite.  This took some significant testing because when you shrink something, the liquid to dry ingredients ratio totally changes.  So, though the ingredients stay the same, the proportions are different compared to the original.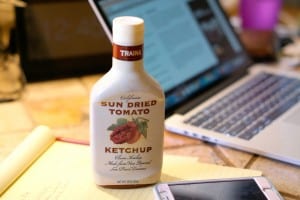 Oh, but just kidding, the ingredients didn't stay the same.  The original calls for plain tomato sauce.  I was recently introduced to Traina Foods Sun Dried Tomato Ketchup and it's a perfect match for this recipe.  For you spice hounds, there's a Sriracha version.  Imagine ketchup that's got a bit of added texture and a ton more flavor.  A lot of zing and complexity.  Ketchup to the extreme.  They sent me a few bottles.  After Ryan tried it, I had to hide a bottle from him so I could complete testing.  Seriously, he was putting it on everything.  Eggs, burritos, sandwiches… It's good stuff and perfect for adding extra oompfh to this remixed homestyle classic.
Meat Crust Mini Pies
(printable recipe at the bottom of post)
Start off by pre-heating the oven to 350F and then start making the meat crust.  Combine the beef, breadcrumbs, 1/2 the tomato sauce, 1/2 the ketchup, and 1/2 the peppers.  As you'll find, this is not so different from meatloaf.  Do take note that the tomato sauce, ketchup, and bell pepper are all divided.  That's because half goes into the meat, the other half into the rice filling.  I have made traditional meat crust pie dozens of times and at least half of those I goofed and put all of the tomato sauce and peppers into the meat.  You'll end up with sloppy joes instead of meat crust.
Also, one little thing to be extra careful with is dispensing the ketchup.  It's got a chunk factor to it, which is great for texture, not so great for squeezing.  I was glad I had an apron on when I tried squirting it into the measuring cup as I did have a few explosive moments before removing the cap altogether, as pictured here.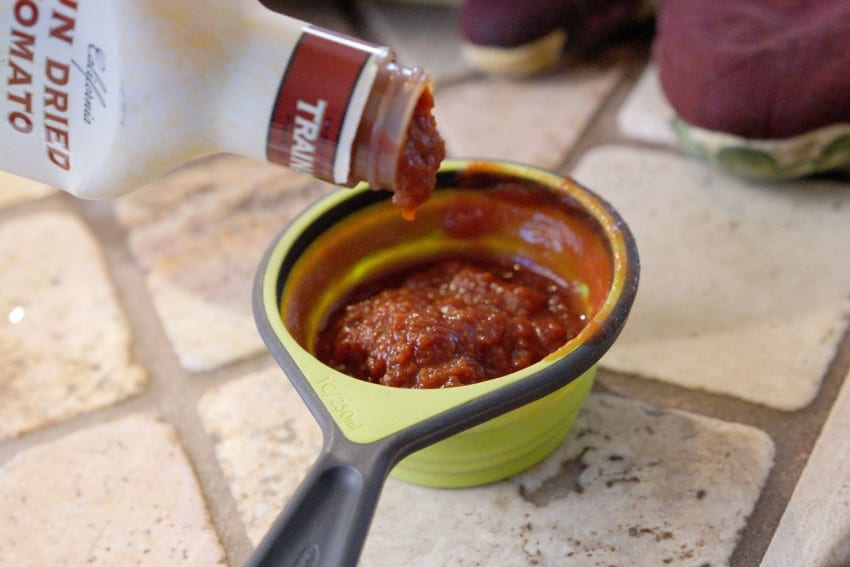 Press the meat into the muffin tins, creating a well in the bottom where your rice will go.  Bake them unfilled for 10 minutes in the preheated oven.  This will allow them to set and cook a bit as well as allow you to drain off some of the initial fat that will be released from your ground beef.  If you don't drain off some of the fat, it will make for watery beef crust, and that just doesn't sound cute.
While the beef cups are baking, prepare the rice and mix in the remaining sauce, ketchup, peppers and half of the cheese.  Once the beef cups cook for 10 minutes, take them out of the oven and drain off the fat.  This is a precarious and not so simple step, so go slow.  I like to use a wire rack, place it over top of the muffin pan and then tilt the pan over a bowl, allowing the excess fat to drain off.  Just don't over tilt or try to do it without something to hold the meat back, otherwise, you'll lose one.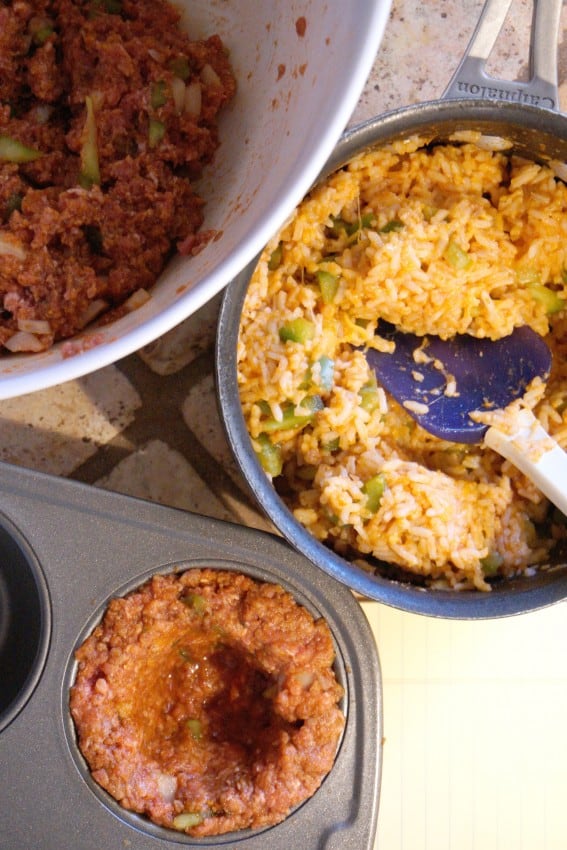 Then stuff the meat cups, still in the muffin pan, with the rice mixture, bringing it to the top of the muffin pan.  Bake for another 15 minutes.  Next, take them out of the oven, top them with remaining cheese and bake for another 5 minutes or until the cheese is melted.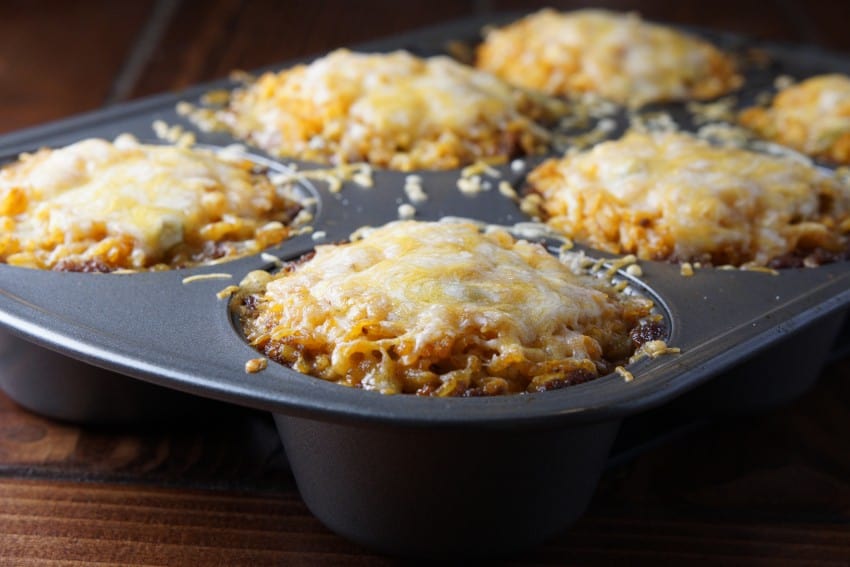 Once they're done, let them sit for a few minutes to rest.  Then, go around the edge with a knife and carefully pop them out of the muffin pan.  Drizzle on a little extra ketchup if you want and dinner is served.
*These also freeze really well, so if you're into that, pop a bunch in a bag and save for a later date.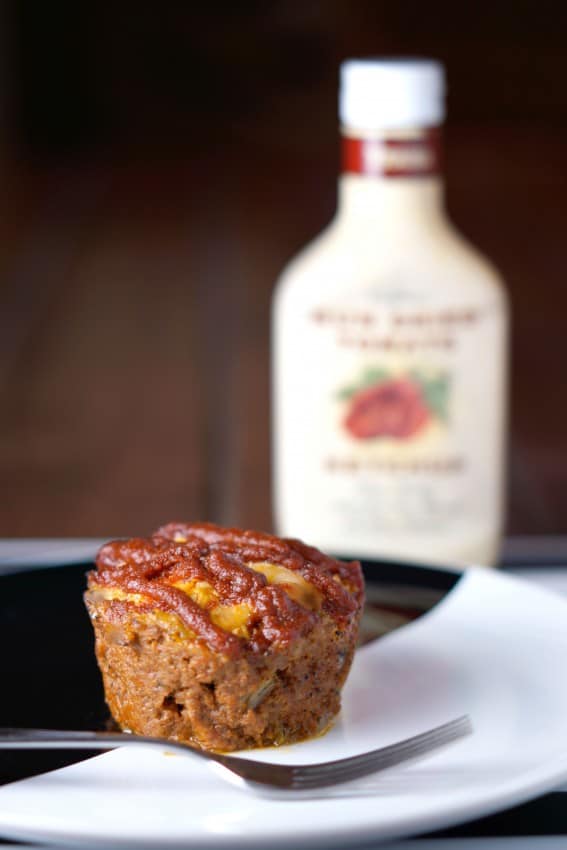 Thanks Mom, for inspiring this recipe, and so so much more!
*this post is sponsored by Traina Foods, though all opinions are my own
Print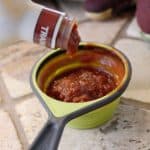 Meat Crust Mini Pies
---
Author:

Total Time:

45 mins

Yield:

12

muffins

1

x
Description
A savory pie with meat for crust and topped with cheese.
---
1

lb ground beef

1/2

breadcrumbs (unseasoned)

1/2 cup

tomato sauce (divided)

1/2 cup

ketchup (divided)

1 tsp

oregano

1/2 tsp

salt

1/2 tsp

garlic salt

1/2

green bell pepper diced (divided)

1 1/3 cup

rice

1 cup

water

1 cup

shredded cheddar cheese (divided)
---
Instructions
Preheat oven to 350F
Combine beef, breadcrumbs, 1/2 of the tomato sauce, 1/2 of the ketchup, oregano, salt, garlic salt and 1/2 the bell pepper together.
Mix until all ingredients incorporated.
Take handfuls of meat and place into muffin pan cups, pressing out along the sides to create a well.
Bake meat cups for 10 minutes until just set.
While the cups bake, prepare instant rice and mix in the remaining tomato sauce, ketchup, and 1/2 of the cheese.
Once cups are complete, place a wire rack or some other kitchen device to place over the cups and tilt the muffin tin so that excess grease from the baking of the meat drains out into a bowl.
Take the rice mix and fill into meat cups, bringing rice to the top of the pan.
Bake for 15 minutes, then remove and drain again.
Add cheese to the tops and bake until cheese is melted.
Let rest for 5 to 10 minutes then use a fork or knife to pop out from the side.
Serve with an extra drizzle of ketchup on top.
Prep Time:

20 mins

Cook Time:

25 mins

Category:

Entree

Cuisine:

American