Chicken Paprikash is one of Ryan's favorite comfort foods from his childhood.  His Mom passed the recipe to me and I added my own fall-themed spin to it in this Pumpkin Chicken Paprikash.  I add pureed pumpkin to the sauce in place of tomatoes.  Note that it's pure pumpkin puree, not pumpkin pie filling.  Pumpkin pie filling adds in all those sweet spices, which don't jive particularly well with onion and garlic 😉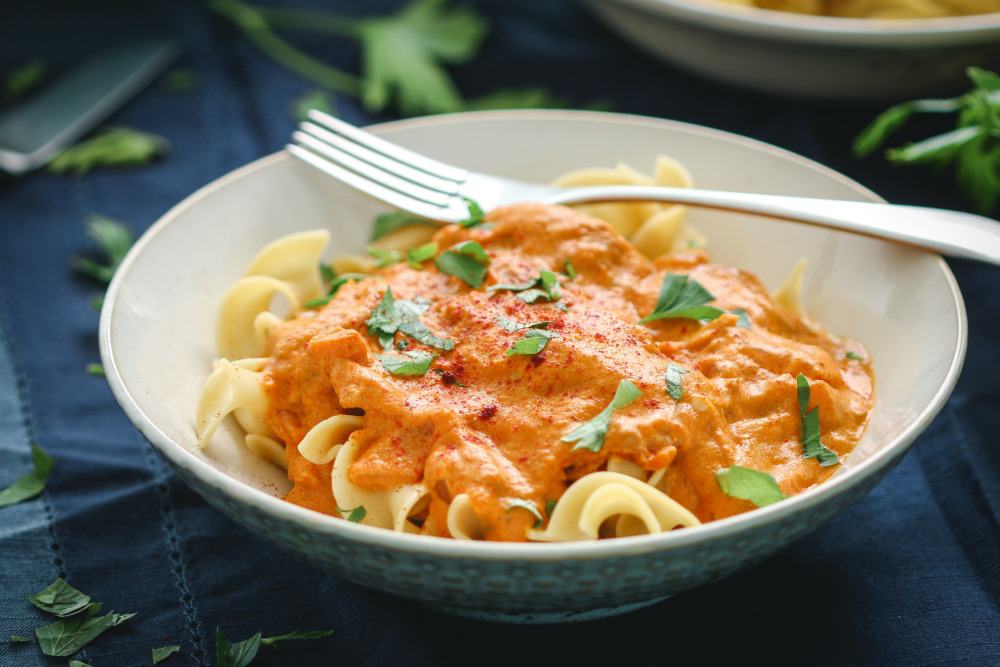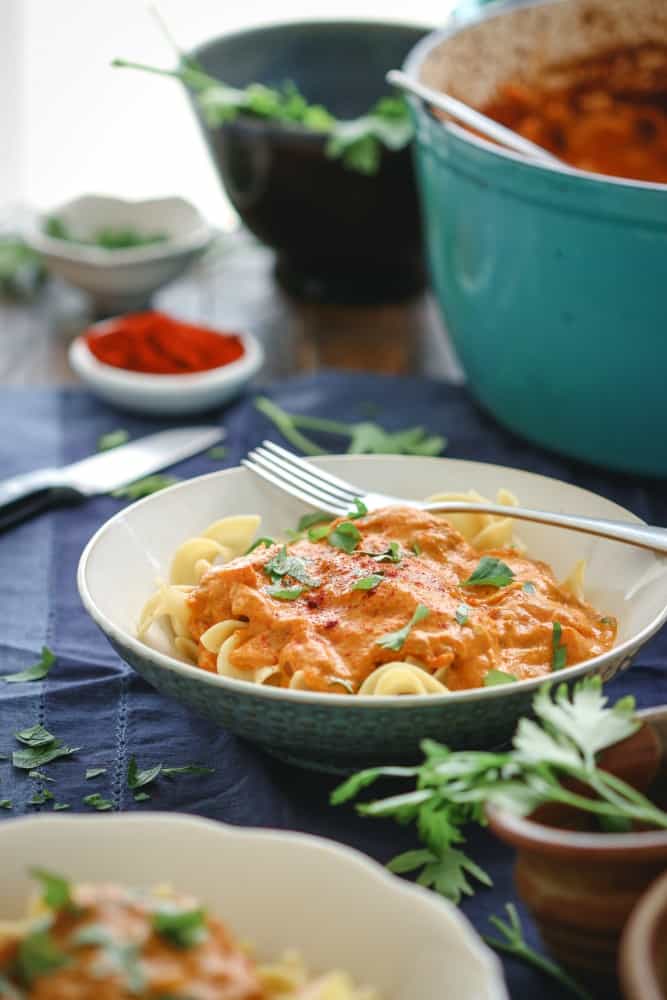 I typically make this recipe with boneless skinless chicken thighs, but if you're into that crispy skin action, just make sure to keep the skin side up and don't submerge the thighs completely in the sauce before putting them into the oven.  That will help keep them crispy after you sear them.
Mind Your Paprika
Also, keep in mind that I recommend Smoked Paprika or Hungarian Paprika.  The standard stuff doesn't add much flavor or personality.  If you want this dish to have punch, you need to use a quality paprika with sweet smoky flavor.  It makes a HUGE difference!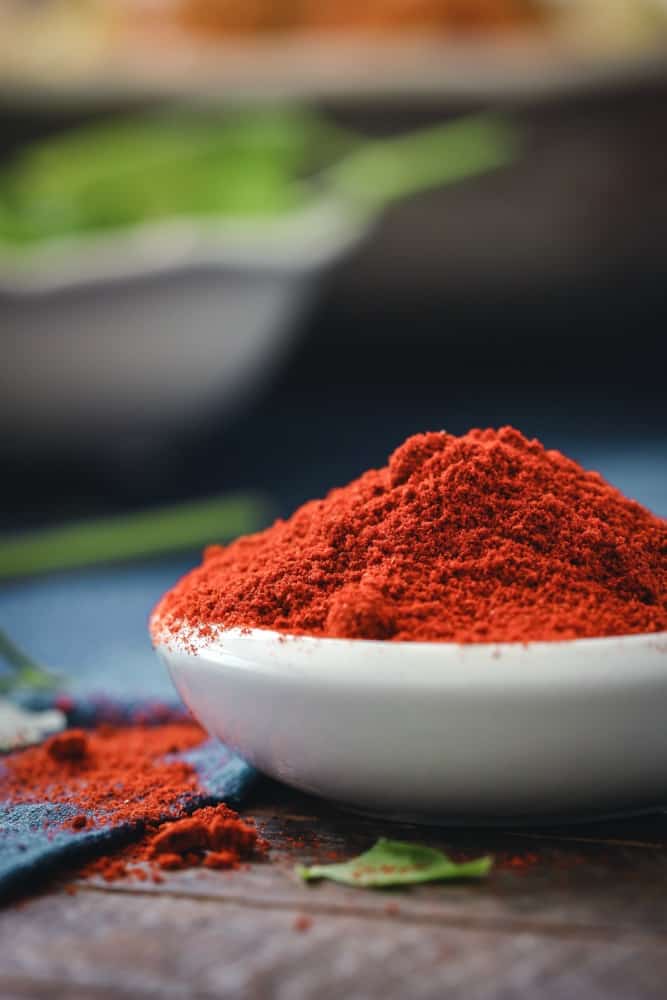 As for serving them, Ryan's favorite is his Mom's dumplings, which remind me of German spaetzle.  She is also known to serve it with mashed potatoes.  But, lots of folks are known to eat chicken paprikash with egg noodles.  It's totally up to you.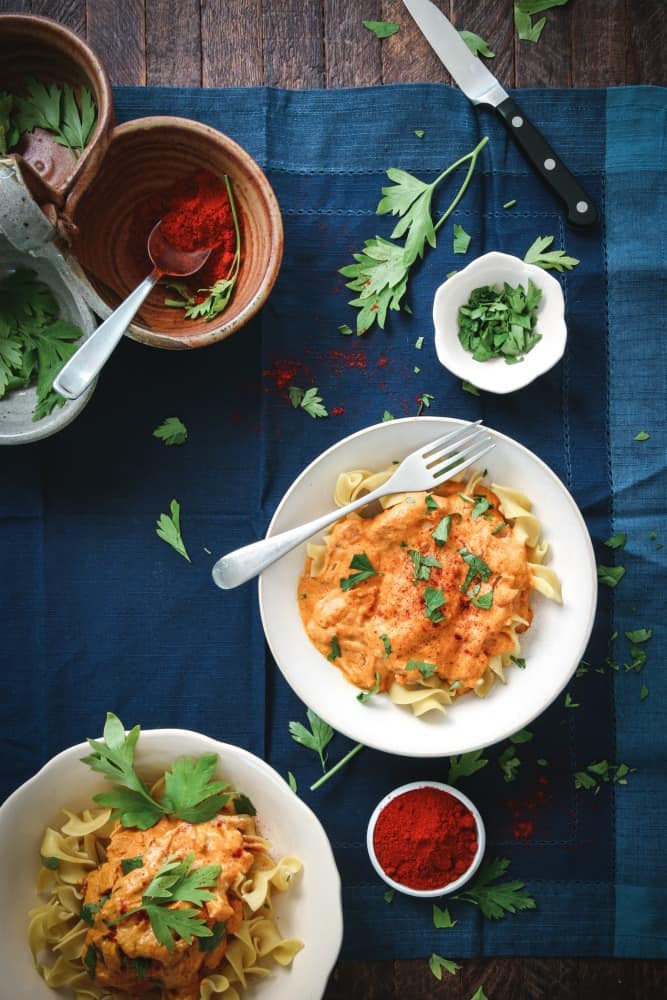 The Recipe
Print
Pumpkin Chicken Paprikash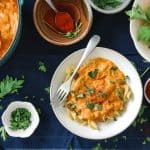 Author:
Prep Time:

20 mins

Cook Time:

70 mins

Total Time:

1 hour 30 mins

Yield:

4 - 6 servings
Ingredients
6 – 8 chicken thighs
1 Tbs oil
2 cloves garlic minced
1 onion diced
2 Tbs Hungarian or smoked paprika
1 carrot diced
15 oz pure pumpkin puree
3 cups chicken broth
salt
pepper
1 cup sour cream
Instructions
Preheat oven to 375F
Heat the oil in an oven-safe pan over medium high heat and sear the chicken thighs on both sides so they're browned. They don't have to be cooked through because they'll finish in the oven.
Remove the chicken from the pan and set aside.
Add the garlic, onion, paprika and carrot to the pan that you cooked the chicken in and sautee until the veggies are softened.
Add in the pumpkin, broth, salt and pepper to the veggies and stir to combine.
Nestle the chicken thighs in the sauce and pour any juices that have accumulated into the sauce pot.
Place the pot in the oven, uncovered, and bake for 35 – 40 minutes until the chicken is fork tender.
Once cooked, remove the chicken and put on a serving platter.
Add the sour cream to the sauce in the pot and stir to combine.
Spoon the sauce over the chicken and serve with noodles, potatoes or dumplings.