Friends invited us to enjoy Sunday Supper with them.  Personally, it's my favorite meal of the entire week.  A casual but hearty spread is required.  I knew she was doing a mixed grill with pork tenderloin, sirloin steak and veggies and I offered to bring a starchy side.  We're both major tater lovers, but she hates mayo, so a traditional potato salad was not an option.  I hit the fridge and rustled up some bacon, found a red onion and a few lemons and took this easy-to-make, no-mayo potato salad to dinner.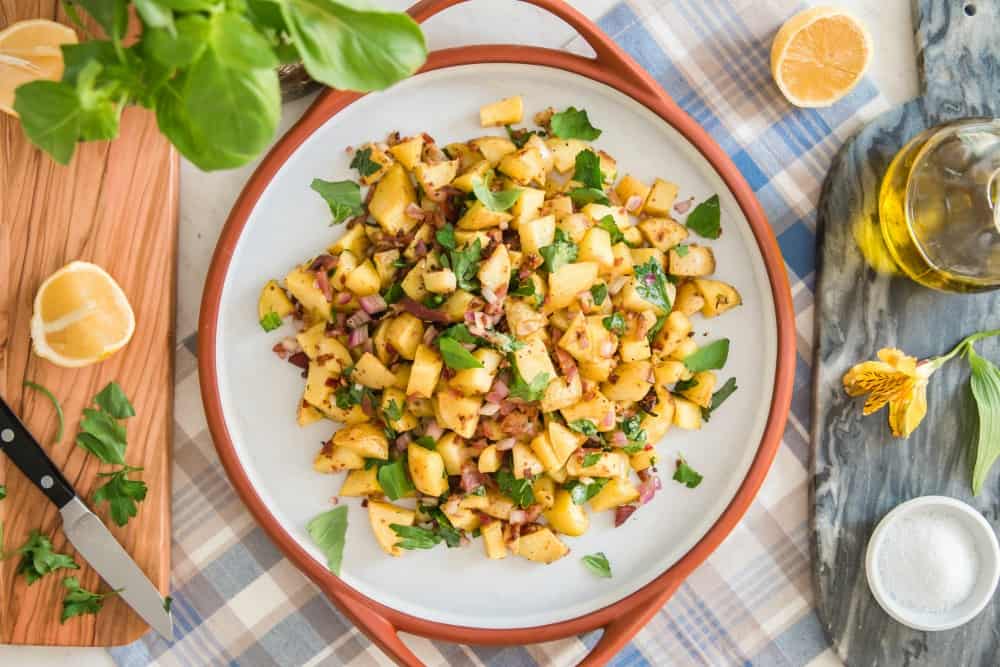 Two bites in and my friend demanded the recipe.  So,  this one's for you Adrianne.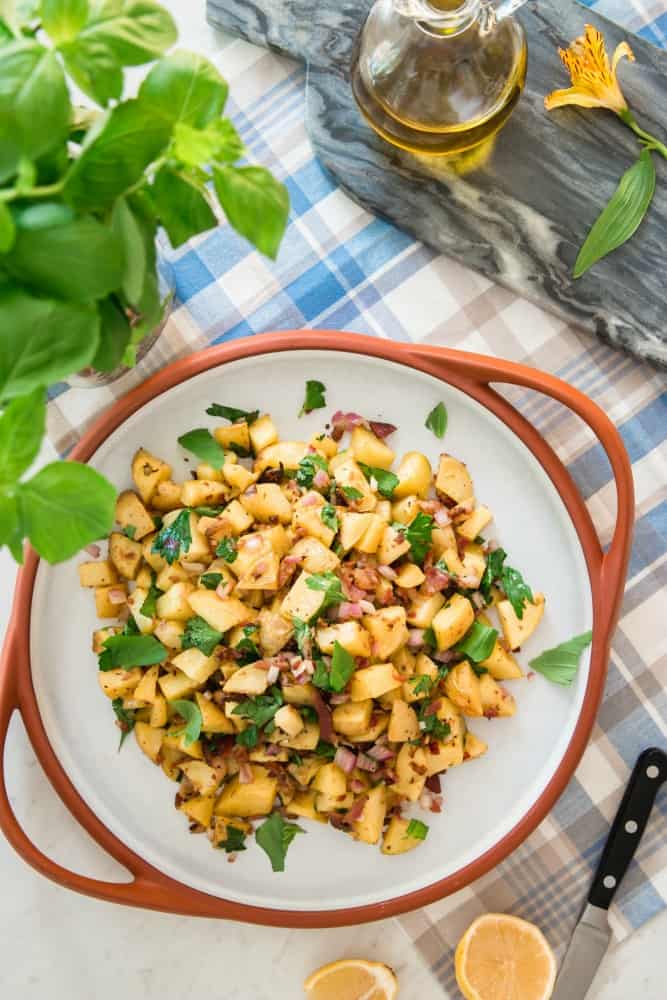 Lemon Garlic Bacon Potato Salad
Prep time:
Cook time:
Total time:
A potato salad made with a zesty lemon garlic vinaigrette, tossed with bacon, basil and red onions.
Ingredients
2.5 lbs Yukon Gold Potatoes, cut into ½ inch - 1 inch cubes
1 Tbs olive oil
½ tsp salt
½ red onion minced
¼ cup basil chopped
¼ cup flat leaf parsley chopped
4 strips bacon, fried and chopped into bacon bits
2 lemons
1 clove garlic, finely minced or turned into a paste
½ cup Olive Oil
2 Tbs Honey
2 Tbs Dijon
1 Tbs white wine vinegar
½ tsp Salt
¼ tsp Pepper
Instructions
Heat oven to 450F.
Toss the cubed potatoes with 1 Tbs oil and ½ tsp salt and spread on a baking sheet and roast in the oven for 20 minutes until softened and browned
Add the hot potatoes to a bowl with the onion, basil, parsley, and bacon.
Combine the remaining ingredients into a salad dressing jar and shake to combine.
Toss the potato mixture with dressing (use as much as desired) and season with additional salt to taste.