This corned beef recipe was declared by Ryan the best corned beef he has ever had! Wow, high praise!  Of course, I love it because you know of my affection for pressure cooking.  If you've got a pressure cooker, you have to give this Instant Pot Corned Beef a try for St. Patrick's Day.
Instant Pot Corned Beef

A Family History of Corned Beef
I have to give credit to my Mom for this one.  Both of us are huge fans of corned beef and pastrami.  I think it was all the Straw Sandwiches she ate when she was pregnant with me.  She has been tinkering with ways to cook corned beef and finally hit this winner.
Corned Beef vs Pastrami
Side note, you know the difference between corned beef and pastrami, right?  They're both salt cured in the same way, but when it comes to cooking, corned beef is boiled (or in this case pressure cooked) and pastrami is smoked.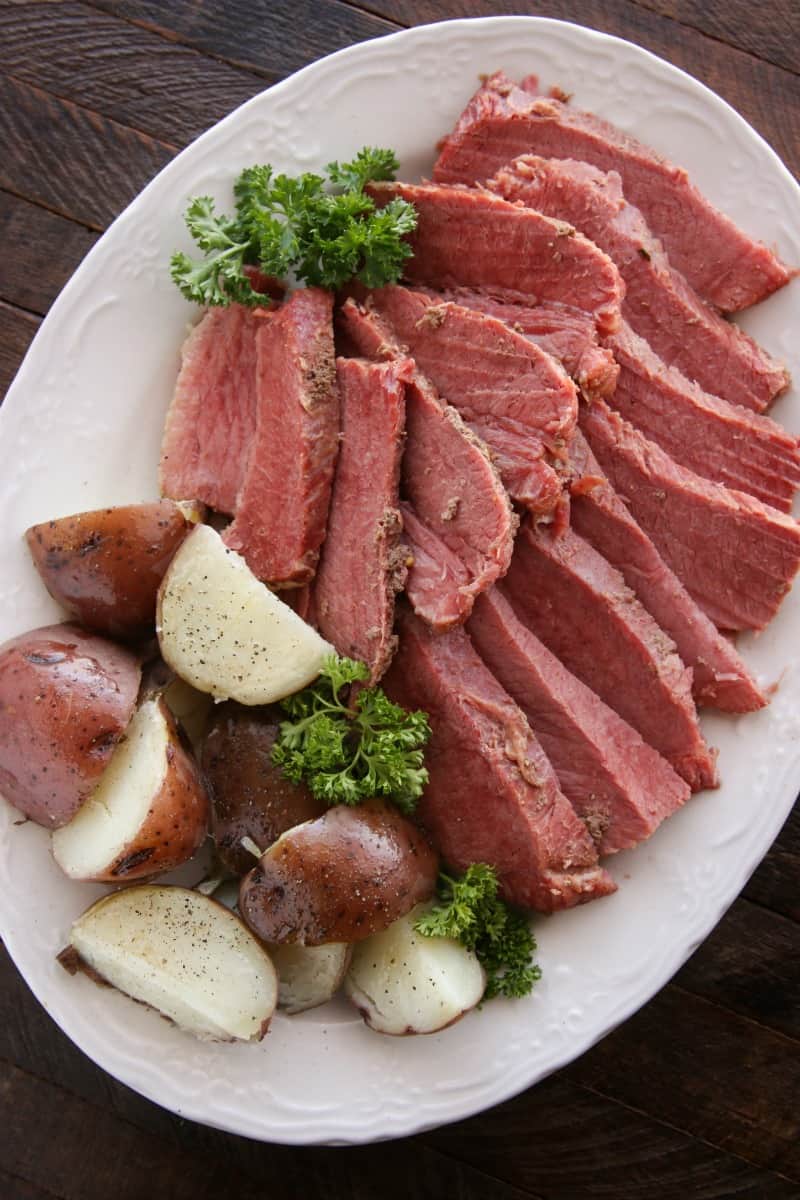 What is Corned Beef?
Now, mind you, this is a recipe for cooking an already corned beef.  Corned, meaning salt-cured, the corn referring to the traditional use of large rock salt or "corns" of salt.  You can find already cured corned beef at most grocery stores.  Or, if you're feeling adventurous, cure your own with a home kit or a recipe.  We've done that before, but it does take up a good bit of space in the fridge, curing a beef brisket for 10+ days.  So, this year, to make things simple, I just picked up one of the standard corned beef brisket flats at my grocery store.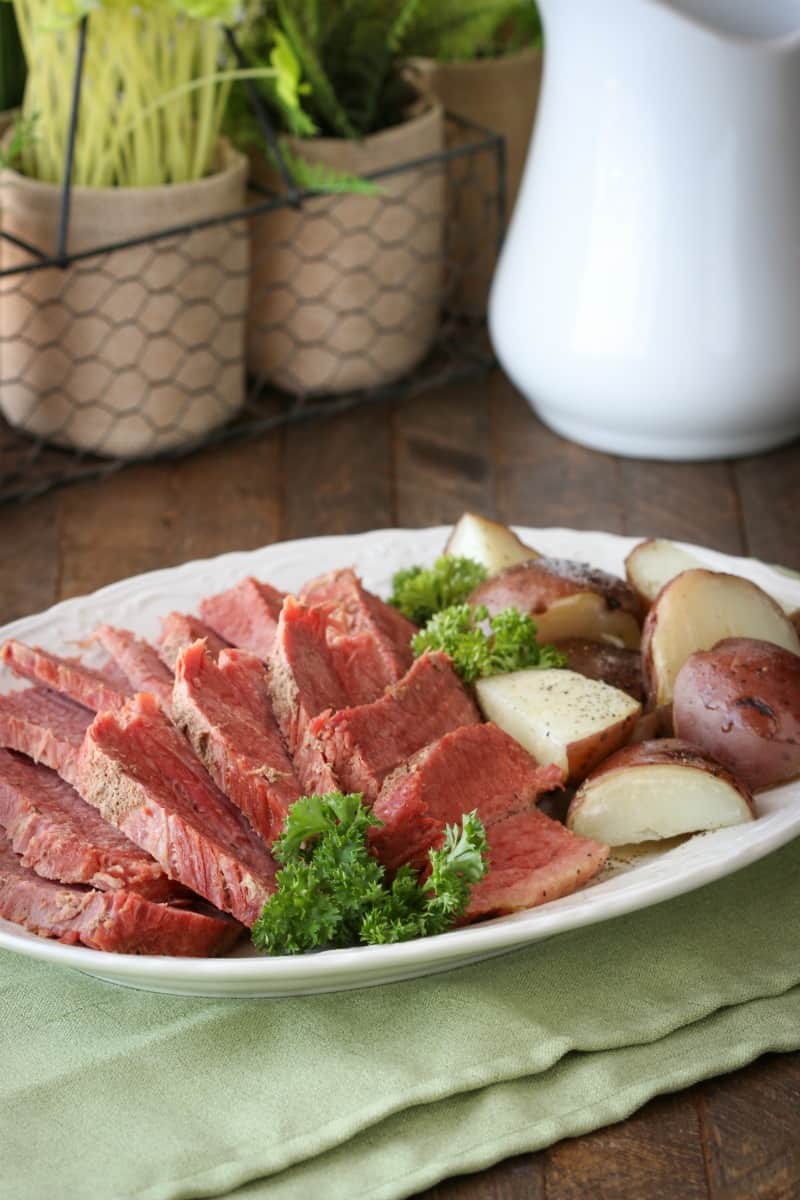 Don't have a pressure cooker or Instant Pot?  Yes, you can do this in the slow cooker.  Instead of following the directions below on timing, set it for 6 to 8 hours on high.
Adding Veggies?
Want to also cook cabbage and carrots?  Once you've taken the corned beef out of the pot, put your veggies into it, keeping the reserved juices.  Then set the pot to high for 3 minutes and then do a quick release.
In the end, you'll have a tender, meaty, flavorful corned beef to help you celebrate all that Irish heritage you may or may not have.
Then, if you have leftovers the next day, you can make these Corned Beef and Cabbage Hand Pies!
Happy St Patty's to you!
The Recipe
Print
Instant Pot Corned Beef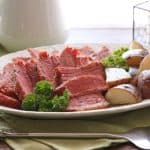 An easy recipe for corned beef cooked in the Instant Pot or pressure cooker.
Author:
Prep Time:

10 mins

Cook Time:

90 mins

Total Time:

115 mins

Yield:

6-8

Category:

Entree

Cuisine:

Irish
Ingredients
3 lb. corned beef brisket
1 – 12 oz light beer
1 cup beef broth
Instructions
Place corned beef in the pressure cooker with the spices it comes with.
Pour the beer and the beef broth over it.
Set timer for 90 minutes on high. Once the time expires, allow for 15 minute natural pressure release before releasing remaining pressure and removing the lid from the pot.
Remove corned beef and put it in a shallow cook dish. Pour a cup of the hot broth over it, cover it with foil, stick it in an oven to keep warm until ready to serve. Or just serve it straight from the Instant Pot if you're ready to eat.
To cook veggies, after the beef is removed from the pot, put cabbage and carrots in the pot and cook them on high for 3 minutes then do a quick release and serve.