A classic and super easy recipe for corned beef and cabbage (and taters, too!) cooked up in the Instant Pot in half the time as regular corned beef and cabbage. No brine, no watching the stove, it's easy!
Why Corned Beef Loves the Instant Pot
The Instant Pot is perfect for corned beef and cabbage because the high pressure cooking breaks down the tough parts of the meat so that it melts in your mouth.
The traditional method of cooking corned beef is to boil it. Boiling generally takes 50 to 60 minutes per pound. Using the boiling method, a 3 lb corned beef brisket can take 3 hours of cooking.
The amazing Instant Pot (or any other electric pressure cooker) only requires 90 minutes for that same sized corned beef brisket. The Instant Pot cuts the time in half, which is perfect for people like me who don't always plan ahead.
Then, when you're slicing the corned beef, you put the cabbage, potatoes and carrots in the pot and they only take two minutes. Perfectly cooked without the hassle.

What's in that Spice Packet, Anyway?
A corned beef brisket has been cured in a salt brine with pickling spices.  That's what sets a regular beef brisket apart from a corned beef brisket.
The "corn" in corned beef is a reference to that salt brine. Large rock salt is used and is referred to as "corns" of salt.
The corned beef briskets you buy at the store come with an additional packet of the pickling spices which can include peppercorn, bay leaves, allspice, cinnamon, ginger, mustard seed, coriander, cloves, and nutmeg.
If you want to be wild and corn your own beef, this recipe for Homemade Corned Beef is great. Though it is labor intensive compared to picking up a pre-corned brisket at the store.
Corned Beef vs Pastrami
While we're on the topic of beef definitions, you know the difference between corned beef and pastrami, right?  They're both salt cured in the same way, but when it comes to cooking, corned beef is boiled (or in this case pressure cooked) and pastrami is smoked.

Slow Cooker Corned Beef Recipe
Don't have a pressure cooker or Instant Pot?  Yes, you can do this in the slow cooker.  Instead of following the directions below on timing, set it for 4 to 6 hours on high until it's fork tender.
Instant Pot Corned Beef AND Cabbage
Don't forget the cabbage part of the corned beef and cabbage.  Once you've taken the corned beef out of the pot, put your veggies into it, keeping the reserved juices.  Then set the pot to high for 2 minutes and then do a quick release. In the time it takes to slice and plate the beef, your cabbage and potatoes will be done.
In the end, you'll have a tender, meaty, flavorful corned beef to help you celebrate all that Irish heritage you may or may not have.
Then, if you have leftovers the next day, you can make these Corned Beef and Cabbage Hand Pies!
Happy St Patty's to you!
Print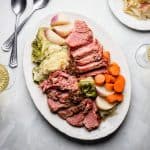 Instant Pot Corned Beef
---
Author:

Total Time:

115 mins

Yield:

6

-

8

1

x
Description
An easy recipe for corned beef and cabbage cooked in the Instant Pot or pressure cooker.
---
3

lb. corned beef brisket

1

–

12

oz light beer

1 cup

beef broth

1/2

head of cabbage quartered

1 cup

baby carrots

6

red potatoes quartered
---
Instructions
Place corned beef in the pressure cooker with the spices it comes with.
Pour the beer and the beef broth over it.
Set timer for 90 minutes on high. Once the time expires, allow for 15 minute natural pressure release before releasing remaining pressure and removing the lid from the pot.
Remove corned beef and put it in a shallow cook dish. Pour a cup of the hot broth over it, cover it with foil, stick it in an oven to keep warm until ready to serve. Or just serve it straight from the Instant Pot if you're ready to eat.
To cook veggies, after the beef is removed from the pot, put cabbage, carrots and potatoes in the pot and cook them on high for 2 minutes then do a quick release and serve.
Notes
If you don't drink, you can easily sub broth.
Prep Time:

10 mins

Cook Time:

90 mins

Category:

Entree

Cuisine:

Irish
Keywords: corned beef, instant pot, brisket, beef, potatoes, cabbage, Irish