This recipe for Pineapple Upside Down Iced Tea is inspired by the famed cake of the same name.  Pineapple, cherries mixed up in a refreshing iced tea for your springtime entertaining.  
This post is sponsored by Torani but all opinions expressed are genuine. Too, they're giving you 15% off and free shipping when you visit shop.torani.com and use the promo code Joanie15.  Offer valid through 6/30/18 on orders up to $300.
Sugar Free Flavor!
Torani's sugar-free syrups are totally my jam.  They offer a wide selection of Splenda sweetened syrups.  Lots of flavor and sans sugar so I can add flavor without adding guilt.   This recipe calls for their sugar-free pineapple syrup and the sugar free black cherry.  Of course, it works just the same with their sugar sweetened varieties, too.
Pineapple Upside Down Ice Tea for Entertaining
I love springtime parties.  Easter egg hunts, Easter brunch and Mother's Day brunch being highlights of my springtime calendar.  I put a lot of thought into the menu.  I want everything from apps to desserts to be special and celebratory.  A great way to add pizzaz to these holiday brunches is with a flavored-up iced tea.  Not only does Torani pack in fruit flavor, but you've got a chance to make them look fancy with all the garnish. I also added golden pineapple stir sticks because, why not?
Ryan loves pineapple upside down cake so when I spotted Torani's sugar-free pineapple syrup I immediately started thinking about how to make Ryan's favorite dessert a guilt-free drink.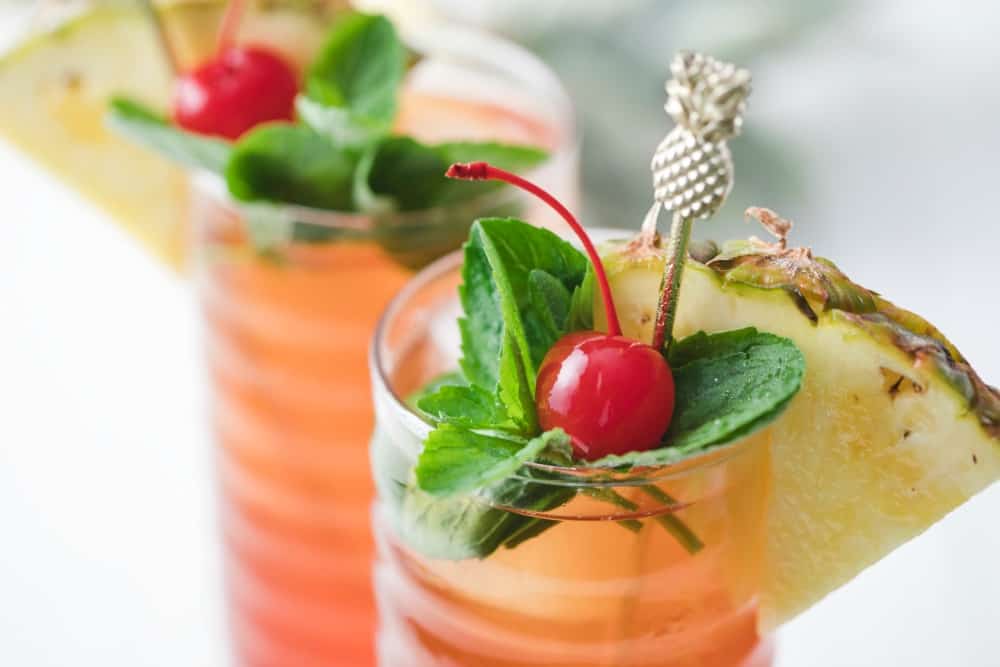 Keep the Drinks Easy
This recipe couldn't be any easier, too.  You don't want to be mixing drinks while trying to get a holiday meal out to your guests at the same time.  With this iced tea, you can mix it all up in a pitcher and let guests help themselves.
I do recommend that you add the pineapple and maraschino cherry garnish.  They bring out the fabulous fruit flavor of the syrups and make everyday iced tea something special.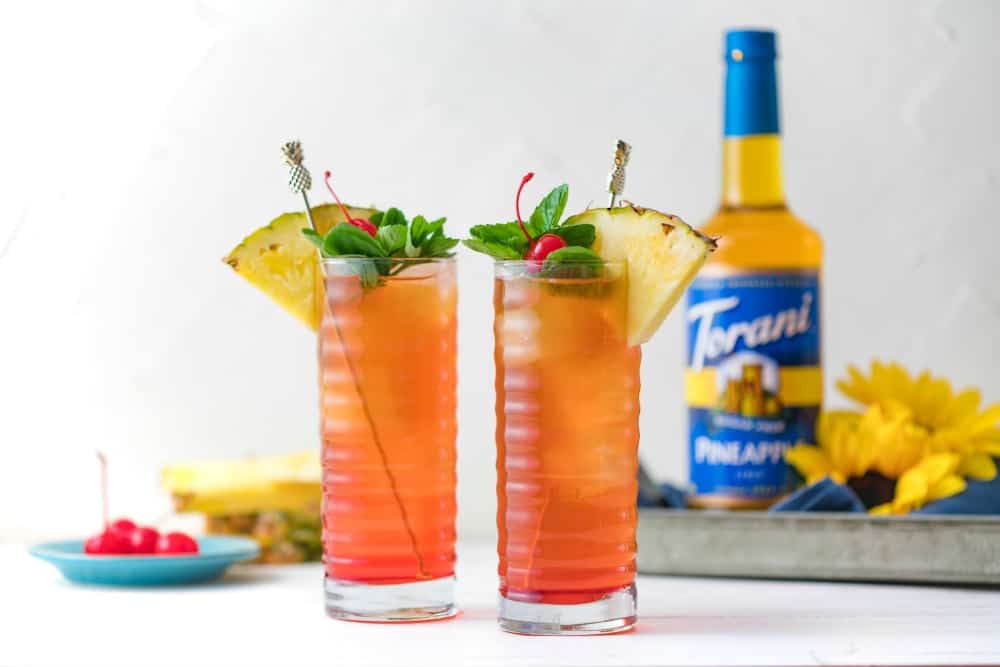 Want to learn more about Torani?  Visit them online or follow them on social media including Facebook and Instagram.  And don't forget that 15% off and free shipping discount!  Just head toshop.torani.com  use the promo code Joanie15  and have fun making it #aToraniBrunch.
Print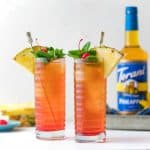 Pineapple Upside Down Iced Tea
---
Description
A simple and refreshing spring drink made with black ice tea and sugar free syrups for spring holiday entertaining.
---
Scale
Ingredients
8 cups brewed black iced tea
1/2 cup Torani sugar free pineapple syrup
1/4 cup Torani sugar fee black cherry syrup
---
Instructions
If serving in a pitcher, combine all ingredients with ice ad serve.