Black-eyed peas are a good luck tradition for New Year's in the South.  I cooked up a cozy New Year's soup for you and show you step-by-step how to navigate a pressure cooker in this new video.  My little sous also joins at the end for a taste test.
Black Eyed Pea Soup
This soup will bring you good luck in the new year.  Black Eyed Peas are a symbol of prosperity in the south.  Too, the collards are green, just like money.  Here's to a prosperous 2016!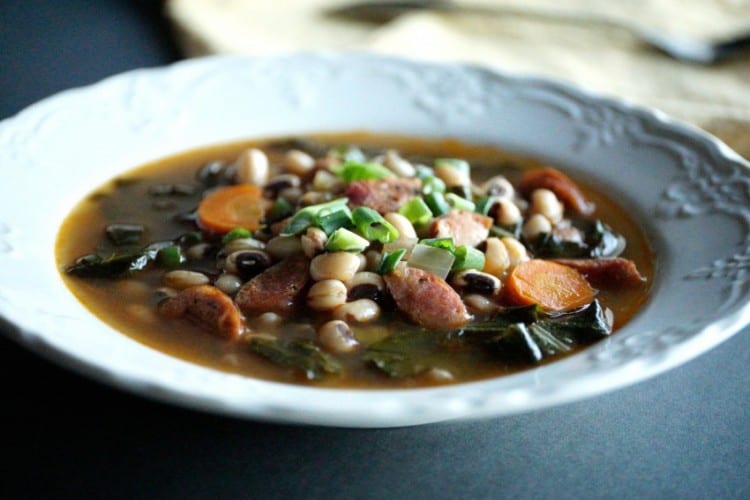 This recipe also happens to be gluten free.  Of course, if you are preparing this for someone with a gluten allergy, be sure to confirm the sausage and bouillon that you purchase don't have gluten in them.  Better than Bouillion's Chicken variety is clear as is Aidell's Andouille Sausage.
My favorite part about this soup is that it builds complex flavors without having to simmer on a stove top all day.  Of course, if you don't have a pressure cooker, you could do this in a slow cooker.  Just set it on low for 8 hours or high for 5 to 6.  You want the peas to get soft, but not mushy.  I like my beans with some texture.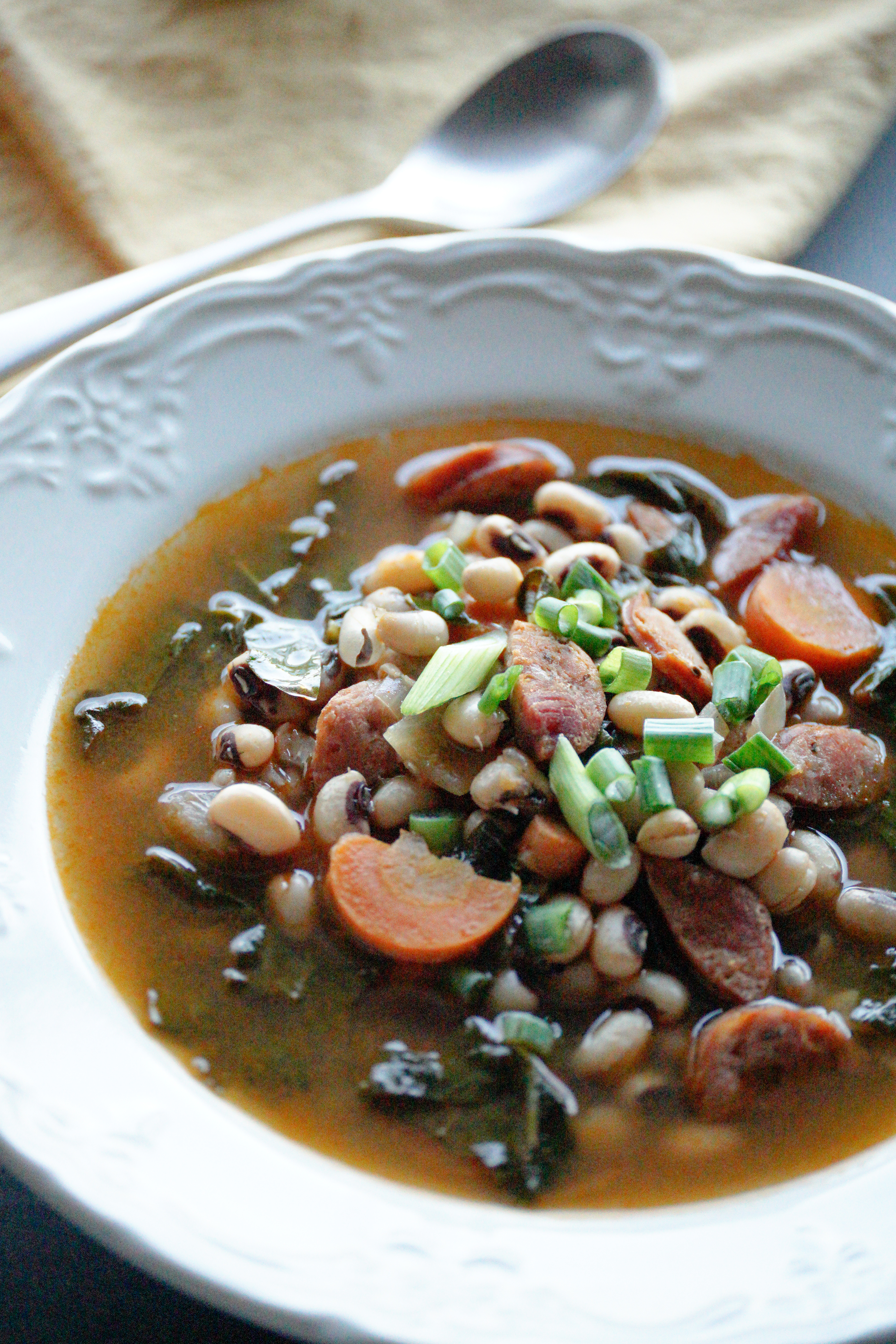 The addition of the sriracha is also completely optional.  I am a spice fan, so I usually double what's reflected in the recipe below.  But, if you're sensitive to heat, you can omit it all together.
I hope you have a wonderful new year and enjoy getting cozy with these Black Eyed Peas.
*Original recipe by Joanie Simon (JoanieSimon.com)

Black-Eyed Pea Soup
Prep time:
Cook time:
Total time:
Black-eyed peas with Andouille Sausage for a comforting winter soup.
Ingredients
16 ounces black eyed peas, dried
1 yellow onion chopped
12 ounces chopped carrots
2 tsp Better Than Bouillon Chicken
¼ tsp caraway seeds
2 tsp garlic powder
1 tsp Lawry's seasoned salt
1 Tbs Sriracha
1 tsp paprika
¼ cup balsamic vinegar
1 Tbs oil
8 cups water
12 ounces chopped Andouille sausage
3 cups chopped collard greens
Instructions
Put dried black-eyed peas in a container and cover in water, 1 inch higher than the beans and allow to soak overnight.
The next day, drain the beans, rinse and place in the pot of an electric pressure cooker. Add in chopped onion, chopped carrots, bouillon, caraway, garlic powder, seasoned salt, Sriracha, paprika, balsamic vinegar, oil and water. Set pressure cooker at 6 minutes on high and allow to cook.
Once the 6 minutes is up on the cooker, release the pressure and add in the sausage and collard greens. Cover the pot again and pressure cook for 2 minutes on high.
Once cooking is completed, keep on warm until ready to serve. Add more salt to taste.
Serve with chopped scallions.