Chicken Stuffed Poblano Peppers with Cheese are filled with tender chicken, sautéed peppers, and protein packed quinoa then smothered with green chile salsa and pepper jack cheese for a hearty and healthy weeknight meal.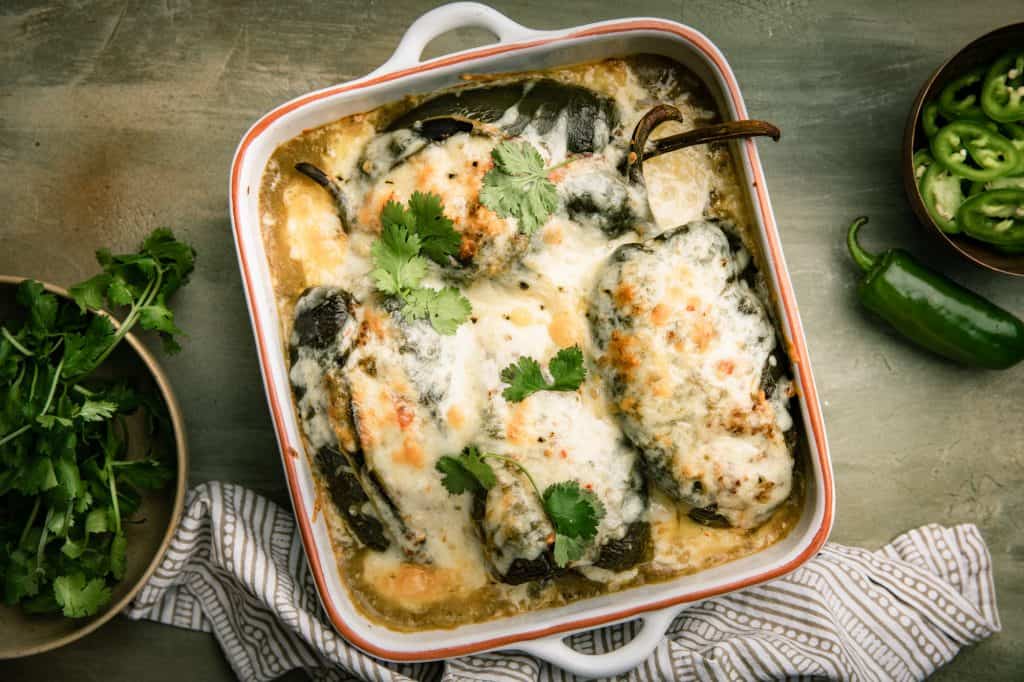 Are Poblano Peppers Hot?
Poblanos are not a spicy pepper. They are a staple of southwestern and Mexican cuisine, known for their mild heat and rich flavor.
They're also famously known for the popular Mexican chile relleno dish, which translated means, "stuffed peppers".
Also, interesting fun fact, when poblano peppers are dried, they are then called Ancho Chiles. You might have seen these in stores or on the spice aisle at your grocery store.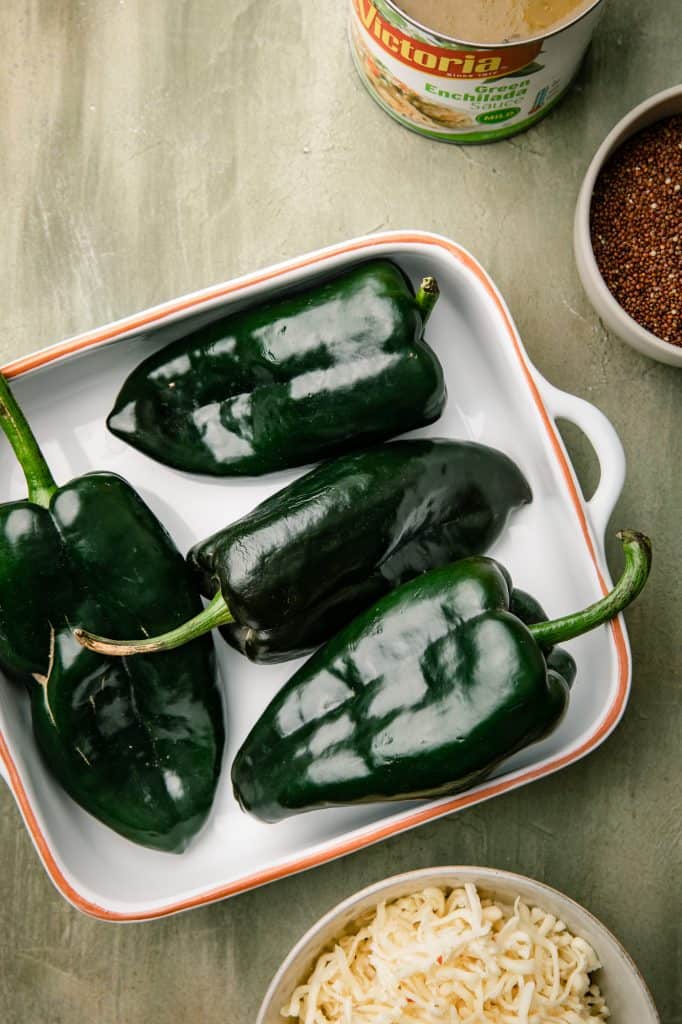 An Easy Healthy Poblano Pepper Recipe
This recipe is a riff on the traditional chile relleno, stuffing them with hearty red quinoa, chopped chicken and pepper jack cheese, but skipping the labor-intensive breading and frying process.
The most important part of the recipe is to roast your peppers prior to filling them. This helps to soften them so that after they're filled and baked, that they are fork tender and melt-in-your mouth.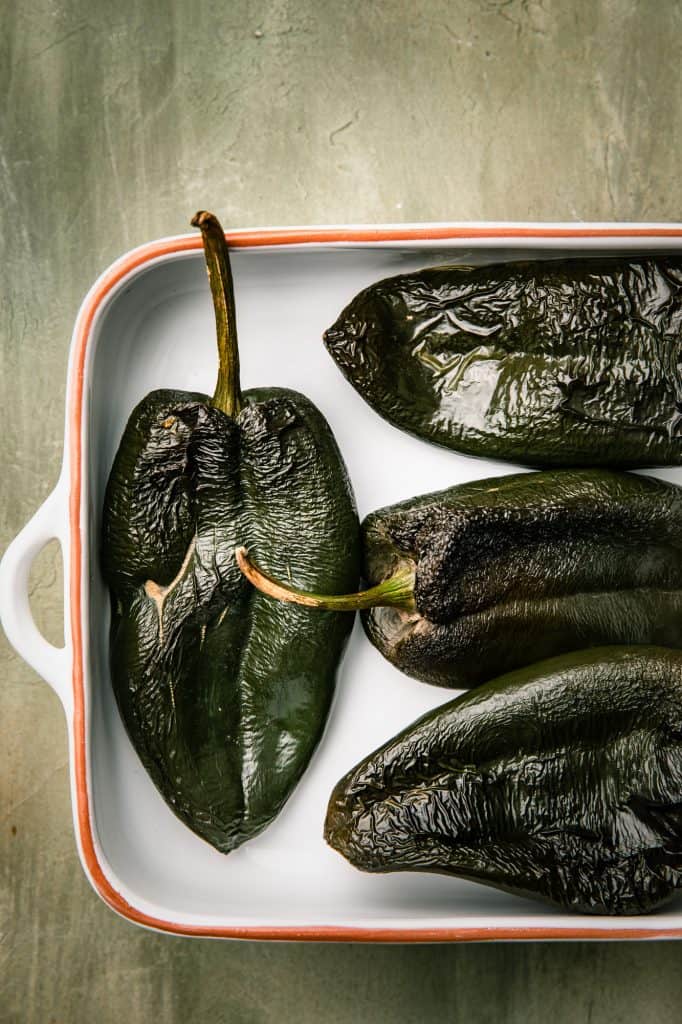 Roasting peppers is easy. All you do is heat the oven to 350F, place the peppers on a baking sheet and put them in the oven for 20 minutes. You'll see the skin shrivel up and they'll start to deflate and soften.
Then I let them sit for about 10 minutes while I prep the other ingredients.  After they have cooled, I cut a slit down the center of one side and remove the excess seeds.  They should come out easily since everything is nice and soft that this point.
Do You Remove the Skin from Roasted Peppers?
You'll notice after roasting your peppers that the outer "skin" layer will become papery and start to pull away from the meaty part of the pepper. It's easy to peel off, but do you need to? Feel free to remove the skin if you have the time. But, it doesn't affect the flavor or the final dish all that much, so I usually just leave it.
Recipe Substitutions
There is plenty of room in this recipe to get creative.  The red quinoa, for one, can be easily substituted with regular quinoa.  You also could swap it out with rice or beans if you prefer.
I used pepper jack cheese for this recipe, but admittedly, it's a spicy cheese for my kids and they didn't like the heat. So, depending on who you are serving, you can sub in colby jack cheese or cheddar.
The chicken can also be changed up.  If you prefer ground or shredded beef or shredded chicken, that would work just fine.  I like doing the chopped chicken because I can roast it in the oven on a pan while the peppers are roasting.
These can also be made low-carb and keto friendly very easily. Simply swap the quinoa for riced cauliflower or double up the chicken.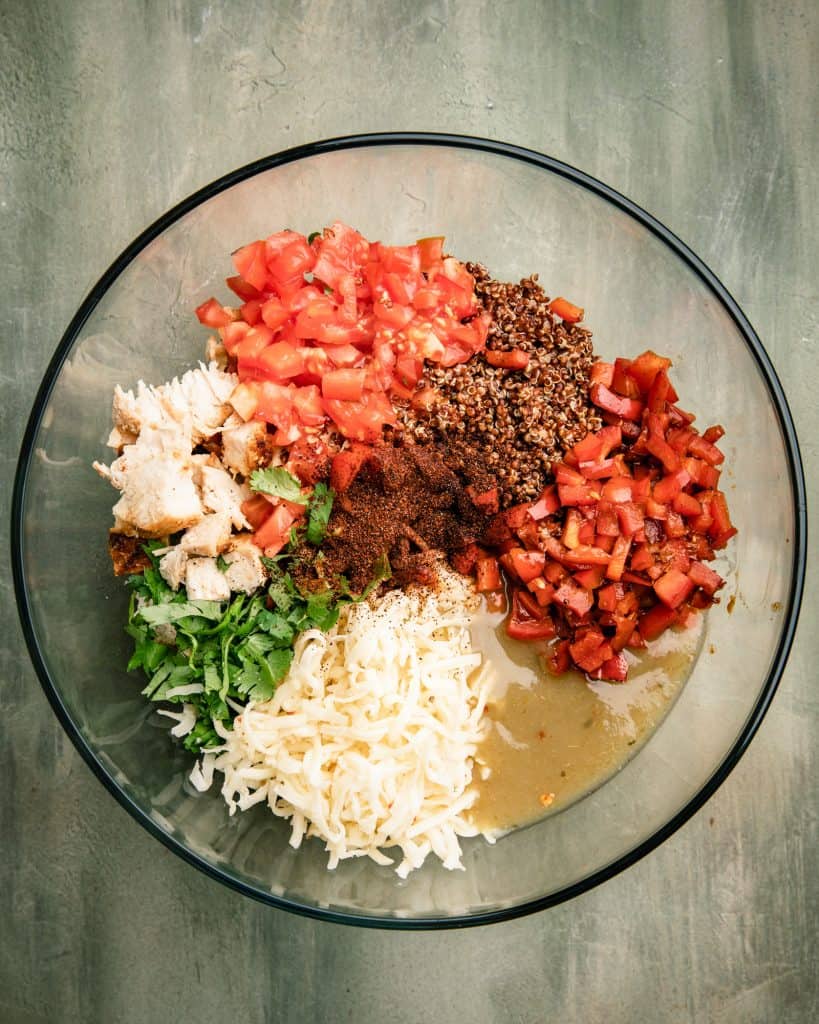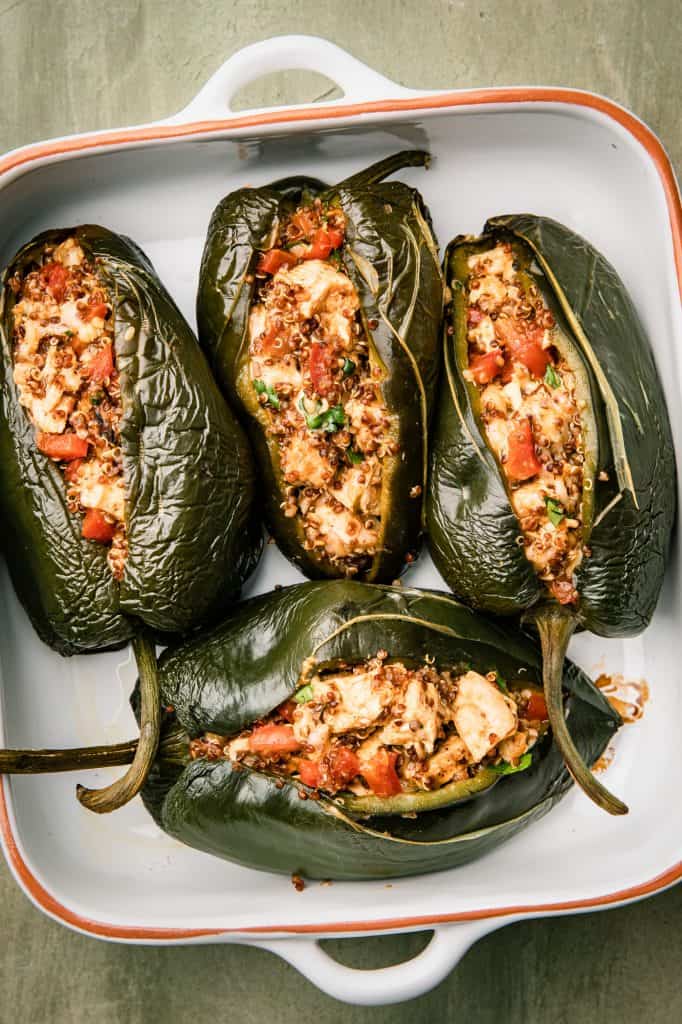 How to Get The Meltiest Cheese
One big thing to note about the cheese is to make sure to shred your own.  The packaged pre-shredded cheeses from the store are treated with potato starch to prevent clumping. It can also affect the meltability and ooey-gooey factor of your final dish.
Make Ahead Stuffed Poblano Peppers
One of my favorite things about this dish is that it's a great make-ahead dish.  You can prep it all the way to the point of popping it in the oven for the final bake.  Just cover it with foil and refrigerate and then 30 minutes before you're ready to eat, put it in the oven and dinner will be ready.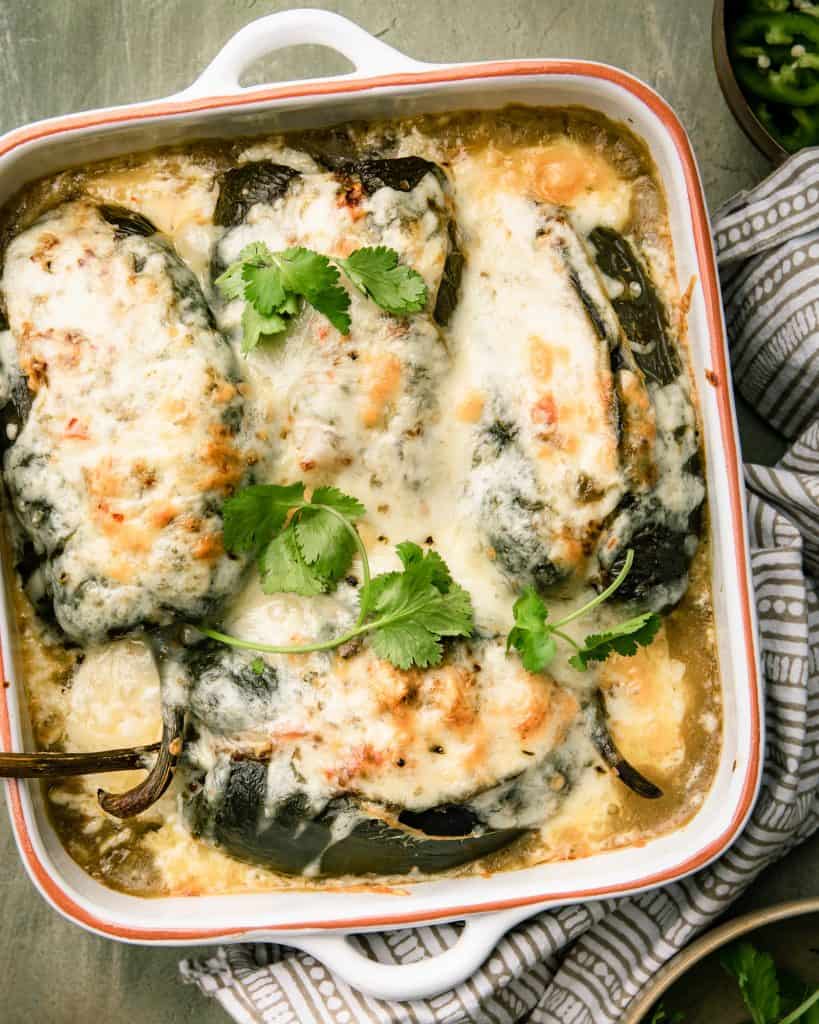 You can serve this recipe with your favorite Mexican side dishes
Chips with Jalapeno Salsa Verde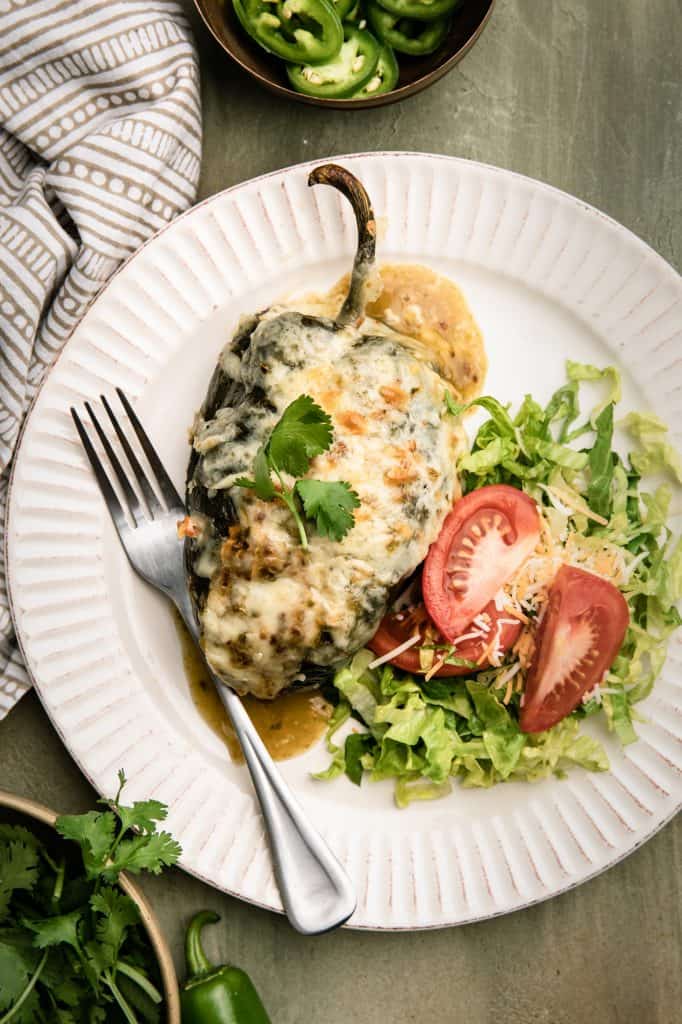 Print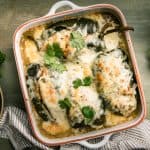 Chicken Stuffed Poblano Peppers with Cheese
---
Author:

Total Time:

1 hour 5 minutes

Yield:

6

servings

1

x
Description
Chicken Stuffed Poblano Peppers with Cheese are filled with tender chicken, sautéed peppers, and protein packed quinoa then smothered with green chile salsa and pepper jack cheese for a hearty and healthy weeknight meal.
---
6

large poblano peppers

10 oz

chicken breast

1/2

c red quinoa, uncooked

1 tsp

oil (olive oil or your favorite cooking oil)

1

red bell pepper, finely diced

1

medium tomato, diced

8 oz

shredded pepper jack cheese (divided)

1/4

c fresh cilantro, chopped

1 tsp

chile powder or taco seasoning

15 oz

can of green enchilada sauce or salsa verde (divided)
---
Instructions
Heat oven to 350F and once heated, place a pan or baking dish with the peppers inside as well as a sheet pan or baking dish with the chicken and roast both for 20 minutes.  After 20 minutes, remove both from oven and set aside to cool.  Make sure the chicken has been heated to an internal temperature of at least 165F for food safety standards.
While the peppers and chicken are roasting, prepare the 1/2 cup quinoa according to package directions and set aside once cooked.
Next, heat a saute pan with the 1 tsp oil and add in the 1 diced red bell pepper and saute until the pepper is soft, then set aside.
Once your chicken is cooled, chop it into smaller pieces to make it easy to stuff into the peppers.
Once you have all of your ingredients prepped, combine the chopped chicken breasts, all of the quinoa, the sauteed red pepper, 1 diced tomato, half of your shredded cheese, 1/4 cup fresh cilantro, 1 tsp chile powder and half of the green salsa.  Stir all to combine to make your filling.
Next, cut a slit down the center of one side of each of the peppers and remove the seeds inside.
Next, fill each pepper with the chicken quinoa filling (should be enough to fill 6 large poblanos very full) and place them in an oven safe casserole or baking dish.
Once all of your peppers are filled, pour the remaining sauce over the top of them and top them with the remaining cheese.
Place the stuffed peppers in the oven and bake for 20 minutes until the cheese is fully melted, bubbling and slightly browned on top.
Serve hot topped with extra salsa, guacamole, or any of your favorite Mexican condiments.
Notes
Regular quinoa or rice or beans can be subbed for the red quinoa.
The pepper jack cheese can be subbed for any other melty cheddar style cheese.
Prep Time:

25

Cook Time:

40

Category:

entree

Method:

baking

Cuisine:

Mexican
Keywords: stuffed poblano peppers, mild peppers, chili peppers, roasted chicken, pepper jack cheese, red quinoa